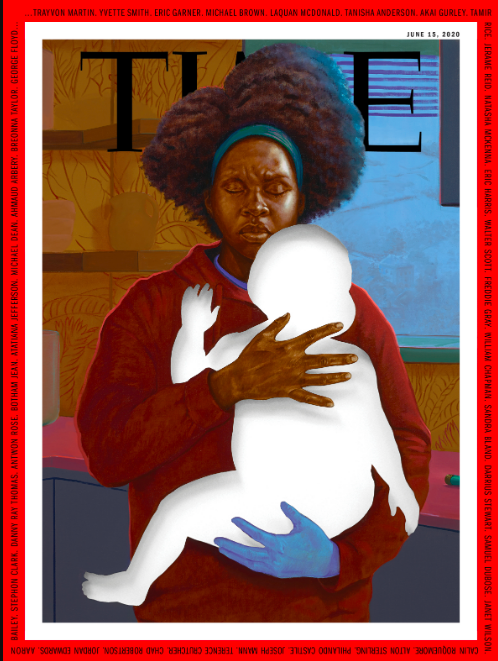 Prominent American artist Titus Kaphar's painting is the cover of TIME magazine's new issue on the protests surrounding the death of George Floyd,.
Titus Kaphar's oil painting, titled Analogous Colors, features an African-American mother holding her child. To complete the work, Kaphar cut out the canvas to show a mother's loss: Floyd called out to his deceased mother during the 8 minutes and 46 seconds he was pinned to the ground by a Minneapolis police officer.
"Mamma!" Floyd, 46, called out. "Mamma! I'm through." Floyd's mother, Larcenia Floyd, died May 30, 2018, nearly two years to the day that her son was killed.
"In her expression, I see the black mothers who are unseen, and rendered helpless in this fury against their babies,"
writes Kaphar.
"As I listlessly wade through another cycle of violence against black people, I paint a black mother … eyes closed, furrowed brow, holding the contour of her loss."
For the first time, surrounding Kaphar's painting, the red border of TIME includes the names of people: 35 black men and women whose deaths, in many cases by police, were the result of systemic racism and helped fuel the rise of the Black Lives Matter movement. Their names are merely a fraction of the many more who have lost their lives because of the racist violence that has been part of this nation from its start.
The names are Trayvon Martin, Yvette Smith, Eric Garner, Michael Brown, Laquan McDonald, Tanisha Anderson, Akai Gurley, Tamir Rice, Jerame Reid, Natasha McKenna, Eric Harris, Walter Scott, Freddie Gray, William Chapman, Sandra Bland, Darrius Stewart, Samuel DuBose, Janet Wilson, Calin Roquemore, Alton Sterling, Philando Castile, Joseph Mann, Terence Crutcher, Chad Robertson, Jordan Edwards, Aaron Bailey, Stephon Clark, Danny Ray Thomas, Antwon Rose, Botham Jean, Atatiana Jefferson, Michael Dean, Ahmaud Arbery, Breonna Taylor, and George Floyd.
In a piece accompanying the painting, Kaphar writes,
This black mother understands the fire. Black mothers understand despair. I can change nothing in this world, but in paint, I can realize her. That brings me solace … not hope, but solace. She walks me through the flames of rage. My black mother rescues me yet again. I need to be sure that they can see her. I want to be certain that her story is told. And so this time, America needs to hear her voice.
Kaphar, who received an MFA from the Yale School of Art and was the recipient of a 2018 MacArthur Fellowship "Genius" Grant, also created a painting for TIME in 2014 marking the protests in Ferguson, Yet Another Fight for Remembrance, which captured black protestors, arms raised up and obscured with layers of white brushstrokes.
His commitment to social engagement has led him to move beyond traditional modes of artistic expression: Kaphar established NXTHVN, an arts incubator and residency program based in New Haven, Conn. His work is in the collections of The Museum of Modern Art and The National Portrait Gallery in D.C., among others
"I have given up trying to describe the feeling of knowing that I can not be safe in the country of my birth," says the 44-year-old artist, who was born in Kalamazoo, Mich., and now works in his New Haven studio. "How do I explain to my children that the very system set up to protect others could be a threat to our existence? How do I shield them from the psychological impact of knowing that for the rest of our lives we will likely be seen as a threat?"
The new issue of TIME goes on sale on Friday, June 5th.
About the Artist
If we don't amend history by making new images and new representations, we are always going to be excluding ourselves.
—Titus Kaphar
Painter, sculptor, filmmaker, and installation artist Titus Kaphar confronts history by dismantling classical structures and styles of visual representation in Western art in order to subvert them. Dislodging entrenched narratives from their status as "past" so as to understand and estimate their impact on the present, he exposes the conceptual underpinnings of contested nationalist histories and colonialist legacies and how they have served to manipulate both cultural and personal identity.
Through the deconstructive techniques of cutting, shredding, stitching, binding, and erasing both subject and support, Kaphar reconstructs new codes and modalities, reckoning on Black possibilities. In Yet Another Fight for Remembrance (2014), he used thick white brushstrokes to obscure the gesturing bodies of a group of African American men in the "Hands up, don't shoot" position, and then repainted their outlines in black to reassert their formal presence. Thus the painting process itself became the embodiment of the ongoing struggle for social visibility and recognition. During his 2017 TED Talk, Kaphar performed, onstage, the whitewashing of his large-scale painting Shifting the Gaze (2017). Based on Frans Hals's Family Group in a Landscape (1645–48), which portrays a wealthy Dutch family and their African servant, Kaphar's version eclipsed the family group with white paint, shifting attention entirely to the presence of this young servant.
Kaphar's art addresses salient social and political concerns, but it also springs from his own life story. For example, his encounter with his estranged father, Jerome, has led to an ongoing multimedia exploration of the criminal justice system called The Jerome Project (2014–). This series of portraits began with Kaphar's online discovery of the mug shots of ninety-seven African American men who shared his father's first and last names. He paints gilded portraits of each man in the style of Byzantine devotional icons, and then dips them in tar. Initially, the depth to which each painting was immersed in tar corresponded to the time that each subject had spent behind bars; in later paintings, this has increased to represent the longer-term implications of social silencing that results from their incarceration.
In works such as Behind the Myth of Benevolence (2014) and the series Seeing Through Time (2017–), Kaphar instrumentalizes the visual strategies and methods of key European classicists such as Diego Velázquez, Jacques-Louis David, and Théodore Géricault to rewrite the narratives of cultural empowerment with Black subjects. And just as historical conditions and contexts prompted artists of the twentieth century to generate radical aesthetic concepts and modes—consider the traumatic inspiration of the Second World War for artists globally, from Pablo Picasso and Albert Burri to Ibrahim El-Salahi and Norman Lewis—so is Kaphar's subject matter responsive to the self-evident anxieties of present-day America. In his latest series of paintings, From a Tropical Space (2019–), he creates a surreal, emotionally intense landscape that is uniquely his own and firmly rooted in the present, drawing on his exhaustive study of nineteenth-century painting techniques. The saturated, artificial coloration of the suburban environments against which women and the silhouettes of their absent children are set both complicates and adds tension to these charged and enigmatic genre scenes. Coincident with renewed sociopolitical energies and content within the broader practice of figurative painting, Kaphar's images resonate with the turbulent and uncertain times in which we live.
Key to Kaphar's representation by Gagosian is the gallery's substantive support for NXTHVN (Next Haven), a nonprofit arts hub that Kaphar founded with Jason Price and Jonathan Brand in 2015 in the Dixwell neighborhood of New Haven, Connecticut. Nurturing creative talent within and beyond the local community, NXTHVN offers fellowships, residencies, and other professional development opportunities to artists, curators, and students. Housed in two repurposed factory buildings, it maintains exhibition and performance spaces in addition to studio and co-working facilities.
Categories
Tags