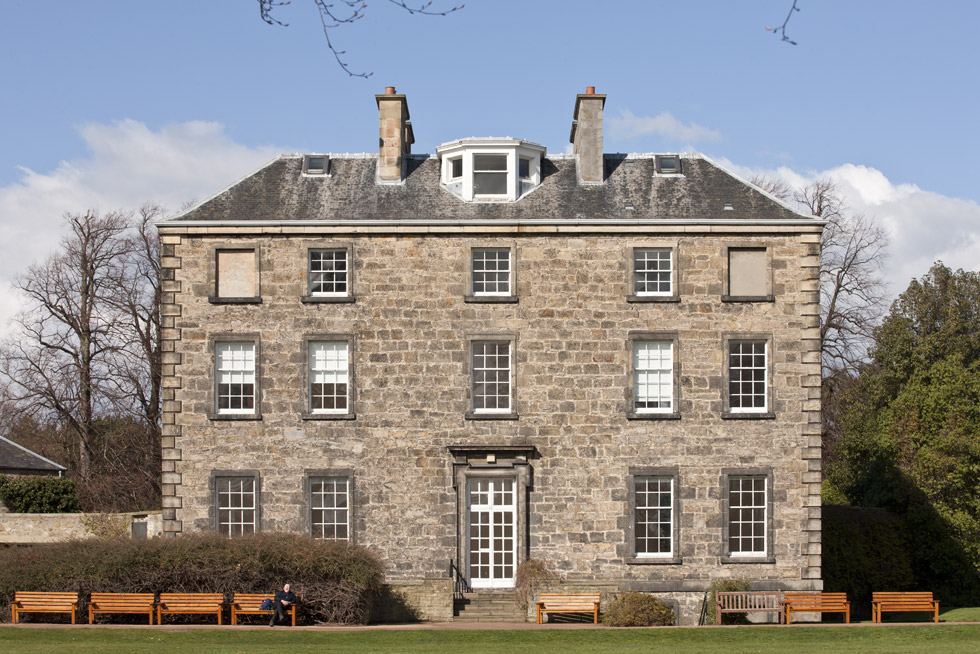 Inverleith House Gallery, Edinburgh, is set to embark on a new phase as it transforms into 'Climate House' as part of a three year project supported by the award of the Outset Contemporary Art Fund's Transformative Grant announced this week.
The largest annual grant of its kind in the UK is to be given by Outset is awarded jointly to Inverleith House at the Royal Botanic Garden Edinburgh and the Serpentine Galleries, marking a major new partnership as both organisations look to build a place to explore the future of our planet through contemporary visual art. This new award has played a role in allowing Royal Botanic Garden Edinburgh to reimagine Inverleith House as a gallery for the 21st century, ignite a new arts strategy across the Garden and to highlight RBGE as a visionary institution within the Climate Crisis.

Royal Botanic Garden Edinburgh rockgarden
New programme for 2021:
'Climate House' will highlight the global risk to biodiversity through an immersive installation, activated as a space for conversation and action created in collaboration with Australian artist Keg de Souza, who has previously had major exhibitions in Melbourne, New York, Vancouver and London. de Souza is known for her socially engaged art practice, using mediums such as inflatable and temporary architecture, food, video, text, illustration, mapping and dialogical projects to explore the politics of space. Collaboration is central to de Souza's practice and the new vision for Inverleith House; 'Climate House' will inspire connections between artists, scientists, horticulturists, scholars, activists, entrepreneurs, policymakers and visitors and local communities. With the research phase of this project due to start in late 2020 Climate House is due to engage with the public in summer 2021.

Keg de Souza We Built This City 2016
Bringing the ecological expertise at RBGE to the forefront of climate crisis campaigns in art, a new partnership with the Serpentine Galleries sees leading artists develop work supported by the world-leading centre of excellence in plant science, horticulture and education. Under the guidance of Head of Creative Programmes at RBGE Emma Nicolson (former Director Atlas Arts) and Lucia Pietroiusti (Curator General Ecology) at Serpentine this partnership marks a new commitment for both organisations. With research and conservation projects from China and Nepal to Chile and Brazil and South East Asia to Scotland, RBGE is tackling challenges linked to the climate emergency and biodiversity crisis. By partnering with the Serpentine to work with artists from the Galleries' Back to Earth programme and in developing new artistic collaborations RBGE will activate interdisciplinary exchange and explore new ways of creatively sharing crucial research related to climate change adaptation and biodiversity. Artists already working with teams at RBGE as part of this partnership include James Bridle, Kapwani Kiwanga, Fernando Garcia-Dory, Tabita Rezaire, Ayesha Tan-Jones and Cooking Sections, the team behind Atlas Arts award winning project CLIMAVORE.
In addition, the Outset Award has facilitated the foundation of the General Ecology Network, a new network of art and science organisations with a view to working together to face the Climate Crisis challenge. Created as a partnership between Royal Botanic Garden Edinburgh and Serpentine Galleries the General Ecology Network is designed to bring together multidisciplinary expertise in the worlds of art and science to further our understanding and exploration of the planet.
Climate House will welcome artists from Scotland and around the world to showcase work that facilitates conversations about life on earth and expand our understanding of biodiversity and our place in the world. In 2021 this will include exhibitions with artists such as Christine Borland, Keg de Souza and Cooking Sections.
Speaking at the Outset Contemporary Art Fund's Transformative Grant announcement Head of Creative Programmes Emma Nicolson said:
"Inverleith House's proximity to the world of plants, and the richness of scholarship and practice associated with RGBE, means that we have an abundance of resources at our disposal to begin thinking about the role of art institutions in the age of Climate Crisis. We believe that art has an important part to play in linking objects, images, processes, people, locations, histories and discourse in a physical space, opening up dialogues and imaginaries that could be critical in finding solutions to this crisis. By turning our house into a home, we will welcome the 21st-century explorer – an explorer who listens to voices less heard, refuses to conform to the boundary between culture and nature, and is eager to imagine ways of living for the future."
To receive the Outset Contemporary Art Fund's Transformative Grant, in partnership with the Serpentine, presents a momentous opportunity to focus on the desperate nature of our planet's plight.
Climate House seeks to change the way we view the climate emergency and biodiversity crisis. It aligns with Royal Botanic Garden Edinburgh's mission to explore, conserve and explain the world of plants for a better future. As a Botanic Garden, we have a unique history of high-quality programming in the arts. This award acknowledges an exciting juncture, as we launch our new manifesto for the arts.
Working with artists, scientists and horticulturists, the Outset partners and Serpentine colleagues will help us reimagine our approach, provide visibility and advocacy to our new ambitions, and enable us to think and work differently, reflecting upon one of the most urgent concerns of our age."
Outset's ground-breaking Transformative Grant of £150,000 is awarded to a public institution (s) to realise a significant project or develop an initiative with a marked transformative aspect. The award seeks to support organisations willing to take risks on behalf of genuine innovation and the prospect of meaningful impact. Climate House's future vision alongside the Royal Botanic Garden Edinburgh's new manifesto for the arts and partnership with Serpentine Galleries provided the scale, ambition and desire for change to secure the 2020 award.
Inverleith House was designed in 1774 by David Henderson for the Rocheid family and was the official residence of successive Regius Keepers (directors) of the Royal Botanic Garden Edinburgh until it became the founding home of the Scottish National Gallery of Modern Art, from 1960 to 1984. Since 1986 it has run a continuous programme of temporary exhibitions spanning visual art and botanical science under the auspices of the Garden, which recognises the need for art as well as science in our appreciation and understanding of the natural world, making it pre-eminent amongst botanic gardens today, in this respect. In 1960, the house was turned into the inaugural Scottish National Gallery of Modern Art, before transitioning into the official art gallery of RBGE in 1986. For 30 years, Inverleith House presented stellar shows – from the likes of Douglas Gordon, William Eggleston and Robert Rauschenberg, Karla Black and Louise Bourgeois. Climate House marks a new era in the legacy of this leading contemporary art institution.
The Royal Botanic Garden Edinburgh (RBGE) is a leading international research organisation delivering knowledge, education and plant conservation action around the world. In Scotland its four Gardens at Edinburgh, Benmore, Dawyck and Logan attract nearly a million visitors each year. It operates as a Non Departmental Public Body established under the National Heritage (Scotland) Act 1985, principally funded by the Scottish Government. It is also a registered charity, managed by a Board of Trustees appointed by Ministers. Its mission is "To explore, conserve and explain the world of plants for a better future." www.rbge.org.uk
Keg de Souza is an Australian artist working with mediums such as inflatable and temporary architecture, food, film and mapping projects to explore the politics of space. Keg's investigation of social and spatial environments is influenced by her formal training in architecture and experiences of radical spaces through squatting and organising. Keg creates site and situation specific projects with people, with an emphasis on knowledge exchange. Keg is a member of various collaborative groups, such as SquatSpace Artist Collective and is represented by Booklyn Artist Alliance, NY for her artist's books and zines, which she has been self-publishing for over 15 years.
Recent exhibitions include; Common Knowledge and Learning Curves, Artspace, Sydney; spaced3: North by Southeast, Art Gallery of Western Australia (2018); The National: New Australian Art, Art Gallery of New South Wales (2017); 20th Biennale of Sydney, and Setouchi Triennale, Japan (2016); Temporary Spaces, Edible Places: Vancouver and Preservation; both Contemporary Art Gallery, Vancouver and Temporary Spaces, Edible Places: New York, AC Institute, New York (2015); Temporality in Architecture, Food and Communities, Delfina Foundation, London; Temporary Spaces, Edible Places, Atlas Arts, Isle of Skye, Scotland and If There's Something Strange In Your Neighbourhood, Ratmakan Kampung, Yogyakarta, Indonesia (2014); 5th Auckland Triennial, 15th Jakarta Biennale and Vertical Villages at 4A Centre for Contemporary Asian Art, Sydney (2013). She also received a Creative Australia Fellowship from the Australia Council for the Arts in 2013.
Categories
Tags