Australian ecological artist Lisa Roet's inflatable Golden Monkey installations have previously scaled skyscrapers in Beijing and Hong Kong – this Autumn the first golden monkey to make its UK debut comes to Edinburgh.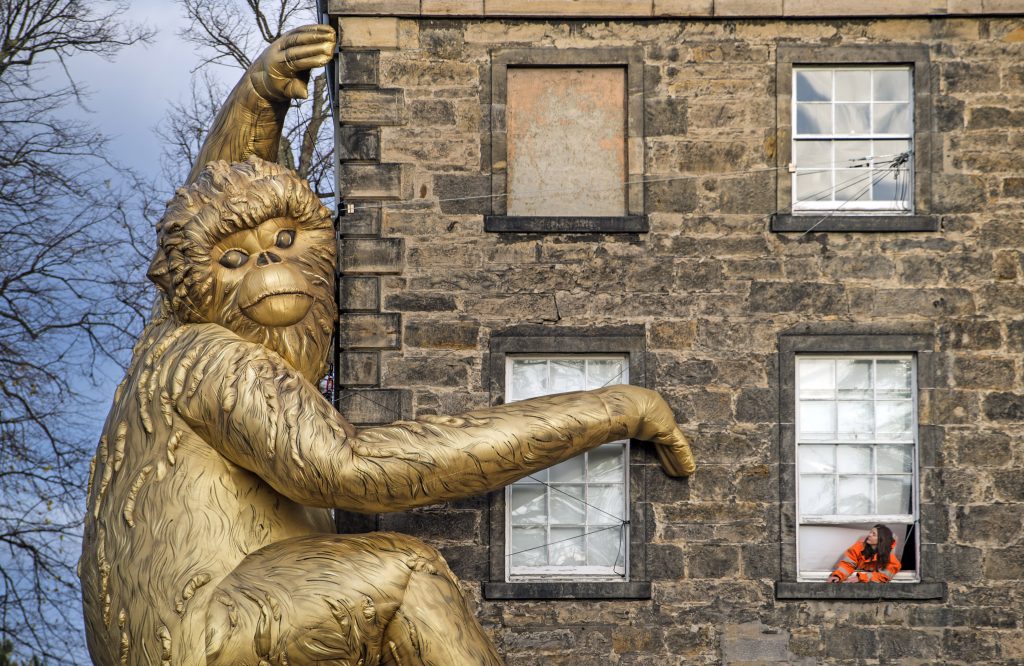 The sculpture – 45ft in total is on the exterior of Inverleith House, as part of its transformation into Climate House, a three-year programme of visual art, drawing attention to our global climate crisis, in partnership with the Serpentine Galleries and funded by Outset Contemporary Art Fund.
I'm so excited to see this work come to Scotland, presented in the prestigious Royal Botanical Gardens of Edinburgh sharing the message about sustainability and conservation. The Golden Monkey represents the highly endangered snub-nosed monkey found in high altitudes in Yunnan (In fact the Golden SnubNosed Monkey is the highest living non-human primates on the planet)  With its cute, upturned nose, this monkey is revered in Chinese mythology and celebrated globally for its elusive beauty. 

Golden Monkey is the first in a series of my large-scale artworks about Biodiversity. These works are designed to raise awareness about extinction of species and to address issues associated with increasing urbanisation and habitat destruction. Illegal logging , as in many parts of the world, has posed a major threat to the survival of this rare and beautiful monkey.

Artist Lisa Roet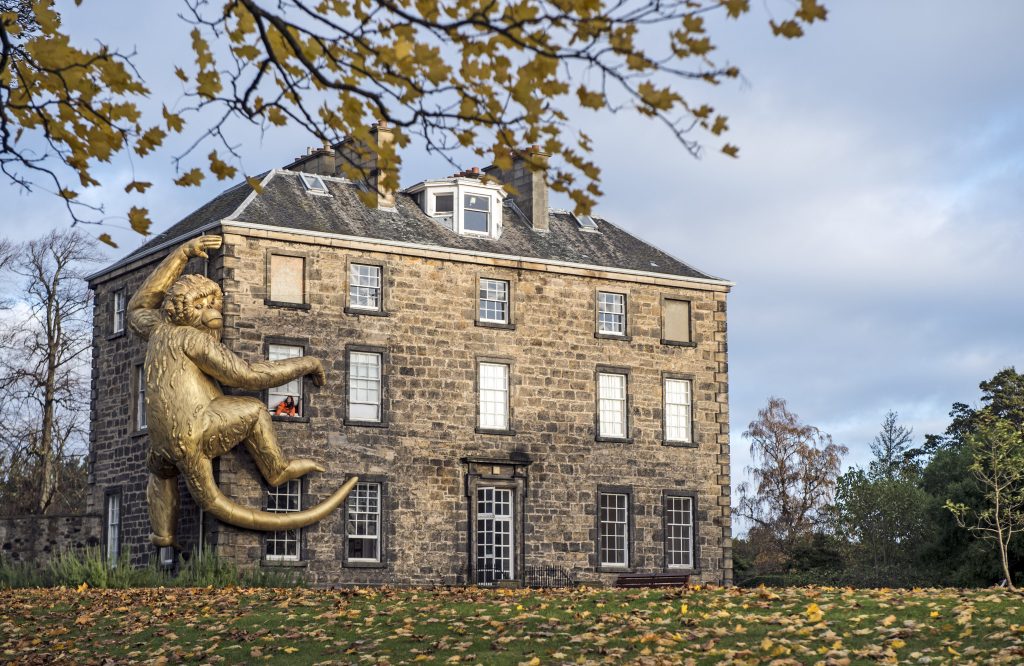 Highlighting primate species whose lives and habitats are under threat from the sprawling concrete jungles of our modern world, Roet is known for her giant, inflatable, intricately detailed sculpture of the golden snub-nosed monkey – an endangered species found in the frosty, mountainous forests of central and southwestern China.
The 45-foot (10 metre) high Golden Monkey installation first appeared on the Melbourne Town Hall in Australia and subsequent versions have decorated The Opposite House hotel in Beijing as part of Beijing Design Week, the Temple House in Chengdu and even hung off the high rise building H-Code in the centre of Hong Kong. Other giant primate sculptures include the Skywalker Gibbon perched on top of the Opposite House with arms dangling over the edge and a ten-metre-tall gorilla named Baboe – currently towering over Apeldoorn Town Hall in the Netherlands. Her most recent work, due to be launched on the 24th November in Australia, is a chimpanzee called David Greybeard. Her largest sculpture to date, he was created in collaboration with Dr Jane Goodall and the Jane Goodall Institute.
The sculpture shows a golden snub-nosed monkey. There are five species of snub-nosed monkeys. All are at risk of extinction and their future existence is in serious doubt. The five species live separately in temperate and tropical forest areas, with a different diet of leaves, buds, flowers, fruits, barks, lichens and moss. The golden snub-nosed monkey withstands cold better than any other primate (except humans with thermals). This hand-painted, inflatable sculpture is one of a series created to highlight the plight of these increasingly endangered primates.
"We are thrilled to be premiering this important work by Lisa Roet as part of our inaugural season of Climate House. The work is a statement reminding us that we all need to act, and now, to prevent further ecological disaster. I also hope the work gives us, in 2020, a work to see as we spend time outdoors, to reflect upon and with."

Emma Nicolson, Head of Creative Programmes at Royal Botanic Garden Edinburgh,
The work has been developed using a circular sustainable model. Concerned with sustainability, Roet collaborates with scientists and primatologists such as The Jane Goodall Institute and is currently working with environmental experts to ensure her own artistic practice is sustainable and carbon zero.
The sculpture can be seen alongside a major new exhibition inside Climate House. Running from 16th October until 13 December 2020, Florilegium: A gathering of flowers features works showing plants that can be seen growing in the Royal Botanic Garden Edinburgh Glasshouses, and others of significant scientific value. Joining these botanical artworks will be a series of new and existing works from Annalee Davis, Wendy McMurdo, Lee Mingwei and Lyndsay Mann. Work draws upon ideas of death, renewal, ritual and colonial history and span photography, moving image and works on paper.  @rbgecreative
About the Artist
For over two decades Lisa Roet has won acclaim in Australia and internationally for her powerful investigations into the complex interface between humans and our simian relatives.
Drawing inspiration from a myriad of sources including residencies at major international zoos, field studies of apes living in the forests of Borneo and most recently through her own heart surgery, Lisa's multidisciplinary approach to her work has challenged, and continues to challenge, fundamental scientific and behavioural theories relating to human evolution and creationism, language and communication, science and art and the relationship between humans and 'other' primates. Notwithstanding the potentially political nature of her subject, Roet never indulges in heavy-handed dacticism. To the contrary, her art practice is infused with refreshing vigour, candour and an inescapable sense of mystery, poignantly highlighting how inextricably linked humans and primates are amid the messy uncertainty of biology, nature and culture.
With the ape as her muse, Roet encourages us to reflect upon prevailing attitudes towards these relatives with whom we share in excess of 98% of our DNA, the lingering anxiety with our evolutionary past, our use of apes for scientific and entertainment purposes and the way in which we project onto apes our own fantasies and culture, while at the same time assuming they are somehow 'inferior' to us.
Not surprisingly, Lisa's explorations into the psychology, behaviour and the soul of simian-human relations have attracted an impressive number of art awards, including the prestigious: Geelong Gallery Acquisitive Print Award, Australia (2013), Deakin University Small Sculpture Award, Australia (2012), Fremantle Print Award, Australia (2011), McClelland Gallery and Sculpture Park Sculpture Survey & Award, Australia (2005), Australian National Gallery National Sculpture Prize, Australia (2003).
Since her first show at Querhause Gallery, Berlin in 1992, Lisa has been represented by galleries in Australia, Belgium and the USA, has held over twenty-five solo exhibitions and has participated in more than fifty group exhibitions internationally and within Australia, including: Golden Monkey, Beijing Design Week, Beijing, China (2016), Heart Beat, Adelaide Festival 2016, Australian Experimental Art Foundation, Adelaide, Australia (2016), Lisa Roet/KITX Collaboration, Melbourne Fashion Week, Pieces Of Eight Gallery, Melbourne, Australia (2016), Golden Monkey
White Night Festival, Melbourne, Australia (2016), Bound Communication and Stories of Love, Gow Langsford Gallery, Auckland, New Zealand (2015), When I Laugh, He Laughs With Me, Hugo Michell Gallery, Adelaide, Australia (2015), Australian Artists In Bali: 1930s to Now, McClelland Gallery, Langwarren, Victoria, Australia (2015), Monkey Grip, Deakin University Art Gallery, Melbourne, which toured various regional galleries throughout Victoria, Australia (2013-14), When I Laugh, He Laughs With Me, Karen Woodbury Gallery, Melbourne, Australia (2014), Chengdu Biennale, China, 2013, McClelland Sculpture Survey & Award, McClelland Gallery + Sculpture Park, Mornington Peninsula, Australia (2014, 2005 & 2003), Den Hagg Sculptuur 2007/The Hague Sculpture 2007, The Hague, The Netherlands (2007), Satellite Project (12 Australian Artists), Shanghai Biennale, China (2006), Kiss of the Beast, Queensland Art Gallery, Brisbane, Australia (2005), Lisa Roet: Finger of Suspicion, McClelland Gallery and Sculpture Park, Melbourne, Australia (2004).
Lisa has also featured several times in the publication titled Australian Art Collector's '50 Most Collectible Artists' (2001, 2003 and 2007) and is the subject of a comprehensive monograph by Alexie Glass titled Lisa Roet: Uncommon Observations (2004), that was published by Thames and Hudson. Lisa was also the feature of an Australian Broadcasting Corporation (ABC) documentary titled APELADY, which was produced by Klaus Toft in 2010.
Categories
Tags