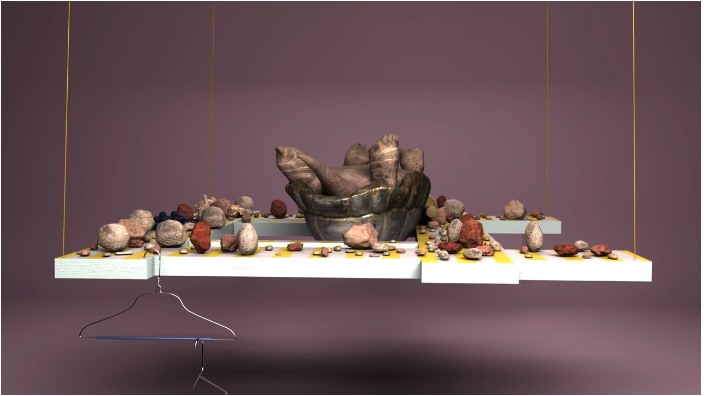 SCHQ Electric presents Helen Marten's Orchids, or a hemispherical bottom, 2013. The digitally animated video forms the focal point of an eponymously titled room-sized installation, conceived of for the 55th Venice Biennale.
Through digital animation, Marten generates a sanitised and alluring landscape of free-floating and fragmentary objects. Set against abstracted, tonal sceneries, glossy pseudo-real forms are excised from their usual contexts and rendered in colours that range from the surreally heightened to the deliberately banal. Opening with a procession of toy-like objects – a train, a giraffe on wheels, an artichoke, a boat – gliding along on an impossibly rich blue plane, the video unravels between a shifting two- and three-dimensional veneer of reality that is at once seductive, absurd and formulaic.
Mimicking the aesthetic sur-reality, the accompanying male voiceover draws the viewer along a surreal journey in which evocative images mass together into a heady melange of resonances, suggesting a sensual kind of catastrophe. Veiled by a brittle air of politeness, the narration is delivered in a cross-section of registers and intimations that grow increasingly frantic and euphoric towards its close; incongruously weaving together episodes with phrases such as: 'you tell an octopus "be an elephant", and the octopus becomes an elephant… The ridiculous ostrich is next to the logical hen… The kangaroo mocking the future Madonna…'.
As with previous works such as Evian Disease, 2012, the video reflects an impulse – discernible throughout Marten's practice – to distil the make-up of everyday stuff, and to skew, suspend or deconstruct ingrained meanings.
Helen Marten Orchids, or a hemispherical bottom to – 23rd April 2020 Sadie Coles HQ online screening
Categories
Tags