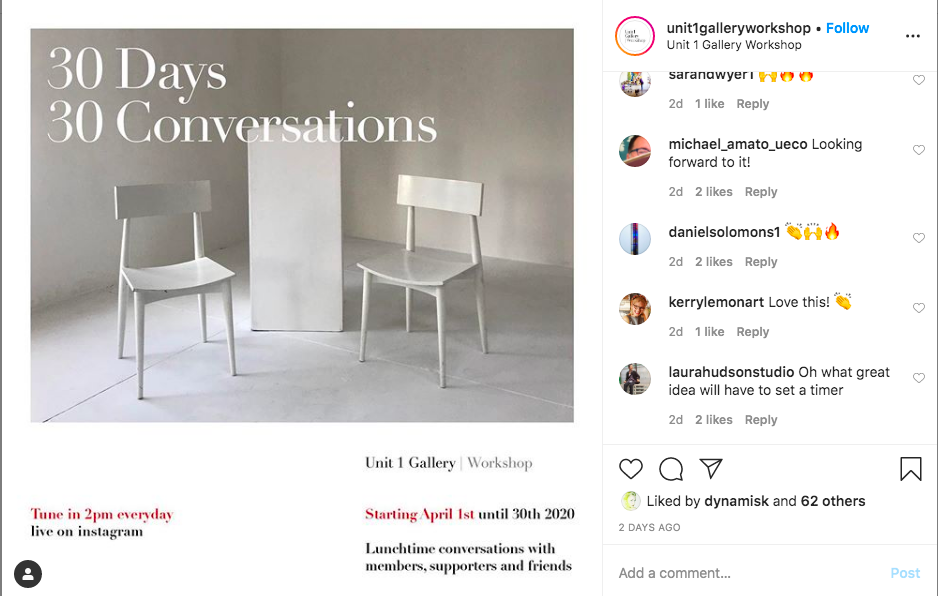 Artist and Director Stacie McCormick will be chatting with 30 people that have been engaged and involved in their story here at Unit 1 Gallery | Workshop.
"Through social, physical distancing we have an opportunity to come close virtually and have exciting and informative, interactive conversations about what it is like to work with us. We want to open dialogues about with people who have done a residency with us or talk about how has it been to exhibit with us or even a fascinating conversation about how they got to know us and shared our exciting story."
The first ten participants are:
01 April – Angeliki Kim Jonsson – Art Consultant, Curator, Writer
02 April – Nemo Nonnenmacher – Artist & U1GW Associate Director
03 April – Shinuk Suh – Artist & Past Solo Resident
04 April – Berber Meindertsma – Het HEM Amsterdam & instrumental consultant with U1GW
05 April – Los Bravú (Dea Gómez & Diego Omil) – Artist duo and our next Solo Residents
06 April – Michael Amato – Friend & Creative Director of Urban Electric Co.
07 April – Matthew Gibson -Studio Residencies at Col Art/Elephant
08 April – Meike Brunkhorst – Artist Development and Strategic Consultant
09 April – Elisabeth Tomlinson – Artist and Researcher, our 2nd Writing Resident
10 April – Ant Hamlyn – Artist, Radical Residency® I
30 days 30 people! Please tune in – Ask Questions – Lunchtime Conversations starting April 1st (no joke!)
DETAILS
30 days 30 conversations
1-30 April 2020, every day from 2pm
@unit1galleryworkshop
#unit1galleryworkshop
About Unit 1 Gallery | Workshop and the Workshop Foundation:
Unit 1 Gallery | Workshop is Workshop Foundation's exhibition and residency space in London. It supports a diverse range of emerging and mid-career contemporary artists by providing them with space and time to develop their practice, championing principles of integrity and rigour.
Through its residency programmes and exhibitions, it gives artists, curators and theorists a platform to present work and share ideas as well as creating an environment for freethinking and exchange.
The Foundation seeks to progress artists' careers and connect them to the public. It has now organised 25 exhibitions with over 120 artists and curators.
Categories
Tags