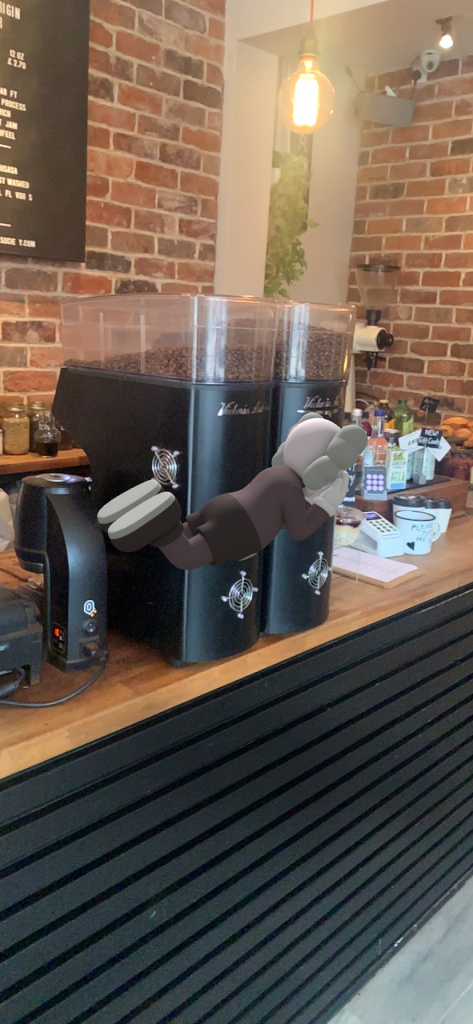 KAWS and Acute Art have released a free trial KAWS sculpture. Released last week via an APP not only could you rent or buy AR sculptures there was also a global exhibition of massive KAWS sculptures COMPANION (EXPANDED) for free viewing at various global locations.
However, given the current situation with COVID-19 Avant Art / KAWS have decided to not encourage the gathering of people at these locations and thus released a small version of COMPANION (EXPANDED) for a free trial in the comfort of your own space.  You can get your free KAWS VR sculpture HERE
About The Artist
KAWS has emerged as a truly international artist through his appeal to diverse audiences across the globe. His signature imagery is easily recognizable, and through his strategies of appropriation, he has developed an oeuvre that transcends genres and defies all hierarchies. Over the last two decades, KAWS has won acclaim with work that demonstrates a unique agility and craft, as well as an underlying humor and irreverence. His prolific body of work straddles the worlds of art and design and include paintings, murals, sculptures of all sizes, graphic and product design, advertising intervention, and now augmented reality. Throughout his career, KAWS has created work that engages audiences beyond the traditional art world. From his early days of interventions in the public realm to large- scale sculptures in Hong Kong harbor and Mount Fuji, his art connects with experienced art lovers as well as with people who have never set foot in the museums and galleries that exhibit the work. What he has to offer is nothing less than an exploration of humanity itself, perhaps best exemplified by his cast of hybrid cartoon characters. KAWS' art is both playful and deeply emotional at the same time. KAWS (b. 1974) lives and works in New York.
About Acute Art Acute Art is unique in the way it fosters close working relationships with the world's leading artists, such as Marina Abramovic, Olafur Eliasson, Cao Fei, Antony Gormley, Jeff Koons, and Nathalie Djurberg & Hans Berg, by providing access to cutting-edge technologies. Acute Art's highly skilled production team allows artists to translate their creative vision into digital mediums, including virtual, augmented, and mixed realities. The Acute Art app and website enables users to access and own digital artworks created in AR. It is the latest development in the art, technology, and commerce space.
The Acute Art app is freely available to download. AR viewing compatibility varies, depending on device (compatible on iPhone 8, Android Pixel 1, Samsung S7 and up). For specific model compatibility, please visit acuteart.com.
For iPhone users: Using Apple's innovative ARKit technology, Acute Art created an experience that lets people experience, interact and collect art in an entirely new way.
Categories
Tags