The sudden death of Rebecca Fairman (1960-2020), who ran ArthouSE1 from 2014-20, dismayed the artists and curators connected with the gallery, witness the many who attended her funeral last week. The congregation heard how Rebecca had taken on a succession of challenges with the fierce independence which was her trademark. She'd precipitately abandoned 'A' levels at 16 in order to train as a designer, gone on to build up her own successful business, and used that to fund a return to college 2006-09 to study art – she became an interesting ceramicist, but not one to promote herself – then bought a vast run-down town house in Bermondsey. That was done up – with Rebecca's imagination and partner Adrian's muscle, according to her stepfather's eulogy.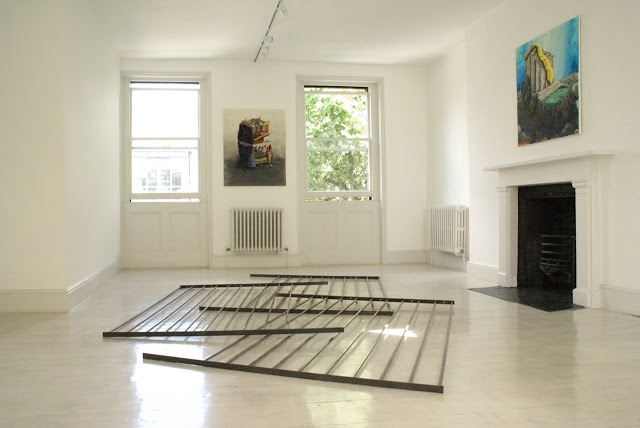 View of 'Secret European Studio' at ArthouSE1 (2016), showing works by Simona Brinkmann (Italy) and Willem Weismann (Netherlands)
The top floor then became one of the best-lit galleries in London, and certainly the most sociable. Rebecca proceeded to put on 60 substantial shows – each with a beautiful catalogue – in six years. What always struck me was how selfless that commitment was: her home and time, with net cost more likely than profit, were at the disposal of artists because she, as a creative individual, wanted to support and give a platform to other creative individuals. Moreover, Rebecca combined her particular sensitivity and wicked sense of humour with a good eye and a willingness to allow others to experiment. That led to a varied programme featuring many worthwhile artists who got few other chances. Even if I set aside the shows I curated, I would cite:
'Shape_Shifters' (2016), 'Eccentric Geometric'  (2017) and 'Iterations' (2019), three explorations of architecture, geometry and repetition which particularly suited the space;
Solo shows by Jake Clarke ('Cul-de-sac', 2016), Richard Ducker (who took the space over 'with an alien presence' the same year) and Sasha Bowles ('Hairy Interventions', 2018);
'It's Offal' (2016) which looked 'from excrement to innards' at the work of artists who explore what lies within; and
'You People' (2015) which presented Rebecca's own work in the context of that of her widely creative family: Sheila Fairman (mother), Robert, Jon and Sean Fairman (brothers) and Georgia Fairman and Jackson Fairman-Gilkes (niece and nephew).
Happily, Adrian would like to reopen the gallery at some stage in Rebecca's honour:
I'm sure that's what she would have wanted, but it will be far from easy to replace her practical contributions, never mind her personality and passion.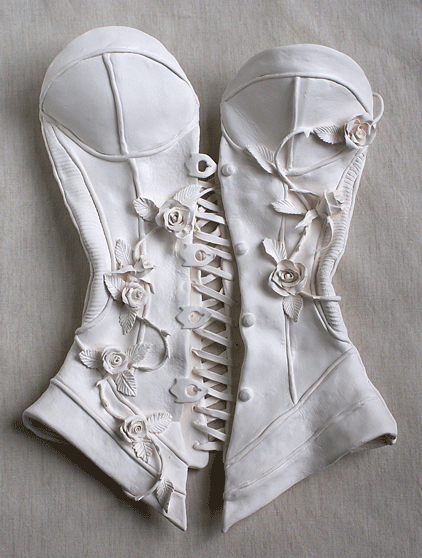 Rebecca Fairman: 'Rose Corset' – glazed porcelain, 2013
Categories
Tags