Subsidiary Projects, born out of a ground-floor flat due to the lack of exhibiting spaces in London, has relocated to the third floor of a community centre in Vauxhall Park. This new location was the starting point for curator Georgia Stephenson in preparing this ambitious exhibition construct with the gallery team; Natalia Gonzalez Martin and Nina Silverberg. 
'The Potion Room' responds to the architectural properties of the gallery's latest premises, up a winding staircase to the top of the tower, and showcases all manner of folklorical sculptural works from emerging international, regional and London-based artists. 
The selection was made with 26 invited artists, and then a further 20 from an Open Call; comprising 46 small scale sculptural works in total. The exhibition operates as an archival display – a gigantic central shelving unit sits in the middle of the space, forcing the viewer to navigate the whole exhibition, examining each piece up close.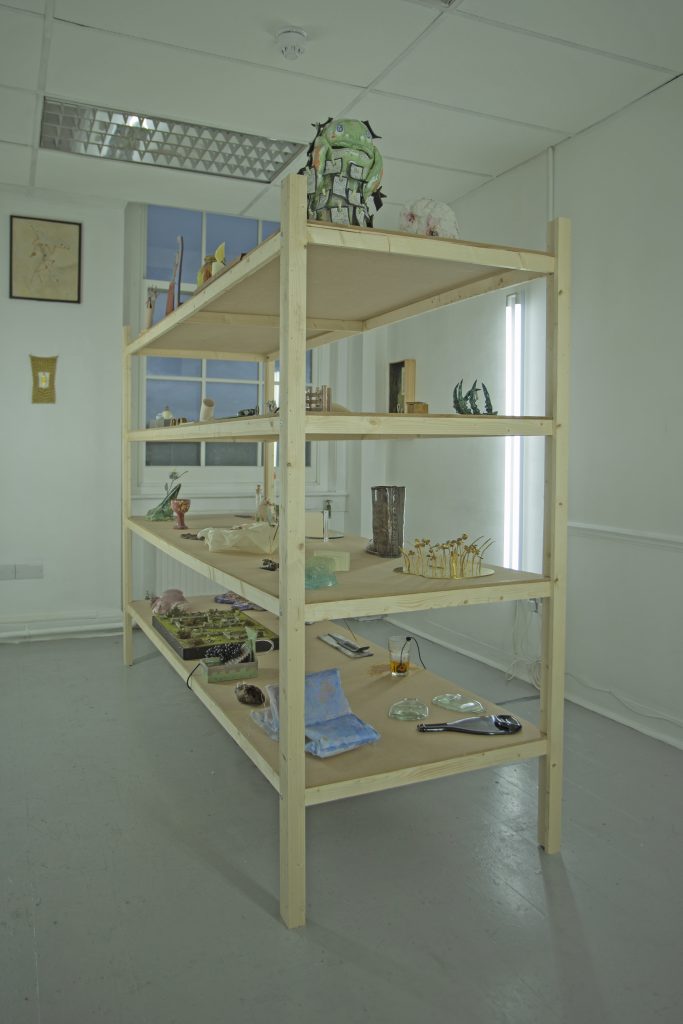 Install shot of The Potion Room at Subsidiary Projects. Photography credit: Georgia Stephenson 
Many of the works celebrate the trickery of materiality – sugar, salt, chocolate and Monster energy drink are but a few of the materials that artists have exploited in their works for this playful exhibition.
As well as this, wishing-well fountains, glass that looks like wax, Karl Lagerfeld's "wig" and a waif-like plastic bag fashioned from silk and beeswax respond to the show's theme. 
Robert Cooper , '30%', Jesmonite, silicone, plaster, feathers, approx 16x9x12xm. Photography credit: Georgia Stephenson 
The full list of participating artists include: Abigail Brothers, Alia Hamaoui, Alice Chandler, Amanda Møstrom, Andrew Gillespie, Ashley Middleton, Benjamin Arthur Brown, Benjamin Cohen, Carl Anderson, Charlotte Osborne, Chris Cawkwell, Chris Thorson, Corsin Billeter, David Stearn, Ellie Barrett, Georgia Gendall, Georgia Sowerby, Hannah Lim, Helena de Pulford, Hugo Lami, Jack Evans, Jordan Mouzouris, Kara Chin, Lauren Godfrey, Leon Pozniakow, Lizzie Wright, Luca Bosani, Maria Positano, Megan Elliott, Megan Visser, Naomi Gilon, Natalia Janula, Nathaniel Faulkner, Nick Paton, Rachel Letchford, Richard Phoenix, Robert Cooper, Roberta De Caro, Sarah Edmondson, Sebastian Sochan, Steven Gee, Ted Le Swer, Tom Groves, Trystan Williams, Victor Seaward and Yambe Tam.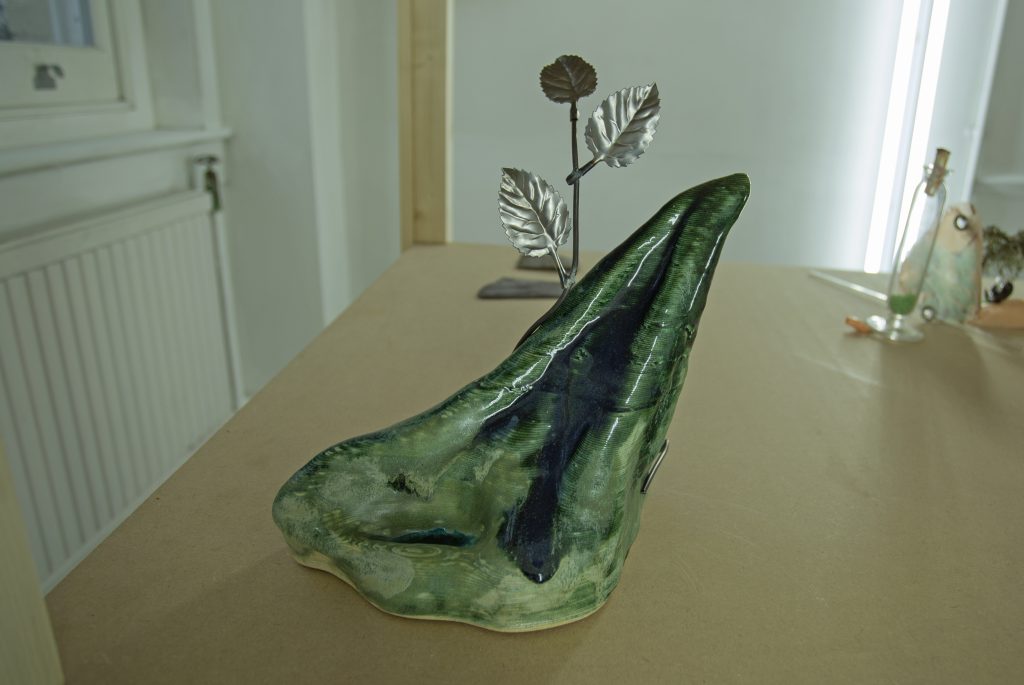 Jordan Mouzouris, 'Ear I 2019', 3D print ceramic & metal foliage, 30x20x14cm. Photography credit: Georgia Stephenson
Open by appointment until 28th February 2020.
Categories
Tags