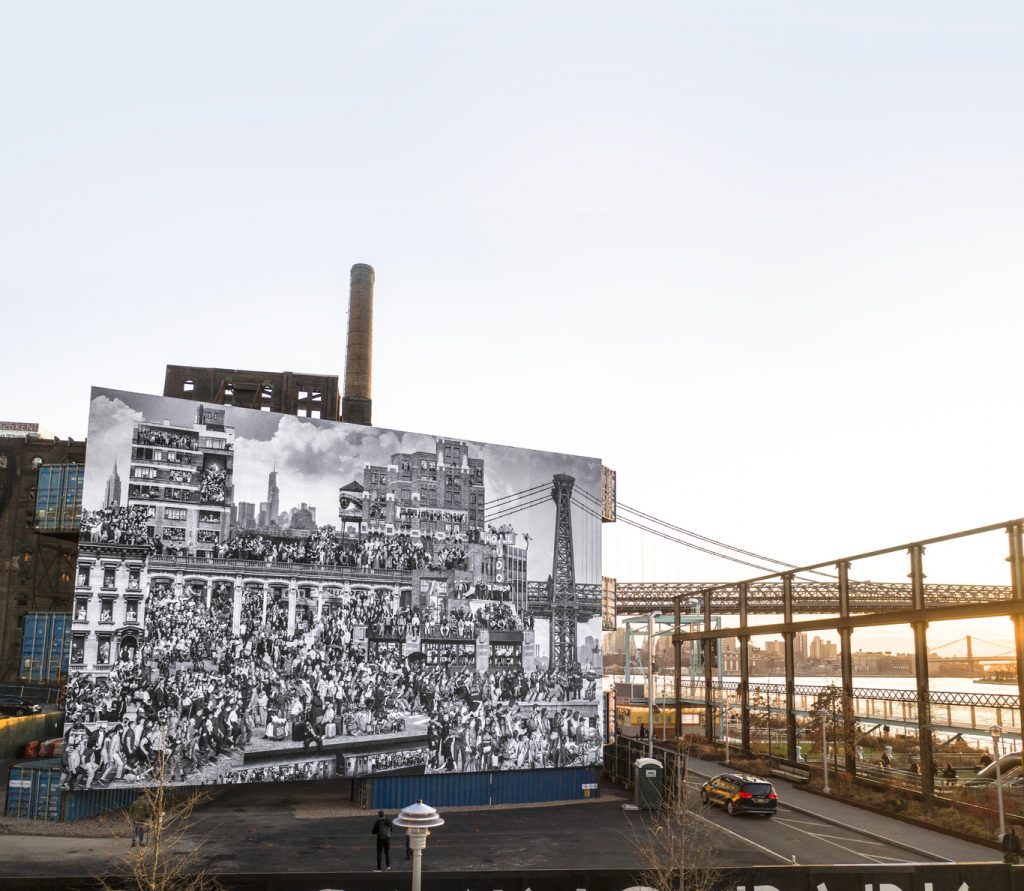 The Chronicles of New York City, JR and Triangle Stack 2, LOT-EK at Domino Park. Photos by Marc Azoulay ©JR-ART.net
" Chronicles of New York", is a massive public mural by the renowned French artist JR who has been leaving his mark around New York since his exhibition JR: Chronicles opened at the Brooklyn Museum. While his murals can be found throughout Brooklyn including the Kings Theatre in Flatbush and the Brooklyn Academy of Global Finance in Bedford Stuyvesant this mural in Williamsburg is the largest outdoor mural to date in NY.
As an artist, JR works to expand the meaning and power of public art through his ambitious projects that give visibility to communities and individuals across the globe through plastering giant monochrome photographs of faces in urban centers, often incorporating local community members to engage in debates specific to them. In the past, he has thoughtfully tackled difficult, timely issues on a global scale – from gun control and women's right to immigration.
For this mural, titled "The Chronicles of New York", he photographed over 1,000 New York residents and reproduced them at a monumental scale on the side of stacked shipping containers in Domino Park, adding to the stunning views of the Williamsburg Bridge and the Manhattan skyline. Overlooking the East River, the epic mural is a portrait of New York City, featuring individuals from all 5 boroughs.
JR: Chronicles opened on October 3, 2019 and traces JR's career from his early documentation of graffiti artists as a teenager in Paris to his large-scale architectural interventions in cities worldwide to his more recent digitally collaged murals that create collective portraits of diverse publics. The centerpiece of the exhibition is The Chronicles of New York City, a new epic mural of more than one thousand New Yorkers that is accompanied by audio recordings of each person's story. The exhibition is curated by Sharon Matt Atkins, Director of Exhibitions and Strategic Initiatives, and Drew Sawyer, Phillip Leonian and Edith Rosenbaum Leonian Curator, Photography, Brooklyn Museum.
The Chronicles of New York City, JR and Triangle Stack 2, LOT-EK at Domino Park. Photos by Marc Azoulay ©JR-ART.net 
About Domino Park
Designed by landscape architecture firm James Corner Field Operations, the lead designers of the High Line, and privately-funded by Brooklyn-based developer Two Trees Management, Domino Park features a waterfront esplanade, six acres of parkland, and improved connectivity to the waterfront. Domino Park is organized into three distinct programmatic areas, transitioning from more active uses near the Williamsburg Bridge at the southernmost end of the site to more passive uses at the northern end of the site. Reclaimed sugar refining and industrial artifacts are interspersed throughout the site, uncovering the story of sugar trade in New York and the sugar refining process that occurred on the site for over a century.
Categories
Tags