Connect – The Independent Art Fair inaugurates its second (Winter) edition this week, taking place at the Mall Galleries from 29th January to 2nd February. The title, 'London Calling', suggests its theme– a celebration of London, its prestigious art schools, and a variety of artists embracing London in their work, from famous landmarks to everyday life. On 31st of January, art critic William Packer will guide a special tour around the Fair in aid of the AGBI charity.
London is famous worldwide for its art scene, pullulating with public galleries, creative spaces, museums and an art schools in almost every district of the metropolis. Artists have been drawn to record London's architecture, views of the Thames, the palaces, backstreets and parks; from Canaletto's views of the UK capital, to Monet's fogbound Westminster. A new generation of artists is also taking the lead in this urban iconography, well represented by Connect fair.
Luke Martineau, St Martin's in the Fields, presented by Panter & Hall 
The fair is organised by a co-operative of art dealers, and it offers artworks in a variety of media, with prices ranging from £100 and going up to £200,000. Visitors will find a good mix of dealers, specialising in all eras from the 16th Century to the Contemporary age. This year, it will be open all weekend closing at 4pm on Sunday, 2nd February and entry is £10 or sign up for free tickets online. On Wednesday, 29th January, there will be a special preview by invitation, or by acquiring a limited amount of tickets for £25 each.
Highlights include:
Blondes Fine Art's wide range of artists, including the original signed artwork by Royal fashion designer Ian Thomas for the design of the blue chiffon outfit HM Queen wore for Charles and Diana's wedding. Blondes will also present the studio collection of Jo Brocklehurst, known for her portrayals of the London Punk community during the 1980s. Her studies of these flamboyant characters include Billy Idol and Souxie Sioux. She captured the spiky defiant 'edge' of these rebellious youngsters with fluid inky drawings and watercolours like a current day Egon Schiele.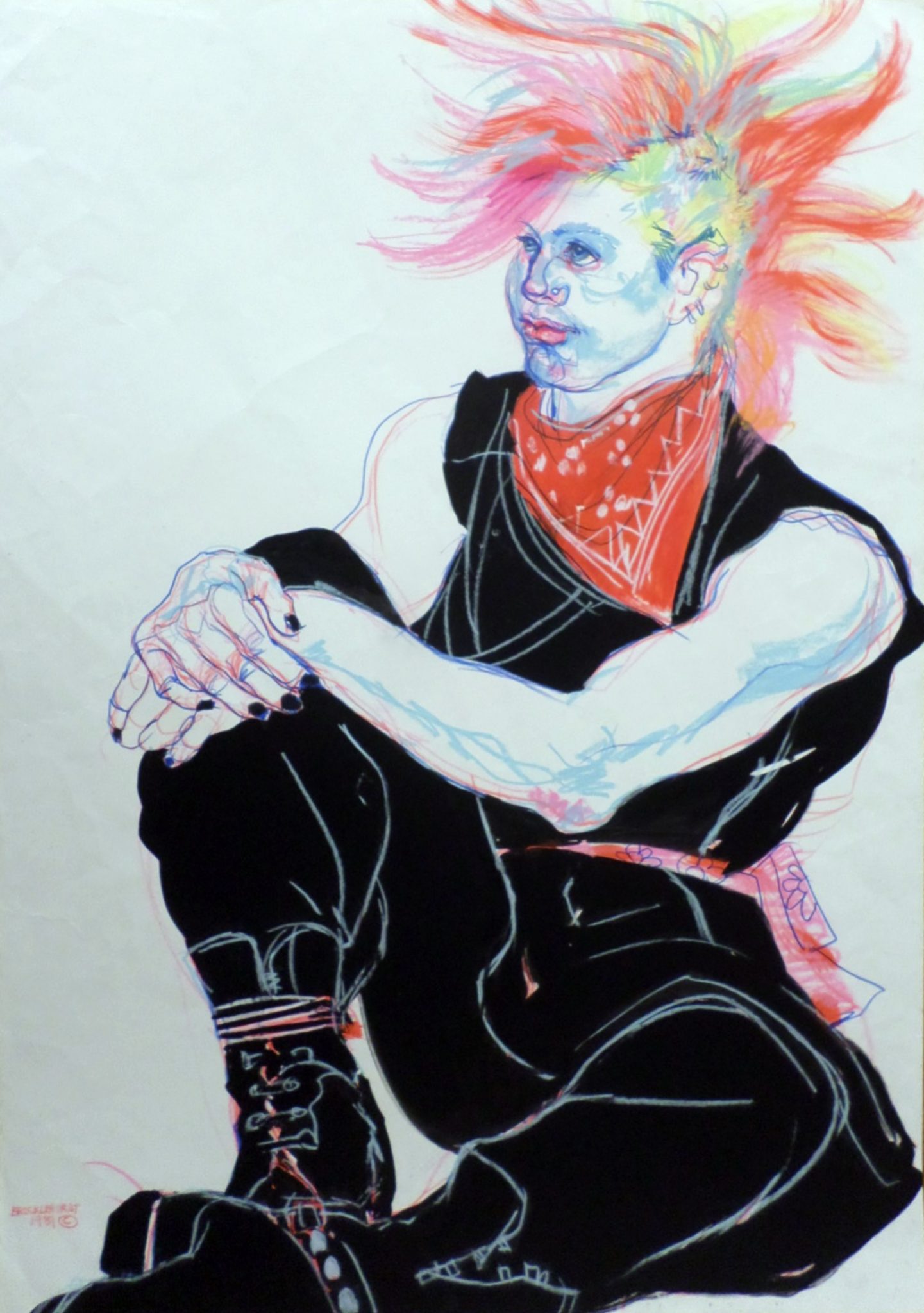 Jo Brocklehurst, London Punk, presented by Blondes Fine Art 
Bridget Riley's works on paper presented by Mark Goodman. After the success of the Hayward show, Goodman decided to present more affordable prints with prices ranging from £8,000 to £200,000, possibly the highest value work at the Fair.
Bridget Riley, Stripe Painting (£200,000), presented by Mark Goodman
Elizabeth Harvey-Lee will bring a Canaletto. The artist, for ever admired internationally for his Venetian 'vedute' (views), was widely collected in the 18th century by visiting British grand tourists. This patronage led him to dedicate the first collected edition of his etchings "Vedute", published c1644, to the British Consul in Venice. 'La Terrazza' from circa 1740-44 comes from the collection of Dr Dominique Franquet and carries an asking price of £3,000.

Canaletto, La Terrazza, presented by Elizabeth Harvey-Lee
Connect Art Fair / @connectartfair
Mall Galleries, The Mall, St James's, London SW1 Wednesday, 29th January until Sunday, 2nd February 2020
Categories
Tags