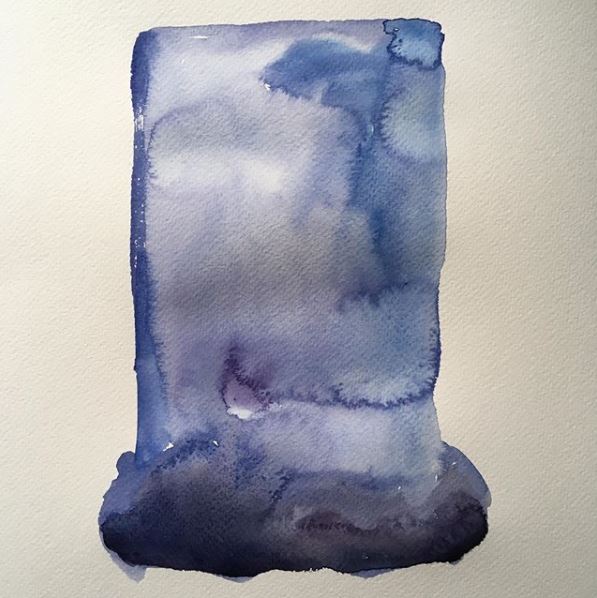 Athene Grieg: Blueberry sketch, 2020
Birth is obviously a rather important event in all lives, yet outside of the nativity, it hasn't received commensurate attention as a subject for art – compared with the less creative matter of death, for example. Maybe that will change as the place of women in the canon receives some overdue adjustment. At any rate, Richard Saltoun's last show in its year of '100% women' looks at motherhood from many perspectives through 20 artists. The second part, 'Maternality' (to 15 Feb) focuses on the materiality of maternal bodies. Much of it is suitably in-your-face, such as Annegret Soltau's stitched image of a pregnant body and Helen Benigson's video layering of arcade consols over her own lactating breasts.

Aimee Gilmore: Milkscapes, 2016
Aimee Gilmore's contribution looks more like tasteful abstraction, but 'Milkscape' (2016) blows up the result of breastmilk spilling onto a polyester sheet in the artist's studio. As the show's curator, Catherine McCormack, says, '
the visual traces of something passing from inside to outside the body are seen to produce a language 'known or felt only by, and in, the embodied relationship between nursing mother and child'. Moreover 'breastmilk – despite its rich potential as a sign – has been conspicuously absent' from the established discourse of body fluids as an artistic medium
– she cites Piero Manzoni's excrement, Marc Quinn's blood, Andres Serrano's urine, Vito Acconci's semen…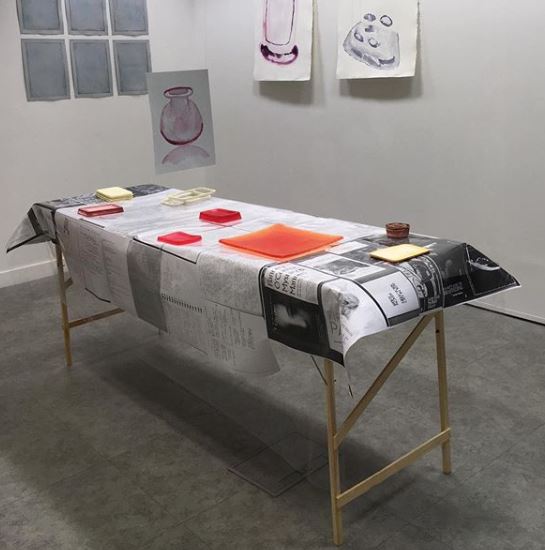 Athene Greig: installation view at The Stone Space
There's a quieter coverage of the postpartum territory at The Stone Space in Leytonstone. It's nine months since Athene Greig gave birth, and the indirect presence of her baby can be felt throughout 'Til Morning Wakes, not simply in its title. Greig adopts the parenting home as a studio, and presents works made with its materials (sculptures of soap, casts from packaging, paintings with food) alongside her day to day notes and the books she's reading.  So, for example, Athene mentions Sounds of pram toy jingle, Paintings like blinds, Use colours from domestic setting, Notes of poo pee, Alabaster vase, Lengths of time long days short rests and Fractured reading. That last is seen to range impressively from 'Hypnobirthing' to Clarice Lispector. You can look at her installation (to 2 Feb) while listening to a yearning rendition of 'Silent Night' and take in a sensitive exploration of the third way of an artist dealing with motherhood – let's say the others are 'stop making art' and 'do your best to ignore the baby'. Next up, perhaps: how much art has fatherhood produced?
Art writer and curator Paul Carey-Kent sees a lot of shows: we asked him to jot down whatever came into his head
Categories
Tags