Art critic Tabish Khan brings you 'The Top Art Exhibitions to see in London'. Each one comes with a concise review to help you decide whether it's for you. All but one of last week's top 7 is still open to visit as well: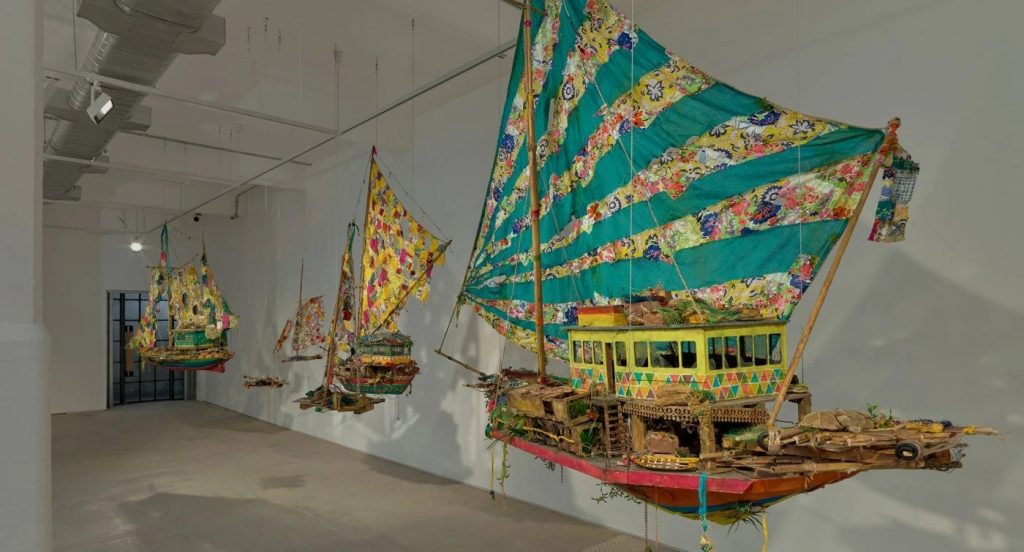 Hew Locke: Where lies the land? @ Hales Gallery
Ships with colourful sails are floating through the air, suspended inside the gallery. Busts nearby are adorned with ornate beads and a colourful house like those found in Guyana is available to peek inside. Locke's work has always touched on themes of migration and colonialism, and it's great to see the evolution of his work. Until 7 December.
Architecture of London @ Guildhall Art Gallery
What a beauty London is, see her at sunset from Greenwich or in Ben Johnson's huge hyper-real painting of Trafalgar Square. Guildhall Art Gallery is filled with artworks that capture every aspect of it from historical scenes such as the Great Fire and the destruction of the old Waterloo Bridge to a view looking over back garden by Lucian Freud. London is a remarkably busy city but here's a chance to slow down and soak it in. Until 1 December.
Birth @ TJ Boulting
The moment of birth is painful, emotional and beautiful. This group show looks at birth and the how women are impacted by it, whether it be bloody photographs of a baby's head crowning or a close up of food by Maisie Cousins that looks gory when placed in this context. The most moving piece is a virtual reality experience by Poulomi Basu that makes us confront a horrifying and illegal tribal Nepali practice of isolating any woman who bleeds after childbirth. Until 9 November. 
Tai-Shan Schierenberg: Men without women @ Flowers, Cork Street
What's it mean to be a man today? From being in the great outdoors fishing to being clobbered in a boxing match this exhibition looks at different aspects of masculinity. In among these paintings featuring men is a car in flames by the side of the road — this was the most arresting painting for me, encapsulating the violence and vulnerability that is the toxic cocktail that inhabits many young men today. Until 23 November.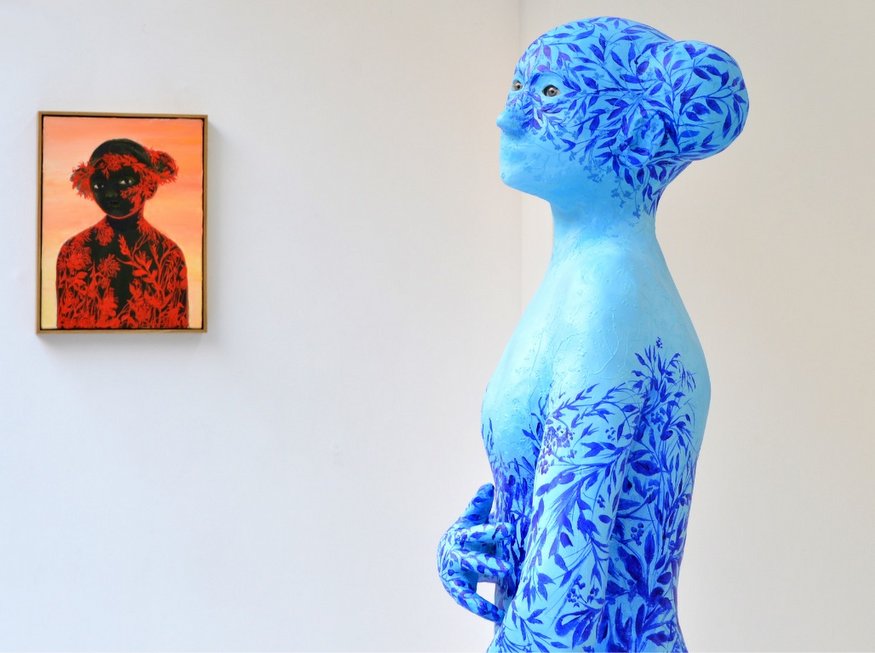 Lisa Wright: Infinite Forest @ Coates & Scarry, 55 Eastcastle Street
Brightly coloured figures covered in vegetation stand in the gallery space and peer out from the walls. These forest folk are the creation of Lisa Wright and tie into the sculptures she's placed in Thetford Forest in Suffolk. These fantastical beings are beautifully painted and crafted, and the ideal antidote to winter drawing in. Until 6 November. 
Ami Clarke: The Underlying @ Arebyte
Stand in the City of London, it looks more shiny and futuristic than it is today. But it's empty with sand blowing through the deserted streets. This virtual reality work shows how the financial markets and capitalism bring about environmental destruction — with a sand bank installed in the gallery to add to this effect. Surveillance culture gets an all too literal look in as well, with clumps of eyes watching us as they stick to the pillars of the gallery. Until 16 November. 
Counter|Balance: ArtCan Open 2019 @ Trinity Art Gallery
A concrete hulk remains in balance with a hunk of metal — this precarious relationship being held in place by a strap. A tree teeters on the edge of a cliff and a burned artwork crumbles. This group show of over 40 artists explores the theme of colour and materials in balance with one another. Full disclosure: I am a trustee of ArtCan. Until 10 November.
All images copyright the artist and courtesy the gallery unless otherwise stated. Feasting on femininity image: Copyright Etienne Clement. Birth image copyright Juno Calypso. 
Categories
Tags