Art critic Tabish Khan brings you 'The Top Art Exhibitions to see in London'. Each one comes with a concise review to help you decide whether it's for you. Every one of last week's top 7 is still open to visit as well: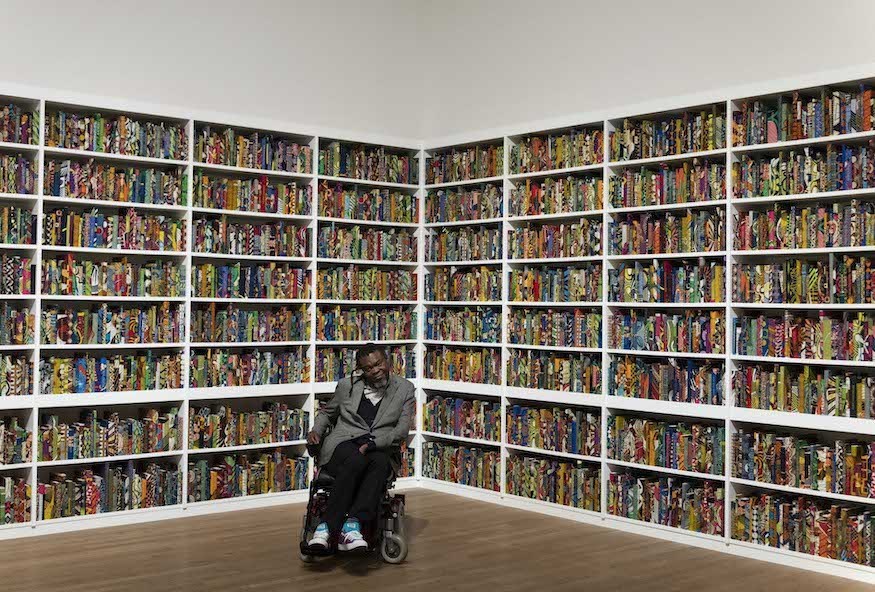 The British Library by Yinka Shonibare @ Tate Modern
This is the most colourful library in London, filled with Books covered in the jazzy dutch wax print that has become artist Yinka Shonibare's trademark. The important message is in the names on the spines, all of first or second generation immigrants who have contributed significantly to British society. It's a bold statement that's particularly prescient given the uncertainty around Brexit and the closure of many libraries. It's a fantastic acquisition by Tate Modern. Until 17 November.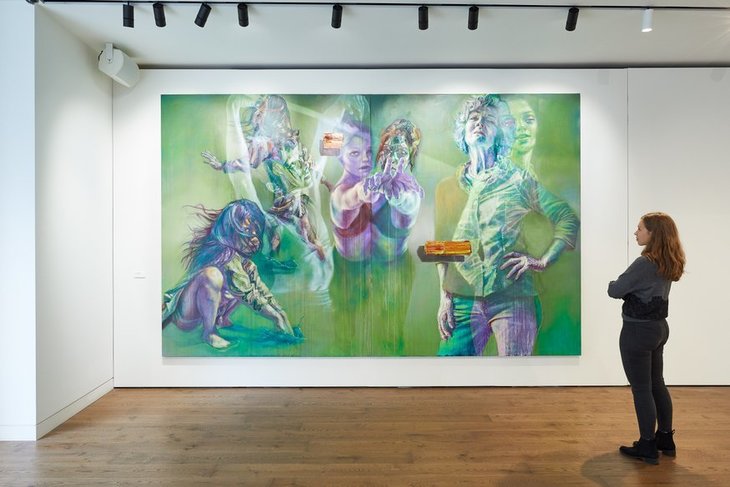 Sara Shamma: Modern Slavery @ Bush arcade, King's College London
Ghostly portraits and eyes filled with determination, Sara Shamma has worked with survivors of  modern slavery and psychologists at King's College London to create portraits that symbolise the struggles they've been through. These are beautiful works and capture that sense of the split between the person that others see and how we feel inside. Until 22 November.
Meekyoung Shin: Weather @ Barakat
A collection of small works cover the floor. In among the porcelain works, made to resemble stone sculptures by contemporary artist Meekyoung Shin, are genuine antiquities but you'll need to be eagle eyed to spot them. Along with Friezes on the wall impressively made from soap it's the perfect blend of ancient and contemporary art complementing one another. Until 22 November.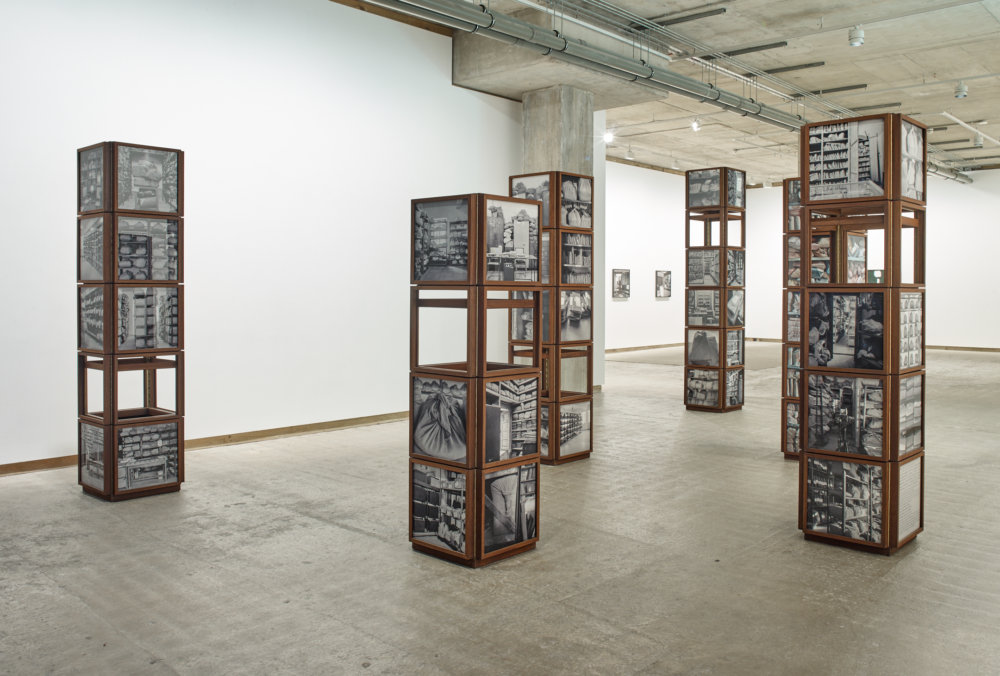 Dayanita Singh @ Frith Street Gallery
Towers of cubed frames display black and white photographs of archives where papers are kept in cloth bundles. It feels like I've stumbled into a secretive behind the scenes look at an archive I didn't know anything about. In her trademark set up Dayanita Singh presents them in a movable format of stacked frames so snaps next to each other could be from all across the archive — reflecting the viewer's own lack of knowledge of this work. Until 9 November. 
Manolo Valdes @ Opera Gallery
Butterflies sprout from a head in an eye catching sculpture in Berkeley Square. Now nearby Opera Gallery has an exhibition to go alongside this installation with a selection of figurative sculptures and paintings. As well as more aesthetically beautiful works there's rougher more abstracted pieces on display — whether it be wires extending from a deep blue head or the textured layers of his paintings, it brings a new dimension to his signature style. Until 15 November.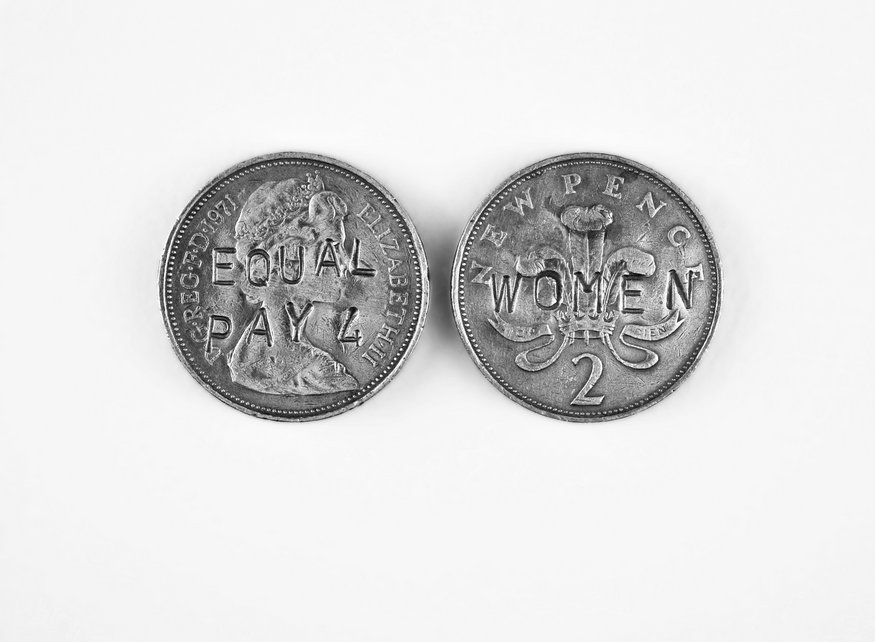 Nicole Wassall@ Precious Mettle @ Fiumano Clase
Two pence coins are stamped with 'Equal Pay 4 Women' and they are coins printed after the Equal Pay Act came into effect in 1971 and yet here we are with there still being a gender pay gap. A puppeteer's hand dangles the symbols of the three Abrahamic faiths in a nod to how they are all so similar and yet cause so much conflict between them. This small show is filled with subtle works containing huge ideas. Until 15 November. 
Robert Montgomery: Shiny Colourful Amusements for the Walls of the Bourgeosie @ JD Malat
Poetic phrases shine in lights declaring all palaces are temporary and the people you love become ghosts inside of you. The words in lights and in paintings can be poignant and immediate or more difficult to decipher, with a humorous twist as can be seen from the title of the show. I've seen his large outdoor works a few times before but it's great to see the smaller works in a gallery setting, plus the paintings I hadn't seen before. Until 2 November. 
All images copyright artist and gallery unless otherwise specified. Shonibare Photo: Oliver Cowling, Tate. 
Categories
Tags