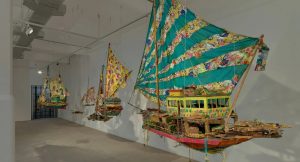 Colourful ships, architecture, birth, masculinity, forests, capitalism and balance.
An impressive list of contemporary artists have generously donated to the 2nd 'ART on the Mind' exhibition to raise funds for Cardboard Citizens.
This summer, art world A-listers will take part in the second, annual 'Art on the Mind' exhibition and auction, in aid of UK homeless charity Cardboard Citizens.