Just in case you've ever wondered what human breast milk smells like, you can now head down to the Wellcome Collection to find out: the museum has just opened up their new permanent exhibition gallery titled Being Human, likely to remain there for at least 10 years. The range of displays all explore the question "what does it mean to be human?", with interpretations ranging from the literal to the hypothetical and fantastical. Amongst these is food historian Tasha Marks' latest project, an intricate bronze sculpture that smells of human breast milk. Playfully titled '5318008' (turn the numbers upside down to read 'BOOBIES') the work celebrates our relationship with bacteria. The metal casing is made of pure bronze, using a technique developed by British sculptor Robert Erskine that builds up droplets of molten bronze to create an organic textured surface. The bronze structure then sits atop a small diffuser, which emits a sweet musky aroma with a hint of metallic notes that Tasha explains are uniquely provided by the bronze itself. Sure enough, when we later peruse the accompanying scented candles produced by AVM Curiosities for the Wellcome gift shop of the same scent, their scent is somewhat sweeter. Tasha teamed up with CPL Aroma's Head Perfumer Elise Pierre and Global Marketing & Brand Director Angela Stavrevska to accurately replicate the scent of breast milk. 
Her other recent projects include Scenterpiece, a scented installation at National Trust property Rainham Hall celebrating the work of Vogue decoration editor and photographer Anthony Denney. White monochrome ceramic still-lifes rest and are infused with 3 different fragrances inspired by Denney and evoking the spectacle of eating .
Tasha Marks has a background as a food historian, specifically in sugar and its significance in the global food sphere. After obtaining her Art History degree she then went on to launch AVM curiosities in 2011, going on to curating various sensory experiences and edible explorations that inform the way we interact with food and culture. I catch up with the food historian about harnessing the nostalgic power of the sensory experience and the potential of food as artistic medium:
– Is there a particular period of history that you are inspired by?
My love of food history started with Renaissance sugar sculpture and I ended up writing my dissertation about jelly, so the sweet stuff has always been something I was drawn to! In particular, conversations about sweetness and power in the Early Modern Era. That said, I'm not period specific, I've made Ancient Egyptian beer for the British Museum and 3D printed sugar sculpture for the V&A, so for me it's always more about storytelling than history as a whole. The brilliant food writer Bee Wilson once said 'we project ourselves on history' so perhaps that's what I do, I take out little extracts, legends and histories, and respond to those with something sensory. 
– Would you say that food replaced has art as high culture to a certain extent?
Food has always been linked to status, so it's both high culture and a necessity. Those histories exist in a binary and it will forever be a spectrum. In the Elizabethan era a dessert banquet could easily cost as much as a portrait, so these are both displays of power and storytelling that go back centuries – it's just that the portrait survived the test of time, while the banquet was consumed. But we all consume culture, so why not literally eat it for once!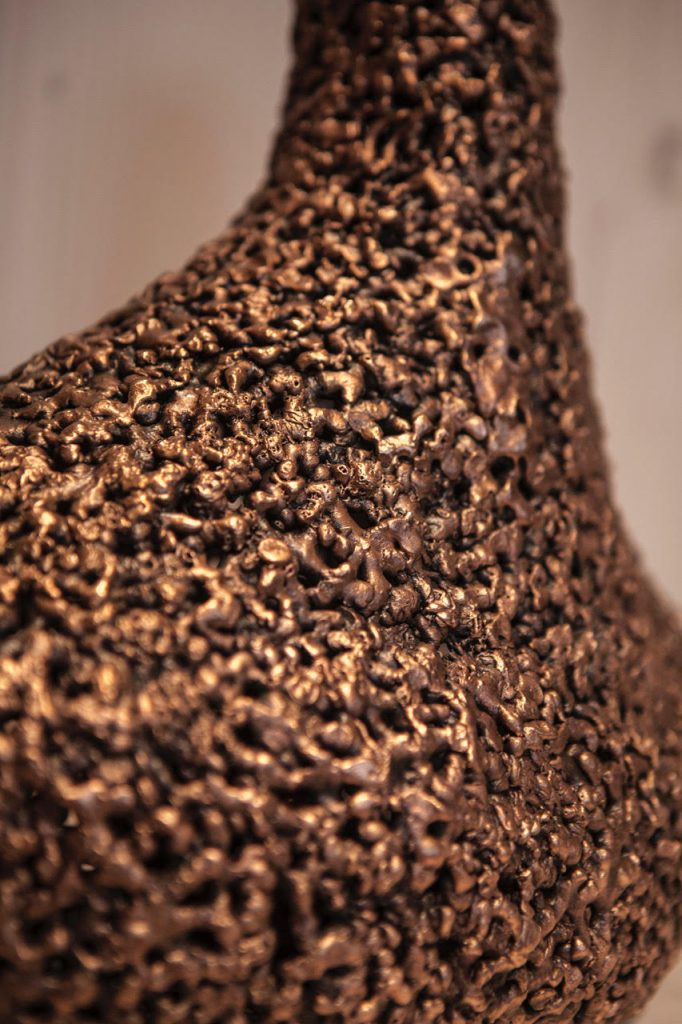 – Your work blurs the line between art and science in an interesting way. Do you think it is important for art to be interdisciplinary?
Absolutely, I think the lines have been blurred and we have access to information and expertise that was impossible before, opening up a whole new world of possibilities. As an artist, my practice is very collaborative so I enjoy working with creatives and academics from different fields and researching into subjects that I wasn't familiar with before. I think that life is interdisciplinary and art is a reflection of that, creativity is no longer achieved in ivory towers but something that crosses boundaries.
– The element of nostalgia is so strong when it comes to smell. Are there any particular memories you want your work to evoke?
Nostalgia is a powerful thing, but it is also subjective, what is nostalgic for one person might not be for another. Likewise, what is pleasant and what is revolting to a certain extent. There is no wrong answer when it comes to aroma, if the viewer says it reminds them of this, or it smells like that, then that is what it evokes for them. I love that scent is so linked with memory and emotions and I work hard to make aromas that I feel evoke the subject, however it's always open to interpretation and it's not for me to dictate the response, only guide it perhaps.
– What's your favourite scent?
It changes! I love the smell of Earl Grey tea and fragrant fruity flavours like bergamot and rhubarb, but also most fougére aromas as I'm drawn to more herbaceous, green and floral notes. While when it comes to storytelling, the scent of rosewater is the most evocative for me, I spent a lot of time making Tudor confections, so that aroma for me is the scent of history.
– Do you have a favourite chef and would you consider a partnership with a restaurant or a regular event like a themed supper club?
There are lots of chefs I admire; Alexis Soyer, Antonin Carême, Elizabeth Raffald, Elizabeth David, Yotam Ottolenghi, Nigella Lawson, the list goes on! But in terms of a dream contemporary collaborator, I'm a massive fan of Heston Blumenthal. His restaurant Dinner is one of my most memorable eating experiences, plus one of his mentors was the Food Historian Ivan Day, who I also studied with, so I think we both share the same passion for food history and fantastic feasts. 
Read more about Wellcome Collection's permanent gallery: HERE
www.avmcuriosities.com | @avmcuriosities
Current / Upcoming Events
Fragrant Fictions
Inspired by Es Devlin's Memory Palace
Part of Museums at Night
Pitzhanger Manor | London
Friday 1 November 2019
The Scented Sovereign
Scented sculpture series 
Part of Bright Nights: Empire
Kensington Palace | London
29 October & 13 November 2019
Scenterpiece | The Denney Edition
Commission for the National Trust
Curated by The Decorators 
Rainham Hall | London
Open from 29 June 2019
Until June 2021
5318008 | Scented Bronze Sculpture
Commission for Being Human
Curated by Clare Barlow & Fiona Romeo
Wellcome Collection | London
Open from 5 September 2019
Until September 2029
Categories
Tags