Being Human, the new permanent gallery at Wellcome Collection will explore what it means to be human in the 21st century. Divided into four sections – Genetics, Minds & Bodies, Infection, and Climate Breakdown – the new display will present around 50 artworks and objects that reflect our hopes and fears about new forms of medical knowledge, and our changing relationships with ourselves, each other and the world.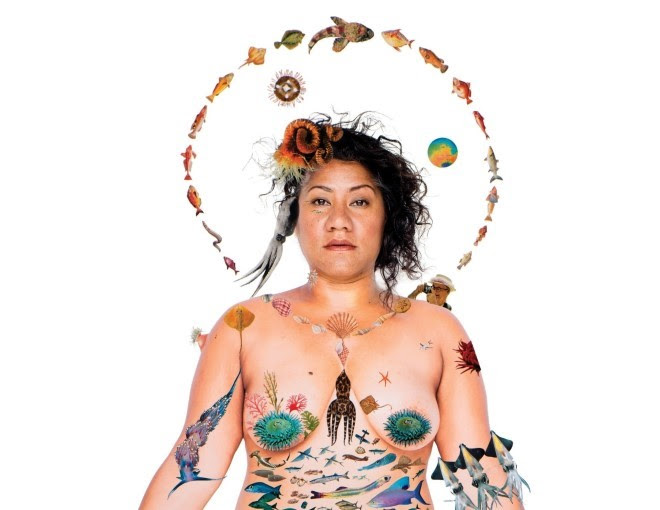 Yinka Shonibare CBE (RA), Deborah Kelly, Kia LaBeija, Onaman Collective, Cassils, Tamsin van Essen and Heather Dewey-Hagborg are some of the artists whose works have been acquired by Wellcome Collection for display, accompanied by pieces by Superflex, Katherine Araniello, Tasha Marks | AVM Curiosities, and objects such as a gene-editing kit, the Zimbabwe Friendship Bench and the Accessible Icon Project.
Genetics
The first section of the exhibition will discuss genetic knowledge and how much we know about our genetic inheritance.
Transdisciplinary artist and educator Heather Dewey-Hagborg will present 'Stranger Visions'. For this work, the artist collected hair, chewed-up gum and cigarette butts from the streets, public bathrooms and waiting rooms in New York City. Dewey-Hagborg extracted and analysed DNA from these to computationally generate 3D-printed life-size full-colour portraits representing what those individuals look like, based on genomic research. Her work discusses the limitations and bias in phenotyping technology.
Tamsin van Essen will explore health stigma through her work Medical Heirlooms. Using ceramic materials, van Essen creates vessels based on the 17th and 18th century apothecary jars that explore hereditary health conditions.
This section will also present a gene-editing kit, now commercially available in the USA for private individuals to carry out CRISPR DNA editing (Clustered Regularly Interspaced Short Palindromic Repeats). While genetic editing in this specific type of cell has been available since the 1980s, a commercially available kit like this raises questions around biomedicine, policy barriers and how accessible DNA testing will be in the future.
Minds & Bodies
The second section of Being Human will present artworks and objects that approach themes about mental health, the body, and how we value ourselves and each other in a changing society.
Deborah Kelly will present her series of 20 life-size portraits No Human Being is Illegal (in all our glory). For this artwork, a group of volunteers were individually photographed naked and asked what they wanted audiences to know about them. Kelly worked with a team of volunteers to collage the portraits, reflecting the sitter's identity, sense of self, and unique experiences, from surgical scarring to drug addiction. A different portrait from Kelly's series will be put on display each year during the lifespan of the new gallery.
Multimedia and performance artist Cassils will present 'Advertisement: Homage to Benglis', a photograph that is the culmination of a 23-week performance piece in which the artist gained 23 pounds of muscle in 23 weeks as part of a project titled 'Cuts: A Traditional Sculpture'. This work reinterpreted Eleanor Antin's work 'Carving: A Traditional Sculpture' (1972), in which Antin crash-dieted. The photograph, taken by Robin Black, explores gendered expectations of the body. Cassils' body here is reshaped through bodybuilding rather than by conventional hormone therapies or surgery. The title refers to Lynda Benglis, who distributed her own sexualised self-portrait 'Advertisement' (1974) by taking out advertising space in Artforum. In 'Homage to Benglis', Cassils distributed their self-empowered trans pin-up image without explanation in magazines and online.
The Accessible Icon Project is an ongoing design activist project to create a more active depiction of a wheelchair user. The project not only looks to edit existing city languages to make them more inclusive, but ask questions about disability and the built environment, education, meaningful citizenship and political rights.
As part of new approaches to mental health, the Zimbabwe Friendship Bench is a project that saw benches installed outside clinics on which health workers had structured conversations with people who were identified as having mental distress. The project has now been rolled out across Africa and in New York.
Performance and video artist Katherine Araniello (d. 2019) developed the performance piece 'Pity' in which she dressed up as a collection box used outside charity shops in the 1970s depicting a child with cerebral palsy. Through her performance, Araniello challenged the viewer about the concepts of both disability and charity.
Infection
This section of Being Human will focus on our thoughts and feelings about infection and how this affects our relationships with others. It will include the work 'Eleven' by multidisciplinary artist Kia LaBeija, whose body of work focuses on her identity as a black queer woman living with HIV. For this piece, LaBeija created an intimate yet defiant self-portrait sitting in a clinic wearing her prom dress while her doctor is drawing her blood during a routine appointment. The image was taken eleven years after her mother died and is part of a collection of self-portraits exploring the stigma of growing up and living with HIV.
Food historian and artist Tasha Marks | AVM Curiosities will develop a smell-based sculpture to explore the smells associated with being human, such as that of breast milk. Smell influences our choice of partner, but also it gives us clues about stress or illness, making it essential to our relationships with each other.
Environmental Breakdown
This section will explore environmental breakdown and its effects on humans. Artist group Superflex will present their short film 'Flooded McDonald's' in which a convincing life-size replica of a McDonald's is gradually flooded with water. The piece depicts disaster and hints at the consumer-driven power, influence and impotence of large multinational companies in the face of climate change.
Posters created by American indigenous artists and environmentalists Onaman Collective will also feature as examples of activists' efforts against climate change. They have created a set of posters free to download and use for all water- and land-protection actions by grassroots organisations. These have been used in different environmental demonstrations such as that in the Standing Rock Sioux reservation in opposing the Dakota Access Pipeline.
Finally, Yinka Shonibare will present a new piece of work from his series 'Refugee Astronaut'. This life-size figure of an astronaut wears a suit made from fabric reminiscent of traditional Nigerian patterns. Reflecting on themes such as climate change, identity, colonialism and globalisation, Shonibare's work will encourage visitors to think about our future.
Being Human explores our thoughts and feelings about health, our identities and relationships, and our impact on the changing environment. Our understanding of what it means to be human is being transformed not only by new research but also by the voices of those with diverse identities and experience.
The new gallery will be designed by Assemble, with Kellenberger-White. Assemble is a multidisciplinary and socially focused collective who work across architecture, design and art. Founded in 2010, they have delivered a diverse and award-winning body of work on a variety of scales with a democratic and cooperative working method. Wellcome Collection is also working with an advisory panel of senior scientists and an advisory group organised in collaboration with the University of Leicester's Research Centre for Museums and Galleries.
Since it opened in 2007, Wellcome Collection is a free museum and library that aims to challenge how we all think and feel about health. It creates opportunities for people to think deeply about the connections between science, medicine, life and art. The new displays will replace the Medicine Now gallery after 12 years and almost 2 million visits.
Categories
Tags