"Generally we are motivated by an issue that we deem unfair, unreasonable or undiscussed. At the moment the digital recognition and monitoring systems that 'protect' our world are irritating us and deserve to be exposed for the racist, sexist and damned right intrusive actions that they take."
Spearheading the use of technologically-advanced fabrics in fashion as we know it today, fashion provocateurs and co-conspirators Joe Hunter and Adam Thorpe's cult label Vexed Generation has been revived for a new generation of freethinkers and theirs is a story that stretches back to the renegade 1990s.
Politically motivated and ethically charged, Hunter and Thorpe's clothing concept was initiated in 1993 during the Criminal Justice Bill's gestation period, which saw the government suppress civil liberties by restricting freedom of movement and large gatherings of people in response to a ubiquitous rave culture. Hunter's background in graphics and Thorpe's in bio-analytical science converged as a socially responsible streetwear label that rapidly became the dernier cri in urban living and continues to be celebrated by style mavens worldwide.
Central to Vexed Generation's output were sartorial designs imbued with seditious and iconoclastic overtones, that not only alluded to a political agenda but were a mechanism by which to raise awareness. The duo's utility-inspired collections, whilst supremely stylish and highly coveted, acknowledged the essence of urban safety and personal protection against public surveillance.
Early on Hunter and Thorpe devised concepts involving 'urban utility' and 'urban mobility' which served to support multi-modal lifestyles in conjunction with their interest in widening discussion about corporate responsibility and the welfare of the environment. Furthermore, a 'Vexed' garment was designed for longevity, making a statement about fashion's ephemeral nature long before it became a buzzworthy issue.
Fashioned from intelligent, hard-wearing fabrics, not previously used for civilian streetwear, including MOD formulated ballistic nylon and fire and knife retardant materials that were treated to make their garments windproof, waterproof, antibacterial and breathable, those Vexed boys considered every eventuality – thank you! Innovative and original, the duo were genuine pioneers of socially responsive garments as demonstrated by their much imitated, balaclava-hooded fleece jacket and seminal Vexed Parka which were conceived in 1994 as a reaction to the Criminal Justice Act. Protective and counter combative, their parkas zipped up to one's eye line as 'armour' against air pollution, police riots and the proliferation of CCTV and its adverse consequences. Likewise, their industrial-strength, square shaped backpacks that strapped across the body and were sufficiently capacious to accommodate a night's worth of 12-inch vinyl, a pocket for one's mobile and another for a pack of twenty (nicotine and/or prophylactics) alluding to the clubbing generation that they originated from.
As Thorpe points out, "the main motivations for our work are selfish, indulging our desire to make something that has meaning and utility for us; materialising our questions and concerns so that others can project their interpretations and meaning onto and into the pieces. The garments speak a kind of language for us and some recognise the same meaning whilst others see it differently; a productive lost in translation. When we are designing for ourselves – as/for Vexed – our work is often autobiographical; researching and responding to personal experiences and concerns and materialising that as garments, not always because we want to wear what we design – though often we do – but our preoccupations and concerns with the ideas they respond to makes them a kind of record of our personal experiences and societal concerns, especially when you look at a load of different pieces across many years. The fact that other people want our clothing too means that we aren't the only ones experiencing the world in that way." Hunter agrees, "our work is autobiographical to a degree. It certainly reflects our views, our concerns and our lifestyles, and very often we have chosen fabrics that we personally like and many others don't or didn't."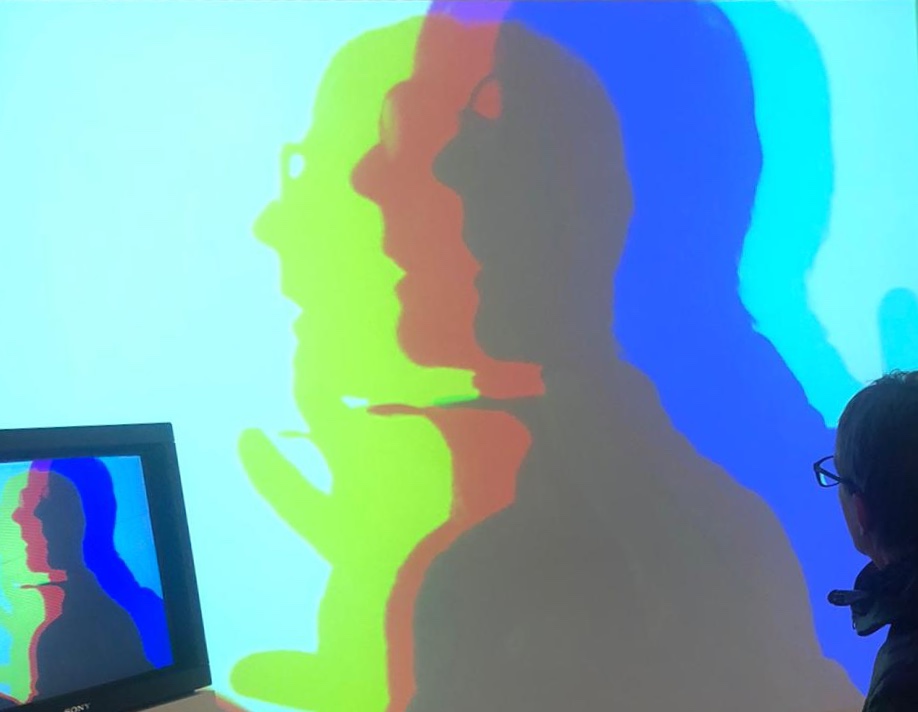 Portrait of Joe Hunter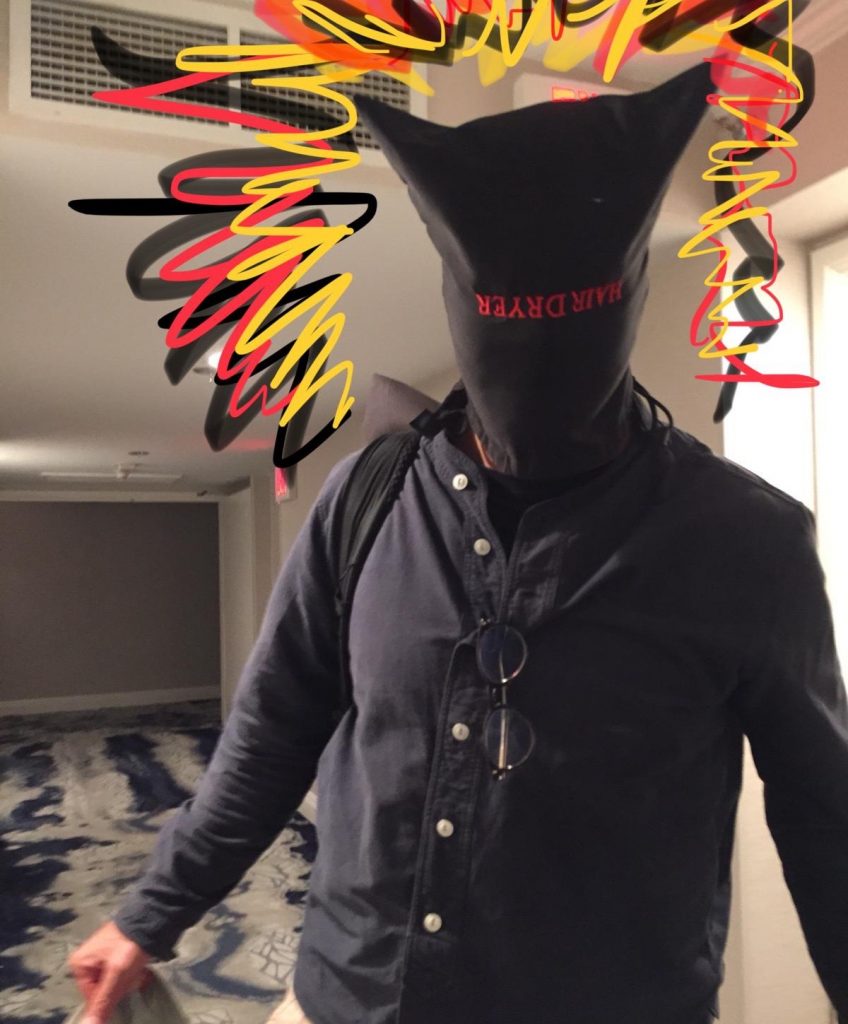 Portrait of Adam Thorpe
In keeping with their commitment to social consciousness and destabilizing the dominance of corporate autocracy, Hunter and Thorpe's retail spaces subscribed to a more opaque way of organizing shop interiors and promoting product. Subverting all the conventions of time-honoured retail principles, formulaic customer circulation patterns were overlooked and archetypal store display was replaced by more imaginative methods in which to showcase merchandise. Even their idea of shop fronts were esoteric. Windows were concealed and facades were anonymous; an anathema to the rules of attracting customers. Although slightly intimidating, those who were bold enough to enter their debut outlet in London's Soho found a stark, white interior with a central transparent cabinet containing minimal amount of stock as a reaction to the excesses of consumer consumption.
Their follow-up enterprise (also in the heart of Soho) was situated above a 'questionable' store. Visitors entered through a side street, up a narrow, creaky staircase that one feared may give way at a moment's notice. Frequently its décor and accordingly the colour of their walls would transform to reflect the mood that currently inspired them. For instance their 1998 retail installation 'A Stitch in Time' saw calico padded walls lending a sense of protection and enclosure. Additionally, the fabric lining their shop's walls encouraged customization via patrons hand sewing their choice of words and motifs onto its surface, thus referencing collectivity and shared memories and rather prophetically the notion of being unique in an era that privileges digitalization's widespread facility to multiply and facsimilize. Although visually arresting and damn right ingenious, the stores were configured as a byproduct of the pair's dedication to confronting and endorsing the social issues that, as their name suggested, vexed them.
Their objectives had always been to facilitate the combination of "social imperatives with commercial imperatives in an attempt to harness consumerism to expedite positive social change." However, towards the end of the 1990s increasing rents brought about an end to Hunter and Thorpe's retail operation.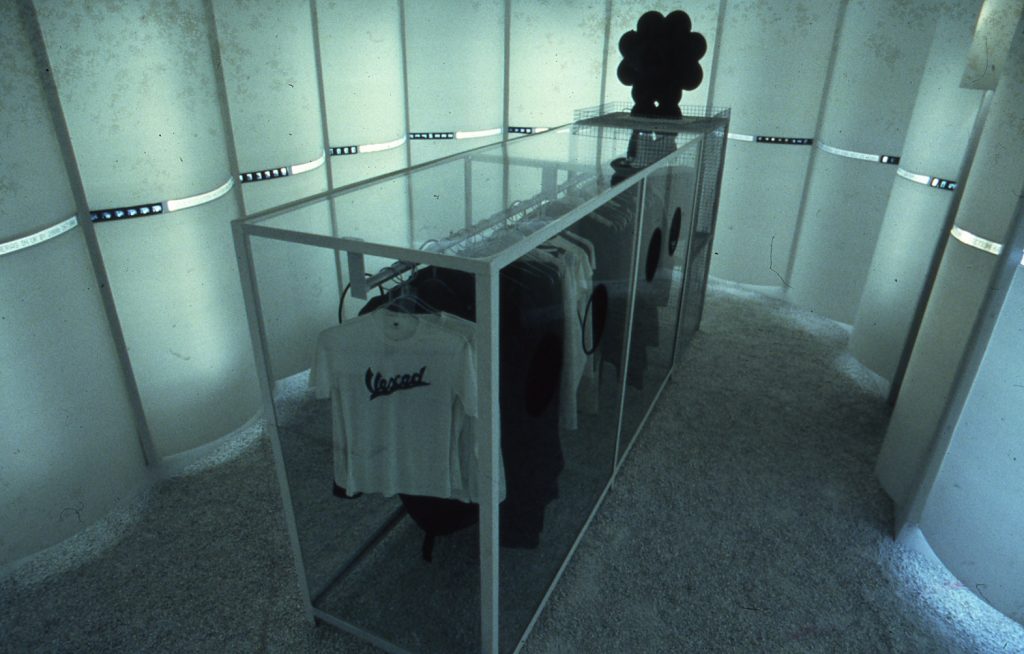 Vexed Generation's debut shop in Newburgh Street, London W1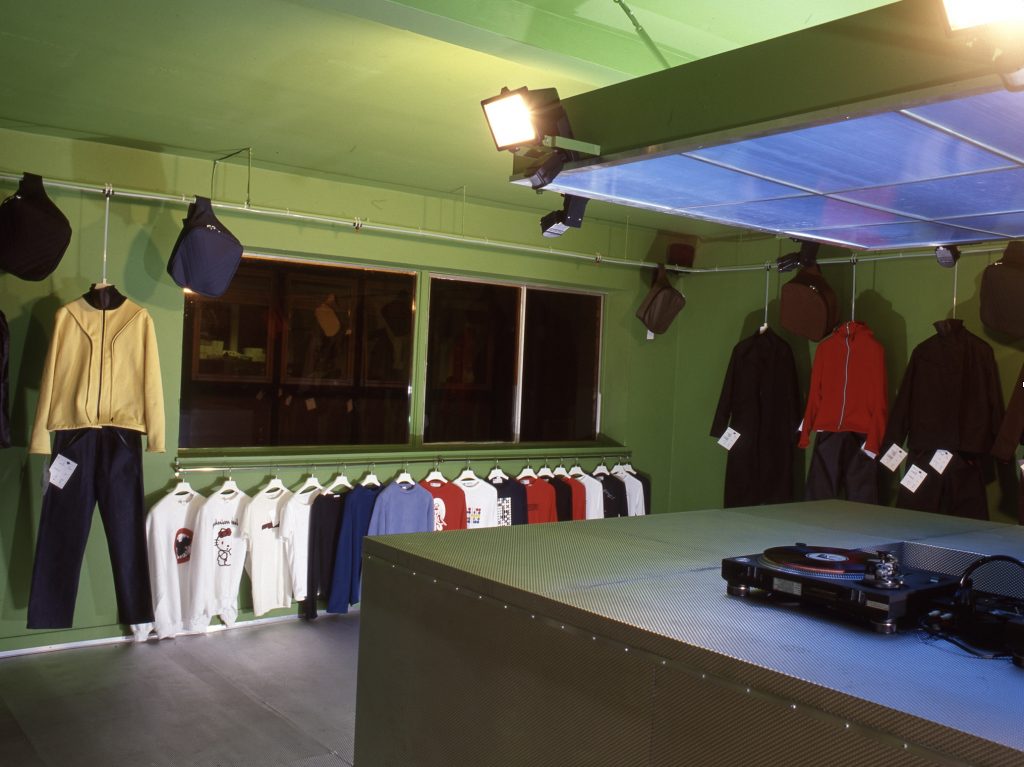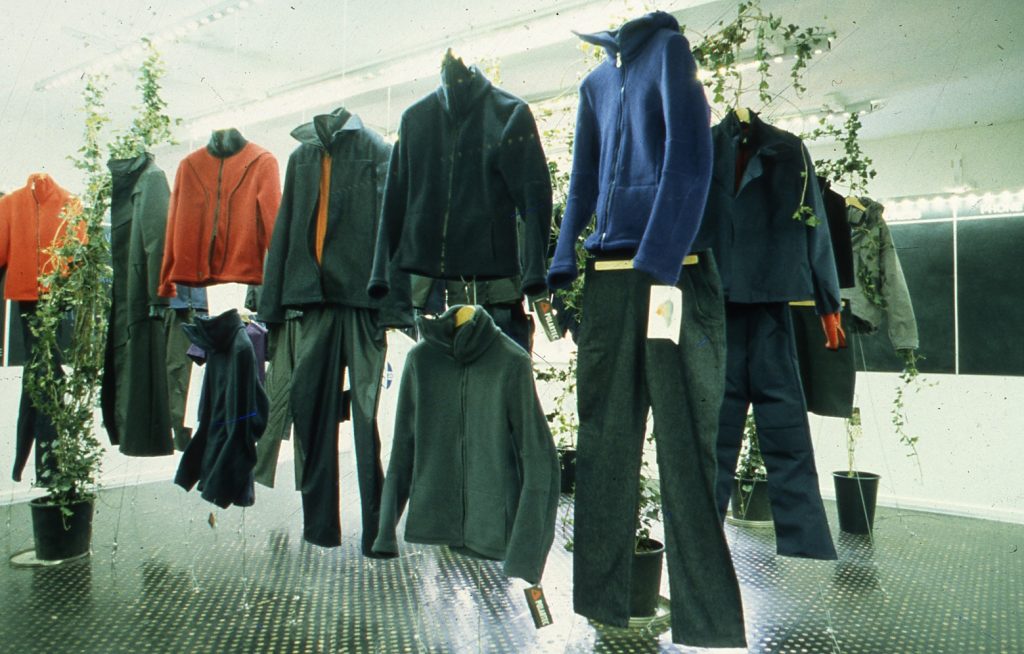 The many iterations of Vexed Generation's shop in Berwick Street, London W1
"…the age old question about when something becomes art. What is art? Can design be art? Should brands completely take over an art gallery like Armani at the NYC Guggenheim? I don't think so… but are clothes art? Is it about message and conveyance of that message? Questions, questions, questions…"
Far from being idle, in the last two decades, Hunter has had a long-standing position as senior lecturer at the University of East London's fashion design and fashion futures program, while Thorpe's tenure is as professor in socially responsive design at the University of the Arts London plus co-director of UAL's Design Against Crime Research Centre and the founder of UAL's Design for Social Innovation and Sustainability (DESIS) lab. Hunter and Thorpe also continued their innovative partnership through a number of under-the-radar, but no less radical, projects. During the '00s they joined forces with designer and art director Nic Jones (partner in creative studio Surface to Air in Paris) to form Broke, Bitter 'n' Twisted, a clothing label counterpart to Vexed Generation. Another collaboration saw Hunter and Thorpe develop the Disko bicycle with Biomega and PUMA. Foldable and thief-resistant, the Disko bicycle occupied minimal space – especially pertinent to cities whose apartments are typically bijou – and were far harder to steal than a conventional bike – again, especially pertinent to city life!
In 2010 Hunter and Thorpe exhibited a sartorial triumvirate at the Fashion Space Gallery in central London, in collaboration with Australian artist eX de Medici's photographic archive The World. Despite having never met, Hunter and Thorpe and eX de Medici's mutual interest in the effects economic and environmental conditions had/have on the individual and the community, resulted in an exhibition exposing three different stratas of conflict; political, social and transcendental, as interpreted in mediums that contextualised their respective disciplines. For Hunter and Thorpe this manifested in revisiting and reappropriating their classic Vexed Parka, resonating with both its origins as well as its relationship to its then present day. The 'political' component was marked out by one of their prototype Vexed Parkas, the 'social' delivered a version of the parka made from the calico saved from their 'A Stitch in Time' shop installation (see photos below) and the 'transcendental' adaptation of the parka with its mirrored surface aspired to utopian ideals. Staged on a revolving stand the final parka reflected its immediate, albeit shifting, environment, transcending conflict and embracing diversity and unity.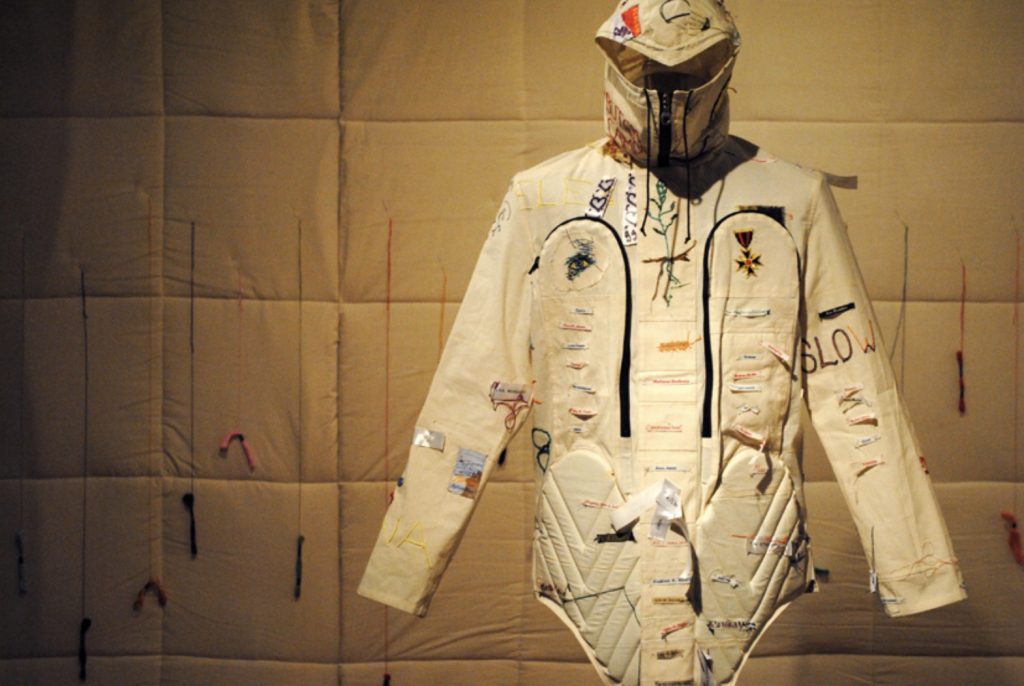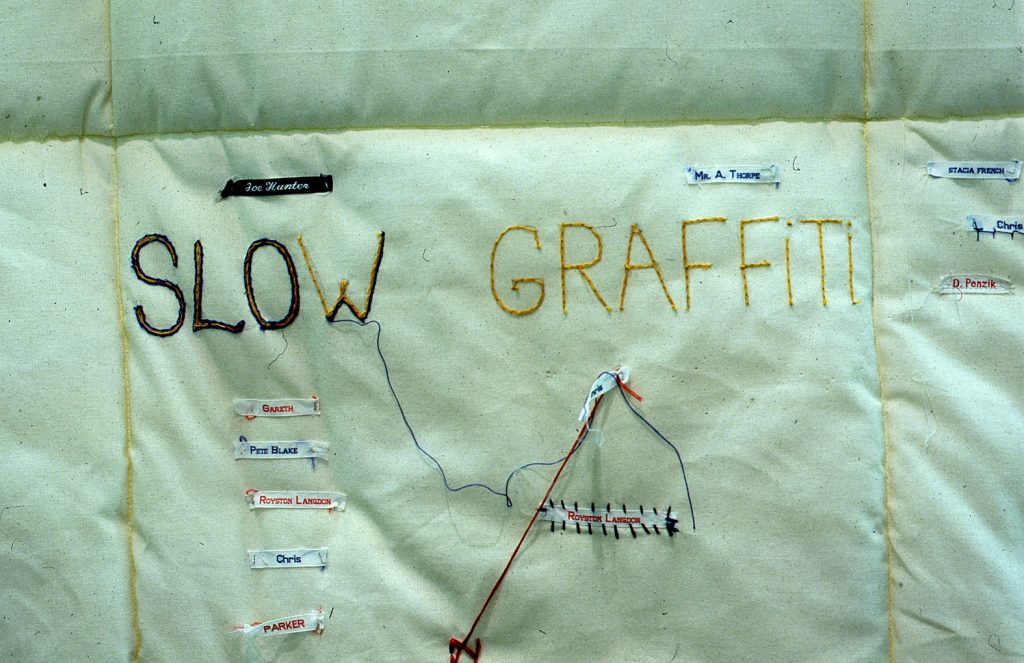 "Realizing that Vexed still has an interested audience after such a period of public quiet is really quite humbling."
As 2019 opened Vexed Generation returned with an eleven piece, reissued capsule collection in conjunction with British vintage store Byronesque and online luxury fashion retailer Farfetch. Months earlier their aforementioned cross-body strap bag was elevated from iconic to stratospheric when Kanye West posted a picture of his own orange version, licensed through Yak Pak, tweeting, "I'm posting this to find who designed this bag. I love the whole vibe of this piece. Been trying to reach Joe Hunter and Adam Thorpe."
Being the modest duo Hunter and Thorpe are, when asked of the past year's highlights they sidestep the media coverage surrounding both Kanye West's tribute and the Byronesque/Farfetch highly-anticipated collaboration and instead redirect attention to a recent collaboration in the US. "It really pushed us in pretty much every way, including originality, technical possibility and created an interesting and unforeseen result that we really like and hope sees the light one day. We're also building a digital communication channel so we can start communicating with the world again in our own way," shares Hunter. Thorpe expands on what no doubt will be a landmark project, "so we're collaborating with someone that works with AI in a critical way; looking at ways that garments can mess with recognition algorithms… And we're scoping out a project called Public Atelier that sells clothes and gives space to others to create their own in different ways."
Photographs courtesy of Vexed Generation
Text By Stephanie Talbot
Categories
Tags