Michelle Poonawalla will present a large-scale work titled Introspection at the START Art Fair (Saatchi Gallery, London, 26-29th September). The work was first shown as a collateral project at the fifth edition of the Kochi-Muziris Biennale 2018. At the Saatchi, it will be accompanied by a parallel exhibition of Poonawalla's recent paintings, encapsulating her varied practice.
Michelle Poonawalla, Introspection, 2019, Multi-Media Installation, START Art Fair 2019
Introspection uses digital technology, a trademark in Poonawalla's work.  It brings sound, motion sensor technology and digitally mapped visuals into play, which envelop the spectator at 360°. Using a combination of audio clips from newsreels and ambient recordings, it reaches an uncanny effect, based on the mediatised violence that surrounds us daily. The end result is a work of art that creates an intense and immersive experience. It forces the audience into a contemplative space between action and reflection.
The work was born from the artist's sense of discomfort and unease with the way images of violence and displacement are consumed today, usually in endless news cycles. The de-sentisation of contemporary culture is by now something largely discussed (think of Luc Boltanski's Distant Suffering). How is the art world responding? With an overtly public and increasingly publicised violence on all media and channels, Poonawalla seems to break the silence.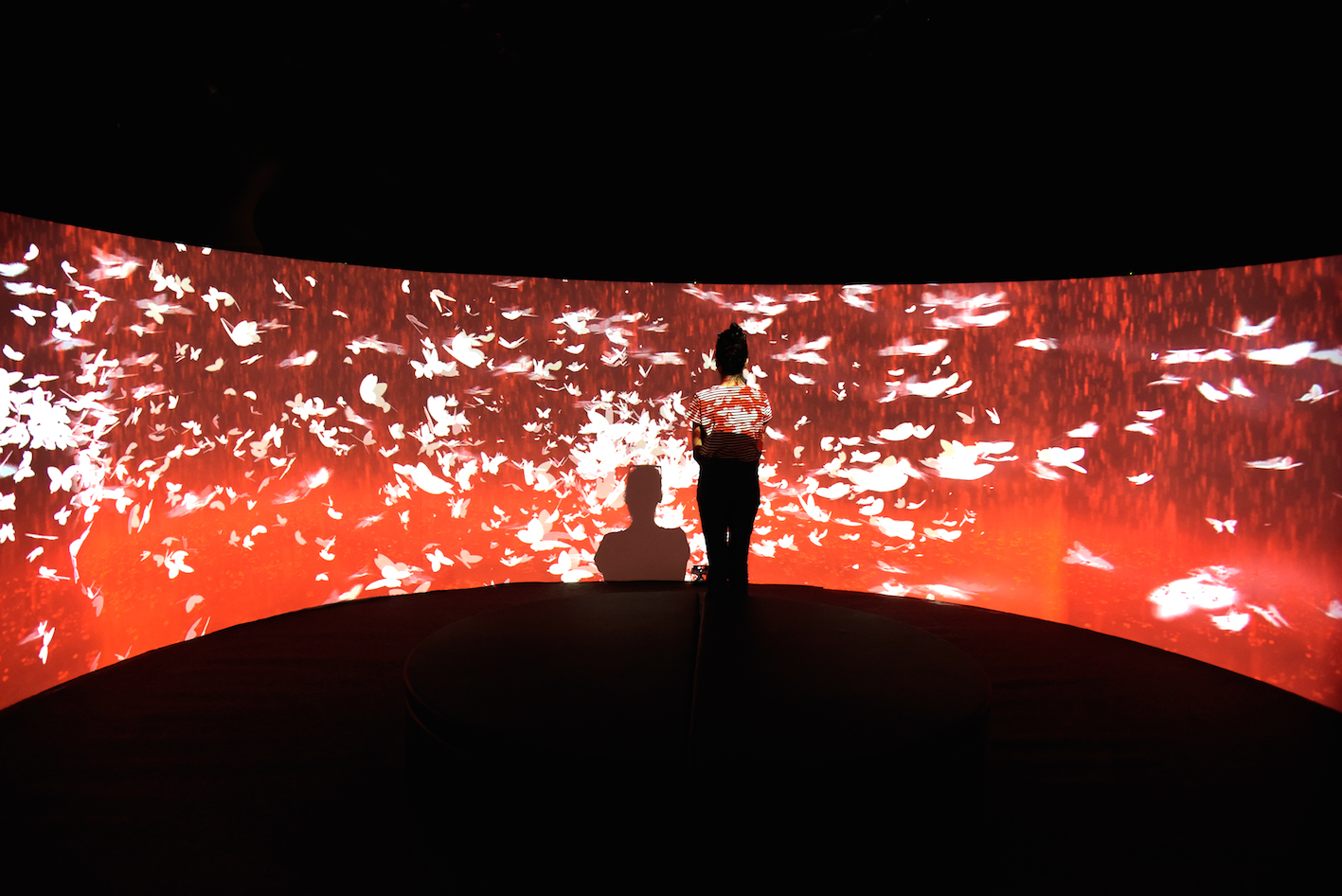 Michelle Poonawalla, Introspection, 2019, Multi-Media Installation, START Art Fair 2019
The all-encompassing installation comes from the artist's long-term engagement with immersive projects, and with digital technologies. It presents the public with an all-around screen, characterized by a flaming orange-red hue. Visitors are assailed by a continuous stream of harsh news, which culminate in a heavy, cacophonous flight of butterflies. Violence lies in the narrative recounted by the news, as it is encapsulated by the enraged fluttering of the insects. The fiery background— bloody, inflamed, is another metaphor for a brutal reality. The work clearly asks us to reflect upon our relation to violence as it becomes mediatised.
Michelle Poonawalla (b. 1977, India) is an artist who lives and works between London (UK) and Pune (India). A graduate of American College, London, Poonawalla's practice emerged with her exhibition at the Gateway School, Mumbai, in 2016, for which she worked closely with special needs children. Poonawalla has since exhibited her work in solo and group shows in India and internationally. Poonawalla's practice marries a more formal paint on canvas style with experimental digital technology, particularly digital video mapping and motion sensor technology, to create interactive works that push the boundaries of conventional painting.
START Art Fair, 26-29th September, Saatchi Gallery, Duke of York's HQ, King's Road, Chelsea, SW3 4RY
Categories
Tags