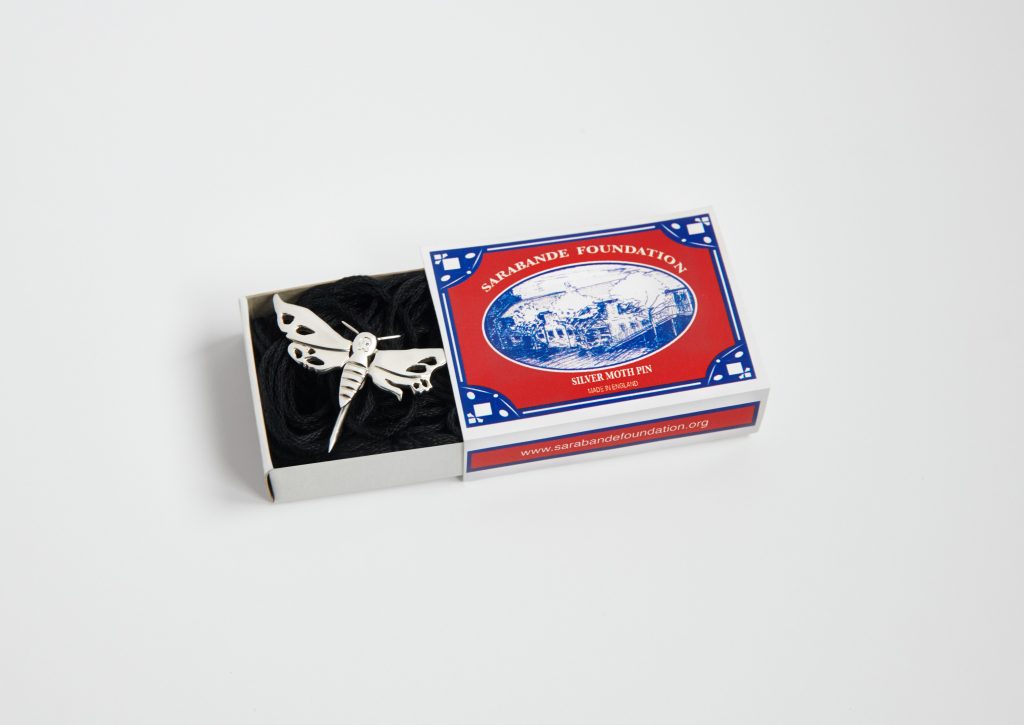 Jeweller Benjamin Hawkins has designed an exquisite silver moth pin brooch of exceptional artistry and haunting beauty to raise funds for the charity established from the estate of the late Lee Alexander McQueen.
The moth was a recurring theme in McQueen's work and was chosen as the identity of Sarabande because it is a symbol of determination. The moth never questions its path towards the light and, similar to the butterfly, it is a symbol of rebirth and metamorphosis. The Sarabande Foundation supports creative minds with the potential to push boundaries and overturn prevailing orthodoxies. This is achieved through scholarships, subsidised studio space and mentorship with artists and designers from across the globe.
The original death head moths that McQueen used were bought from Evolution in Soho, New York. The moth was photographed by Nick Knight OBE, a patron of the Foundation, to create the logo of the moth in flames for the launch of Sarabande.
The moth, designed and prototyped by former studio resident Benjamin Hawkins, has been crafted in his London atelier, then cast and manufactured in a workshop that produces the finest works for the top jewellery houses around the world.
The moth pin is made in England, using recycled sterling 925 silver, and to the highest levels of craftsmanship. It has been hallmarked in London's prestigious Goldsmiths Hall with the leopard's head of the capital and Sarabande's own unique hallmark.
The silver pin will be presented in its own Sarabande matchbox, featuring artwork of the Sarabande building priced at £149, the pin brouch is available to buy at the LAPADA Art & Antiques Fair where Sarabande is its charity partner.
The Foundation will host a spectacular gala dinner tonight on 16th September and it will have a large stand at the prestigious fair, which is celebrating its 10th anniversary in Berkley Square; it is also the 45th anniversary of LAPADA, The Association of Art & Antiques Dealers. The Sarabande stand will show the work of a number of artists and designers that have benefitted from the Foundation's scholarship or subsidised studio programme. Artists on show will include oil painters Mircea Telegea, Jonah Pontzer and Michaela Yearwood-Dan, jeweller and engraver Castro Smith, taxidermy artist Harriet Horton, Emma Witter, and award-winning silversmith Shinta Nakajima.
Sarabande was established to identify and support the UK's best emerging creative talent through scholarships, subsidised studio space and industry mentoring. The Foundation continues Lee Alexander McQueen's ethos of 'giving back' and creates an environment reflecting his open-minded approach to absorbing diverse creative influences and applying them in new and exciting ways. The Foundation hosts a series of inspirational and practical talks and workshops year-round.
Sarabande has awarded dozens of scholarships since 2012 with current scholars studying art, design and fashion at BA and MA level at seven universities across the UK. Scholars have been chosen by industry professionals including Andrew Bolton, Sarah Burton OBE, Sadie Coles, Dinos Chapman, Giles Deacon, Katy England, Craig Green, Nick Knight OBE and Matthew Slotover. Scholars are offered free studio space for a year at Sarabande HQ after graduation. Scholars and studio residents work across a wide range of mediums and disciplines from jewellery to video art, performance to photography.
Categories
Tags