Art critic Tabish Khan brings you 'The Top Art Exhibitions to see in London'. Each one comes with a concise review to help you decide whether it's for you – plus there's one addition from outside London: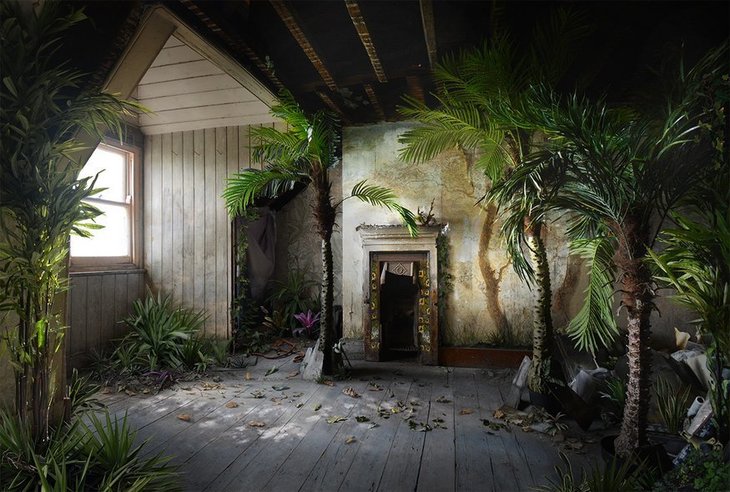 Suzanne Moxhay: Conservatory @ James Freeman
Photography and the digital are seamlessly merged in abandoned rooms where plants and loose wires co-exist in the absence of humans, as if in some post-apocalyptic world where we've all been wiped out — probably through climate change. These are poetic interior landscapes that are beautiful and haunting. Until 21 September. 
The Most Powerful Woman In The Universe @ Gallery 46 
A Renaissance style mother and child has been given a modern update and now she carries two bags of shopping as well as her child. Nearby a classical style painting of Adam and Eve now shows two Eves in a playful take on how attitudes towards same sex relationships have progressed. These are two works by Nancy Fouts in a group show of eight female artists exploring modern womanhood through art. Until 28 September. 
Dulwich Pavilion 2019: The Colour Palace @ Dulwich Picture Gallery
Taking inspiration from the colourful fabric markets of Lagos and the rectilinear design of the the Dulwich Picture Gallery this year's colourful pavilion is a beauty. As an added bonus you may climb up to the first level and watch the light filter through the colourful slats. It's an utterly enchanting way to see out the British summer. Until 22 September.
Paula Rego: Obedience and Defiance @ MK Gallery
Paintings of illegal and unsafe abortions don't make for easy viewing, nor does a wolf headed man devouring a woman. This is a dark and powerfully political exhibition of paintings. It starts off abstract before disappearing into a surreal rabbit hole as animal headed humans recreate the aftermath of a bombing in Iraq. The world outside is terrifying and Paula Rego want us to know this. Until 22 September.
Jasmine Thomas-Girvan and Chris Ofili: Affinities @ David Zwirner
A table has been stabbed with a sword. Elsewhere on the table top hands reach out from inside a pie and organs grow on a cupcake. This grisly tableaux is the work of Jasmine Thomas-Girvan who uses Caribbean history and myths to fill her work with dark stories. Her work is paired up with the paintings of Turner Prize winner Chris Ofili, an artist she's worked alongside for two decades. Until 21 September. 
Cue Jie: The Peak Tower @ Pilar Corrias 
Inspired by the cities Cui Jie has lived in, such as Shanghai and Beijing, the location in these paintings are as ambiguous as the architecture itself. The paintings appeal to the wonder and grandeur of new design with a hint of a nostalgic aesthetic. Paintings of shiny new builds are superimposed with other geometric, multidimensional forms, all floating on an array of hazy pastel skies. Until 25 September. Words by Emily Burke.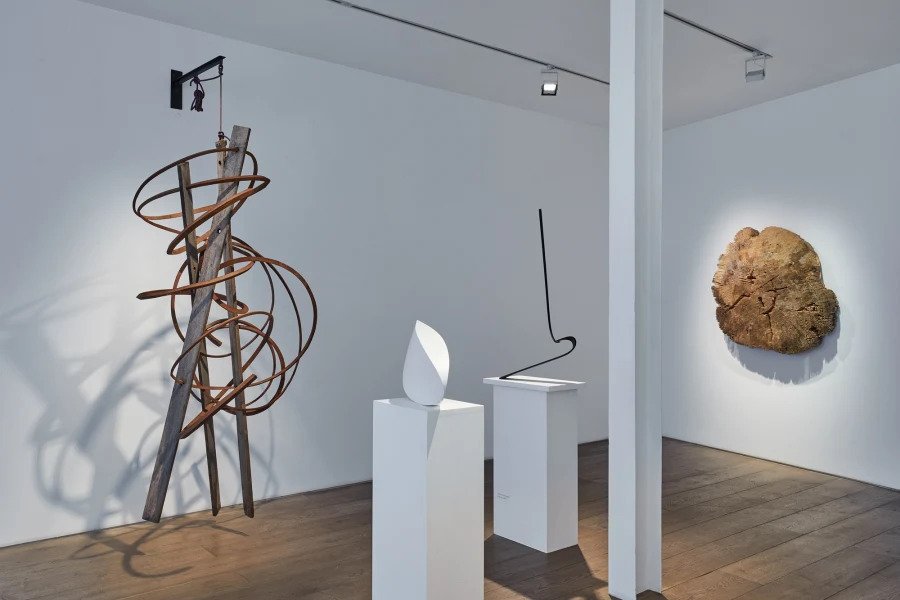 Materia @ Rosenfeld Porcini
Big heavy pieces of twisted metal, colourful contraptions made from car parts and delicate works suspended from the ceiling. This group show is themed around artists and their use of materials from the sturdy to the delicate, the immovable to the ones that could snap in your hands. It's a collection of beautiful works by artists who all work with different materials, using their unique properties to express themselves. Until 28 September. 
All images copyright the artist and courtesy the gallery unless otherwise stated. Gallery 46 image copyright Kelly-Anne Davitt. Colour Palace image: Adam Scott, David Zwirner image: Dan Weill, Rego image copyright Marlborough. 
Categories
Tags