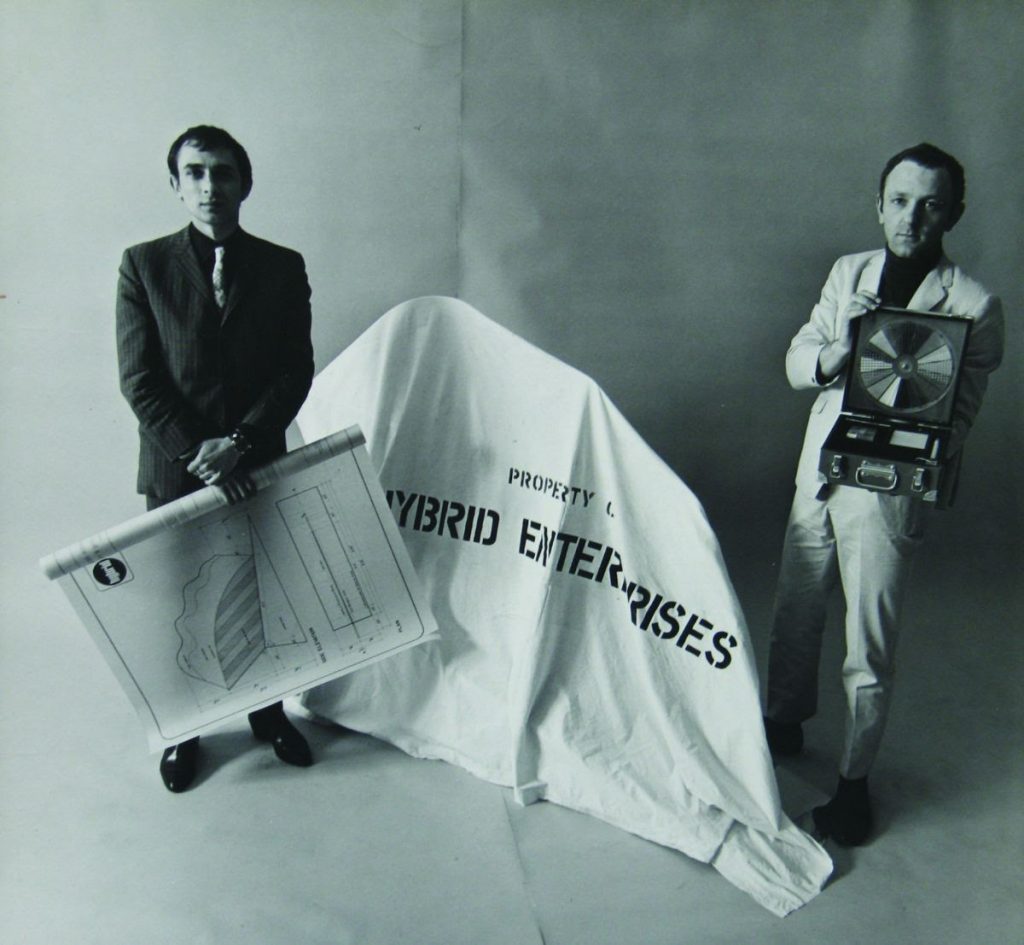 Peter Phillips and Gerald Laing with a covered Hybrid sculpture, blueprint, and research kit, New York, 1966;
Opening on 10th December 2019, Le?vy Gorvy is pleased to present Hybrid 2.0, a CONSUMER- DETERMINED, TASTE-CATALYSED, COLLECTOR-COMPATIBLE, 100% CONSENSUS-ISED art piece and exhibition. In the 1960s Pop icons Peter Phillips and Gerald Laing collectively imagined Hybrid (1966), an "ideal art object" generated from the results compiled from questionnaires taken by artists, curators, critics, and collectors, which emulated (and perhaps even foreshadowed) the prevailing tastes of the time.
This exhibition, Hybrid 2.0, presented in conjunction with Phillips and the Estate of Gerald Laing, will reapply the method of the original Hybrid to create today's ideal art object. A similar questionnaire adapted to a digital platform will be used to produce a wholly original work of art reflecting current aesthetic tendencies. This new work will be presented alongside the original Hybrid, on loan from the Harvard Art Museums, Cambridge, MA and exhibited for the first time since its creation in 1966, together with a wide array of research and archival materials, photographs, and press-cuttings.
HYBRID: A TIME OF LIFE
In 1965, Phillips and Laing formed an organisation called Hybrid Enterprises in New York, with the aim to use market research techniques to create a work of art. Armed with 'research kits' comprising samples of colours and media, the pair asked one hundred and thirty-seven 'art literates'—including Ivan Karp, Lawrence Alloway, David Whitney, and Leo Castelli—to make their choices. The final product, made in 1966, was an aluminium sculpture with sleek lines, candy-coloured stripes, and neon tubing, reminiscent of a rocket or racecar. Hybrid was featured heavily in the press, both prior to its making and after, approximating the status of a revelatory, must-have commodity, while playing with the role of mass-media in the fetishisation and commodification of objects. There was both praise and outrage; while for Alloway, "They set us up as nature and then drew from us," writer Gene Swenson said, "The art scene is sick and Hybrid is the clearest symptom of that sickness." Grace Glueck for the New York Times simply stated, "Who knows. It might sell!"
HELP CREATE HYBRID 2.0
Through 2nd August, the public is encouraged to participate in the online survey for Hybrid 2.0. Preferences about media, shape, colour, and texture will be processed and averaged, resulting in a plan for an art object. Production will be overseen by the Estate of Gerald Laing and the work of art will debut at Le?vy Gorvy's exhibition opening in London on 10th December.
Hybrid 2.0 will celebrate the alternative approaches to art-making that emerged with the pop-generation and show the continuing relevance of Phillips and Laing's legacy in today's media-saturated and consumer-driven society. As Hybrid Enterprises, the artists promoted a radical questioning of a zeitgeist in which everything could be commercialised which remains as relevant today. By engaging art lovers of all kinds in the search for a new collectively imagined art object, Le?vy Gorvy will offer a moment of democracy of taste, playing the art world against its own reified hierarchies. The gallery will also produce buttons, posters, and other memorabilia relating to the exhibition, in the same tongue-in-cheek spirit as Laing and Phillips, at once calling into question the commodification of the art world while actively participating in it.
Categories
Tags