Art critic Tabish Khan brings you 'The Top 7 Art Exhibitions to see in London' this week 24/06/18. Each one comes with a concise review to help you decide whether it's for you. Hurry, as all close soon:

Wildlife Photographer of the Year @ Natural History Museum
An annual guilty pleasure of mine is to gawp at the fantastic images I find at this exhibition. The lengths these photographers go to get these astounding images is just as impressive as the photographs themselves. Until 1 July.
Yves Klein & James Turrell @ Levy Gorvy
Klein's unfixed blue pigment is scattered across the floor like we're on another planet. Two bands of red and blue light by Turrell never meet but create a strange receding effect between that sucks us in. It's two art heavyweights with one work each exploring colour. A simple concept but superbly executed. Until 6 July. 
David Nash: Wood, Metal, Pigment @ Annely Juda
I'm a massive fan of David Nash's work and nothing has change with these earthy sculptures made from wood and iron. There's a sober weight and impact to his works that stays with them even as they're confined within the white walls of a gallery. Until 7 July.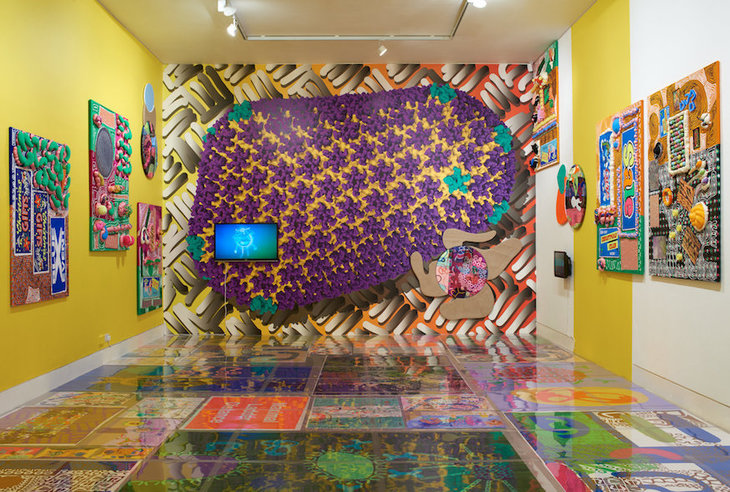 John Walter: Capsid @ CGP
Colourful posters and videos reference protein cases of viruses, LGBT+ culture and science. Kick your shoes off and walk all over them as the posters extend to the floor. The second space in Southwark Park is a larger installation piece leading me to a surreal video of  a virus wandering the streets trying to get into a bar. Until 8 July.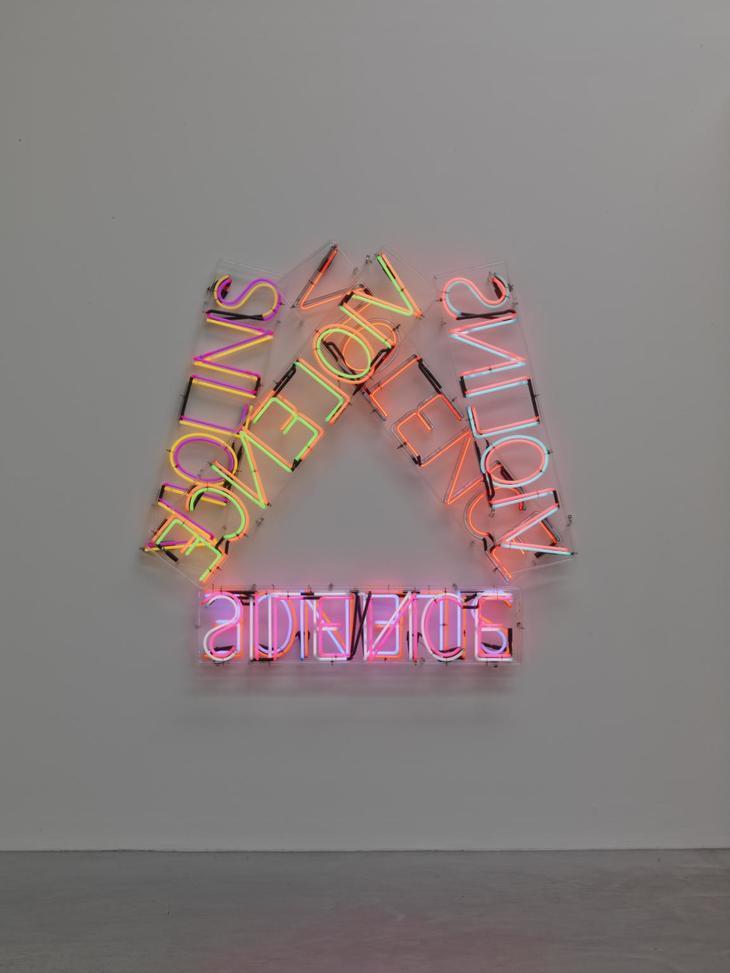 Artist Rooms: Bruce Nauman @ Tate Modern
Time to step away from the major exhibitions and explore one of the smaller artist rooms. A neon artwork flickers between violence, violins and silence. It's the absurdity we've come to expect from Nauman's work and it's teamed up with playful light art and drawings in a fun display. Until 1 July 2018.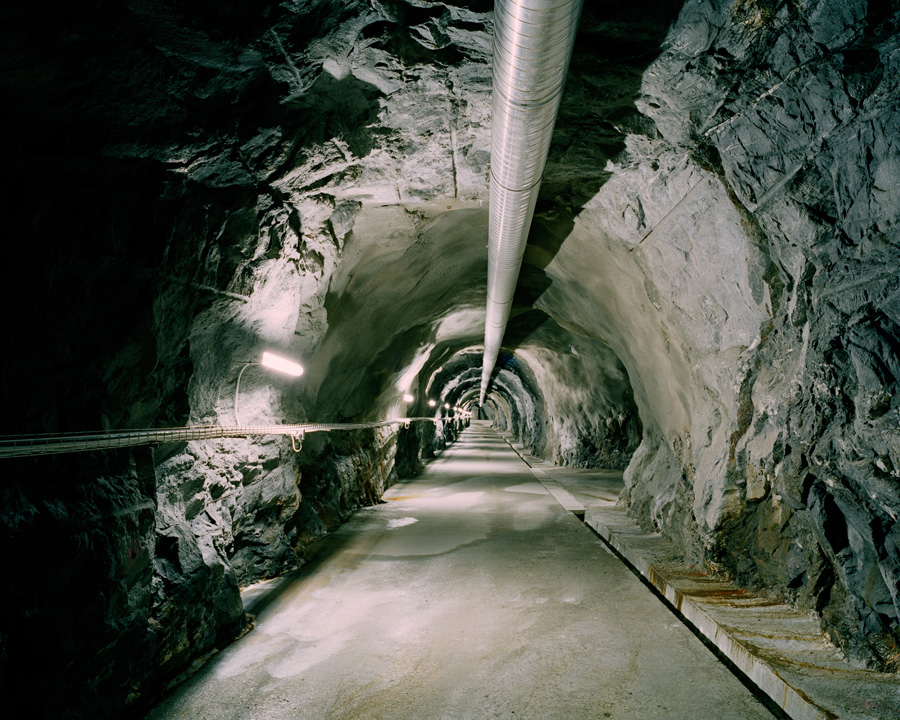 In search of Frankenstein by Chloe Dewe Mathews @ The British library
A haunting set of photographs of glaciers and subterranean tunnels in Switzerland built to shelter population in case of nuclear disaster, that were never used. It as if we've stepped into an alternate future and it's all in an area that was the inspiration for Mary Shelley's Frankenstein. Until 1 July.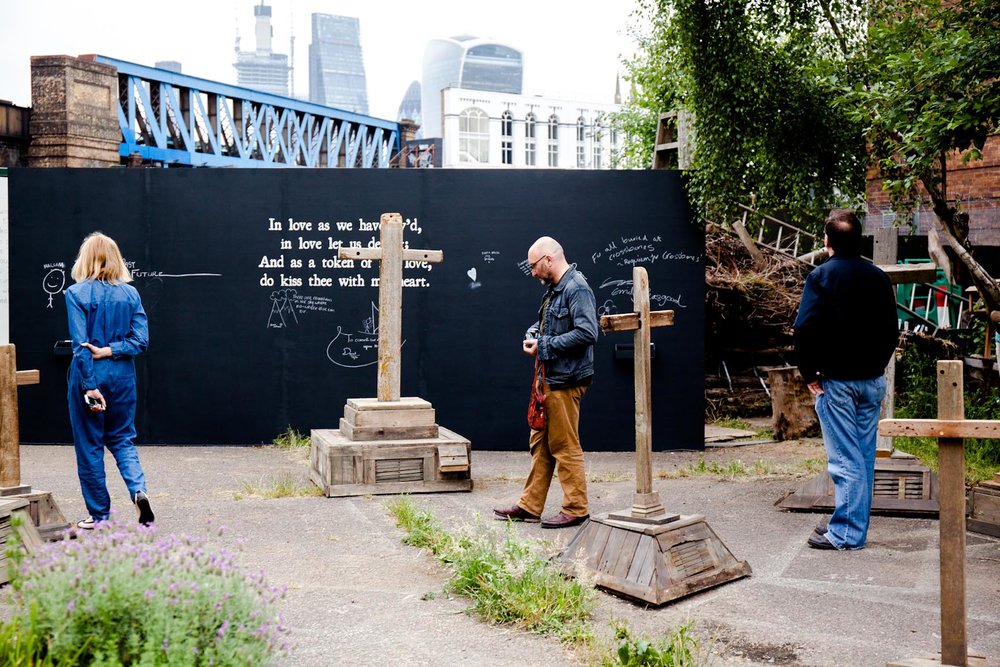 Requiem for crossbones – Emily Peasgood @ Crossbones garden, Redcross way
It's the last chance to catch Merge festival and a there's a special immersive installation to be found in an unconsecrated medieval burial ground. Step closer to the crosses and the speakers start telling tales of lives past. It's a reflective work and ties in neatly to the history of the area. Until 1 July. 
All image copyright artist and courtesy gallery. Nauman image copyright ARS, NY and DACS.
Categories
Tags