In an exciting celebration of British urban art, Moniker is going to partner with Urban Nation Museum, the urban contemporary art museum in Berlin, to curate its Installation Hall with British artists presenting work dealing with England now, Brexit and the future for today's youth.
Urban Nation is a wide-reaching, international institution which, under the vision of Executive Director Yasha Young, focusses on cultural innovation. In a similar vein as to how Moniker challenges the traditional art fair model, Urban Nation seeks to rethink the classical museum concept and help re-shape structures. While traditional urban art changes, Moniker continues to be unafraid.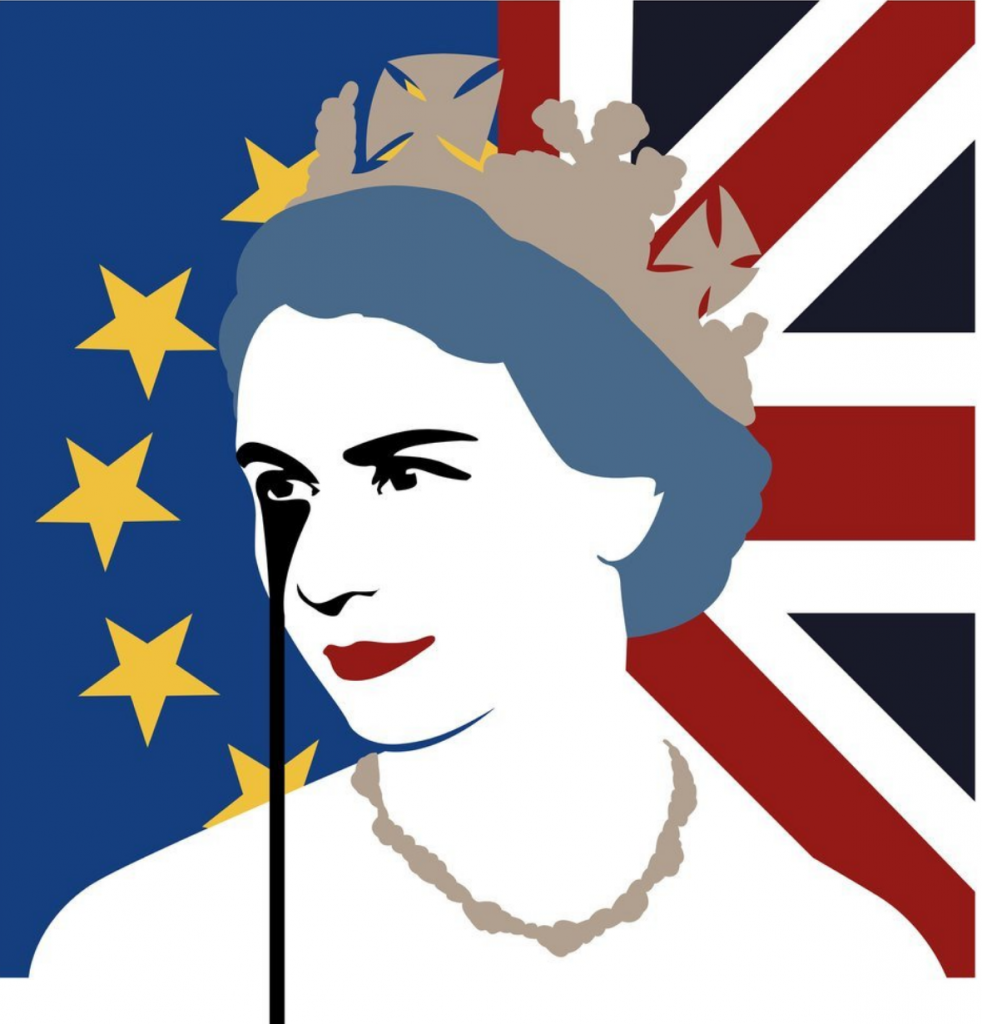 PureEvil-Queen Elizabeth
Yasha Young comments,
We aim to actively be a part and help shape the future of what a museum could be for future generations and cities worldwide. This is why the institution's work goes far beyond the museum's walls. The focus is on promoting young urban contemporary artists and communicating content under the guiding principle – Connect, Create, Care. Cooperation with other organisations that share the essence of this message is an important part of our work
The Moniker Installation Hall, this year titled The English Edition "Dear George the UNion is Cross" will allow each artist a distinct exhibition space in which to present work focusing on the country's state of play. Exhibiting artists (all from the UK) include: renowned graffiti artist Pure Evil, a descendant of Sir Thomas More (writer of Utopia) whose works are easily recognisable by his trademark eye drops; pop artist and product designer Sebastian Burdon, also sometimes known by the alias 'whatshisname', who is best known for his unorthodox approach to breaking common conventions of modern design; and bold stencil artists Snik who remain true to the origins of their craft, still painstakingly hand cutting their complex multi-layered designs, characterised by frozen scenes of dynamic action. They will be joined by internationally- acclaimed, street art muralist duo Nomad Clan; Manchester-based street artist Tankpetrol; expressive painter James Klinge; Dr. d, aka subvertiser; pioneering female artist Hayley Walsh; 3D guru Fanakapan known for his hyper-realistic visuals of real-life objects; subversive Dotmasters with his typically English sense of humour; the entertaining and macabre Eelus Art; Newcastle-based collective Prefab77; and urban screen-printer Donklondon.
As part of the curatorial exchange with Urban Nation, Moniker is curating the Project M space in Berlin, exhibiting a solo show and installation with USA-based artist 2Alas on 13th September, just weeks before Moniker opens in London.
This exciting and important celebration of contemporary British artists continues through Moniker's partnership with The British Art Fair (2nd – 6th October) located in Chelsea's Saatchi Gallery – just a short walk away. The two fairs are offering a joint ticket to welcome visitors to enjoy a day of art in Chelsea during London's Art Week.
Fair Director of Moniker Art Fair, Tina Ziegler, comments,
In times of such uncertainty, it's important that we unite and celebrate our differences rather than encourage a further divide. Through our unique curatorial partnership with Berlins' Urban Nation Museum we are able to continue to build on our local foundations, while benefiting from such a rich cultural exchange. We are honoured that Urban Nation has chosen to spotlight British Artists for our 10th anniversary fair – a perfect example of the encouragement UK artists receive from EU curators and institutions.
Moniker's newly launched Collectors Day will take place on Wednesday 2nd October and include fair tours, collecting and investment advice. The Public Opening reception, the following day, will be hosted by Creative Debuts, a platform celebrating the brightest emerging artists and designers. Born out of frustration, their aim is to make art more accessible and to tackle the hurdles faced by undiscovered creatives.
Moniker Art Fair Wednesday 2nd – Sunday 6th October 2019 Collectors Day, Wednesday 2nd, 3pm – 10pm
Chelsea Sorting Office, 232 King's Road, London SW3 5UA.
Read more Moniker Art Fair stories here
Categories
Tags