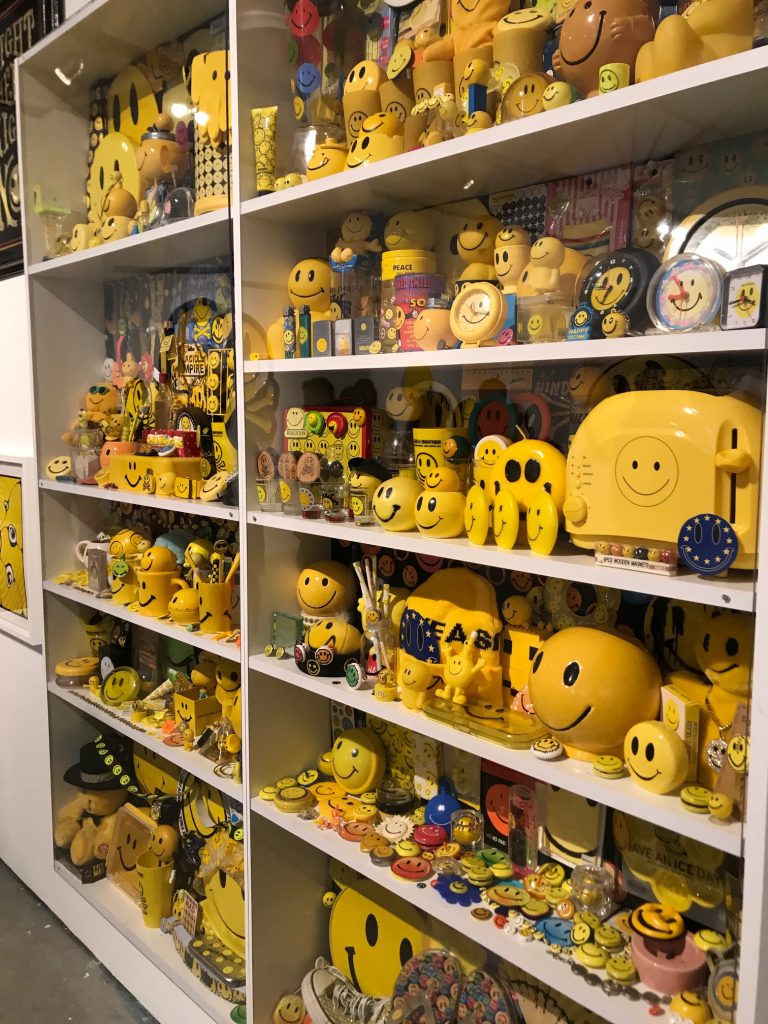 Featuring artwork by Andrea Harz, Bob Jaroc, Carrie Reichardt, Chemical X, Estudio Pedrita, James Joyce, Jimmy Cauty, Joseph Ford, Mark Vessey, Ron English, RYCA and The London Police.
I must admit I was a bit giddy at the prospect of going to the opening of this show at Underdogs in Lisbon. I have been to this cool urban/street Post Pop gallery before and they have a diverse and hip program. But on this occasion, it was definitely worth the trip up from the Algarve for the chance to meet the DJ legend that is Fat Boy Slim aka (Norman Cook)
The Underdogs gallery is owned by Vhils, Portugal's foremost urban artist. His technically superb wall carvings in Lisbon and elsewhere are incredible graphic interventions working directly into the concrete surface. Vhils' (aka Alexandre Farto) fine art poster and wooden door pieces can be found at the first rate Lisbon contemporary gallery – Vera Cortês (where incidentally, I went onto later that evening for a summer solstice sonic immersion performance!)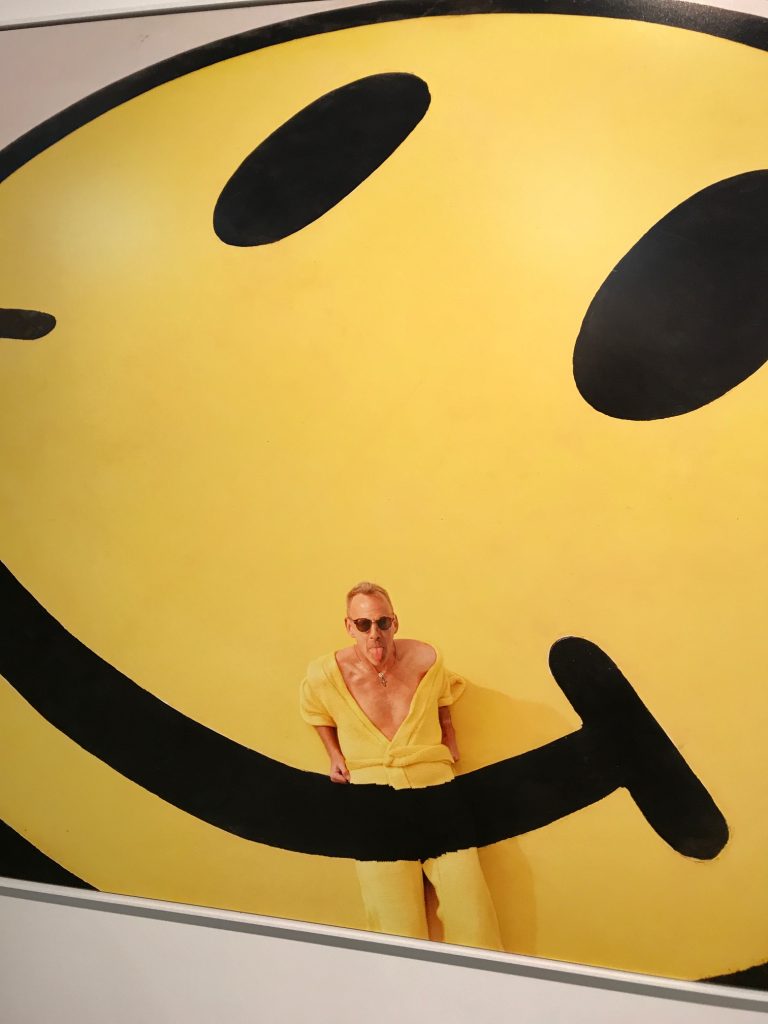 But first to Norman Cook's 'smiley' show. The 'smiley' as we know it was first designed by Harvey Ball in 1963, in Worcester, Massachusetts for the State Mutual Life Assurance Company to boost the morale of the employees. Although there is historical evidence of early 'smilies' on Hittite pots dated approximately from around 1700 BC. The Danish poet and author Johannes V. Jensen used the icon in letters and a commercial version with word "THANKS" above was used as sticker on receipts issued by the Buffalo Steam Roller Company, New York in 1919.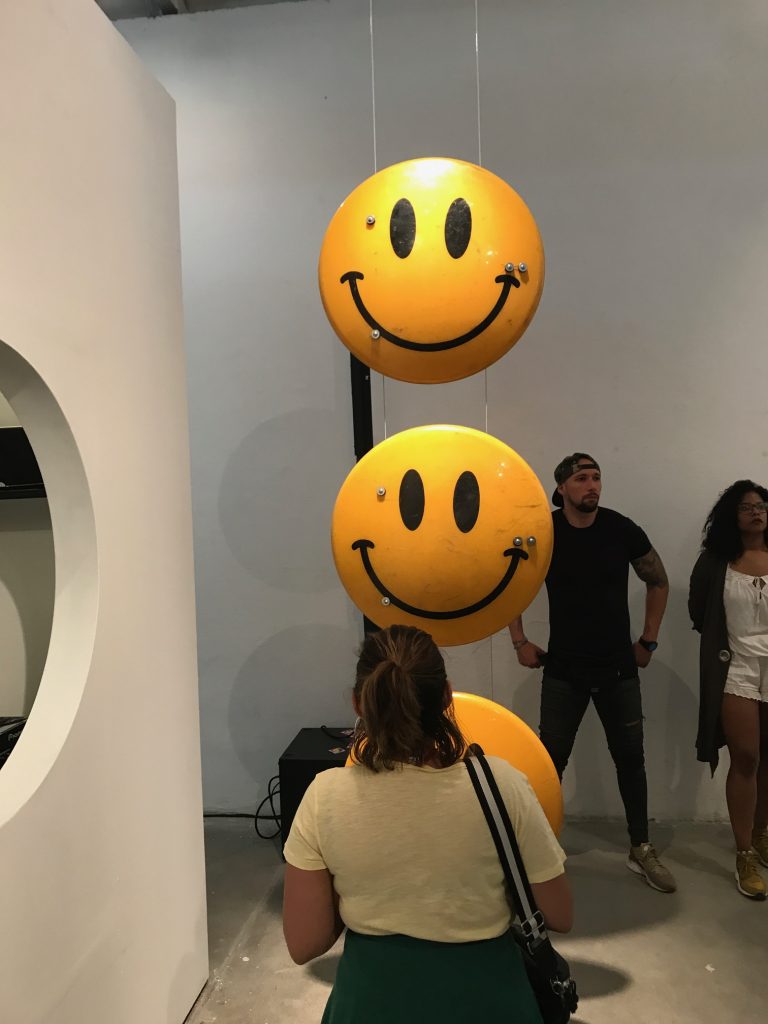 Jimmy Cauty Riot Sheilds –  Smile High Club at Underdogs Gallery – A group exhibition curated by Fat Boy Slim
The graphic increased massively in popularity when in the early 1970's two brothers from Philadelphia, Bernard and Murray Spain used the icon to sell novelty items, such as coffee mugs and t-shirts, often emblazoned with the slogan 'Have a nice day'. Some 50 million happy face badges were produced by 1972. In the same year, Frenchman Franklin Loufrani became the first person to legally trademark use of the a smiley face and launched The Smiley Company, which under Loufrani's son Nicholas has become a multinational corporation. Loufrani has dismissed the claim that Harvey Ball was solely responsible for the original design, citing the fact the motif is so simple that no one person can lay claim to having created it.
The smiley first came to Cook's attention in 1977 when it appeared on the cover of the first 12" single, Psycho Killer by the Talking Heads – 'Once on my radar, I loved how much such a simple image appeared in so many unexpected places in popular culture, both historically and thematically. As I grew up through punk rock into club culture, it endured in my experience and imagination. Born in the sixties and growing up in the seventies, it has followed me around all my life so it was no surprise to later learn that the smiley was born in 1963, the exact year I came into the world'.
I think I became aware of the ubiquity of the smiley in the late 80's, first on T-shirts, connected with Bobby McFerrin comic and catchy song of 1988 – 'Don't worry be happy'. Then a bit later when I was at University and went to the seminal club in Manchester – The Haçienda. Where sweaty kids wore 'smiley' t-shirts and red bandanas raving their tits off in the Second Summer of Love.
That was my first introduction to Acid House and the whole rave scene, so when Fat Boy Slim released 'You've Come a Long Way, Baby' in 1998 I was an immediate fan. I loved the video for 'Praise You', starring Spike Jonze, which rightfully won numerous awards, as did the brilliant video for 'Weapon of Choice' featuring a dancing Christopher Walken, released in 2000.
Fat Boy Slim's 'smiley' collection is a testament to his utter fascination with the ephemera associated with this icon. He has a giant mural adorning the roof of his house and it is the design of his one and only tattoo, which he proudly showed off to me at the opening of the show.
I asked Fat Boy Slim how the show came about at Underdogs, why Lisbon and not say in Brighton (his hometown) or London? Well as it turns out he became friends with Vhils, through DJing at his urban festival of art and music – Iminente in Portugal. So, it was this international cultural connection that brought the show to the gallery. Some of the pieces on show, are very much part of the UK 'smiley' art scene, with great pieces by RYCA, who shows with Tag Fine Arts. In fact RYCA and Norman Cook collaborated on a work entitled, 'Right Here, Right Now'. There was also a strong piece by The London Police, entitled 'Having a Ball – Tribute to Harvey Ball'.
The Portuguese contribution comes in the form of a portrait of Harvey Ball, entitled 'harveyball.jpg' by Estúdio Pedrita, a Lisbon based practice, who uses cut up and reconstructed traditional Portuguese tiles (Azulejo) to create stunning collages. In this piece the portrait becomes only truly visible and in focus when viewed through the lens of a mobile phone camera.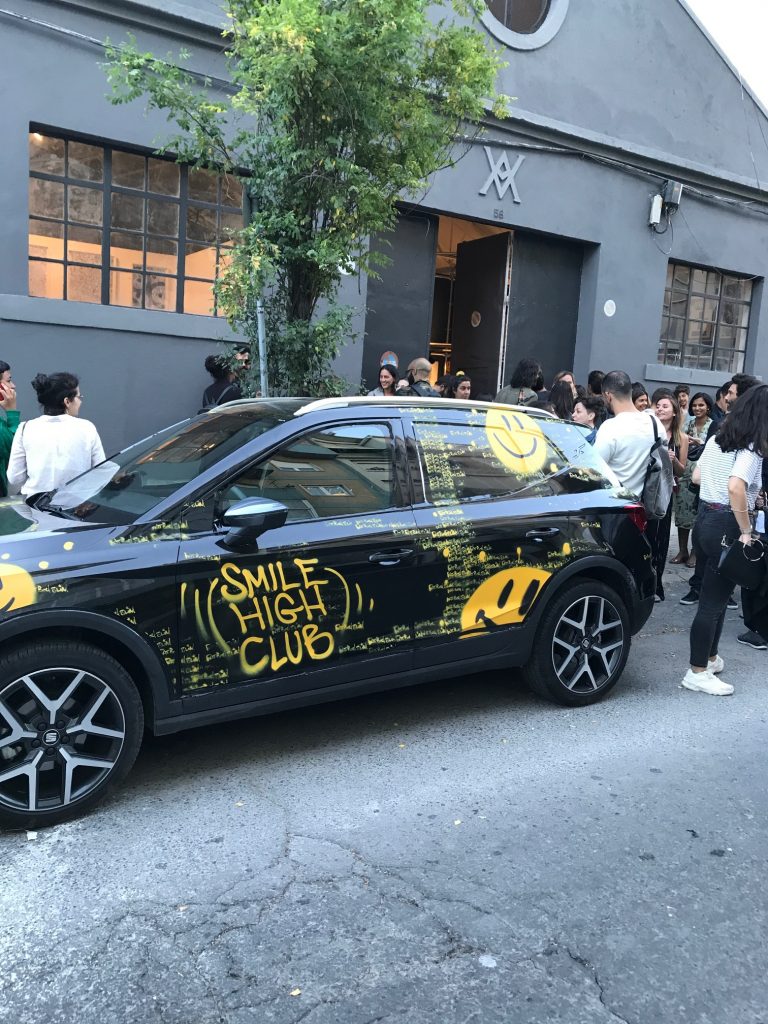 Inside the entrance of the gallery, just past the cool kids hanging out on the street next to a graffiti and tagged 'smiley' car is a Pop Up store selling smiley T-shirts, prints, books and other memorabilia.
The fun and party atmosphere at the opening was made complete by a short DJ set by Fat Boy Slim, which even on the basic hired gallery speakers, rocked.
I could see just how much fun he was having playing in this gallery setting surrounded by artworks depicting variations of his beloved smiley icon. Yet he still made time in between mixing to sign flyers handed to him by children, for them the smiley has a different cultural reference, a world of emojis depicting a vast array of expressions stemming from a yellow smiley. The emoji in itself holds little interest for Fat Boy Slim, for him it is the original smiley and its' artistic interpretations that continues to be a joyous obsession.
Fun Norman Cook fact – He holds the Guinness World Record for the most top 40 hits under different names and was in bands like Beats International, Freak Power, Pizzaman and of course The Housemartins. No wonder he can't stop smiling
'Smile High Club' – Curated by Fat Boy Slim runs until 27th July at the Underdogs Gallery, Lisbon.
under-dogs.net
Ben Austin for FAD Magazine. 24th June 2019. Ben Austin is an independent curator and freelance writer based in Portugal –

Robert Panda – Stupid Smile High Club at Underdogs Gallery – A group exhibition curated by Fat Boy Slim
Categories
Tags