Art Night returns this year for it's fourth run in Walthamstow and King's Cross. This year differs to the last in that Walthamstow was awarded the first London Borough of Culture. The festival shall run on Saturday 22nd of June, starting around 7pm and finishing around 3am.
This Saturday 22ndJune, the fourth edition of Art Night will be taking place in unique sites and spaces in which people come together in everyday life across Walthamstow and King's Cross. Art Night is London's largest contemporary free art festival and transforms the city annually into the early hours of a night full of creativity and celebration. Each year, Art Night invites a leading cultural institution or curator to explore the history, culture and architecture of a different part of London – this year being Walthamstow and King's Cross – inspiring an outsider and insider artistic lens of community and culture specific to a space and a group of people.
The festival will present 12 artist projects as part of the Curated Programme, selected by Artistic Director Helen Nisbet, a curator from the Shetland Islands now living and working in London. Alongside 40+ independently curated projects as part of the Art Night Open programme. The open call and curated programme allows for a harmony of artists that are mature, established, up-and-coming, on the fringes of their career – international and local.
Art Night has previously showcased their festival at boroughs and areas such as South Bank and Battersea in 2018, Shoreditch in 2017, and Westminster in 2016. What makes this year particularly special to Art Night is its location in Walthamstow – the first London Borough of Culture. The Mayor's London Borough of Culture Award is a major new initiative launched to put art and culture at the heart of local communities – bringing Londoners together. Shining a light on the character and diversity of London's boroughs and showing culture is for everyone. Now more than ever, the Mayor wants Londoners to get to know each other and feel part of our great city. Waltham Forest was chosen based on its artistic vision and ambition to deliver outstanding cultural initiatives in the local area, putting communities at the centre of the programme. Waltham Forest's bid aims to inspire 85% of households to participate in the cultural year, engage every school in the area in arts and culture, and to attract over half a million new visitors to the borough.
Art Night is an outsider's eye looking in – looking in with a fresh set of eyes. Sam Hunt, the Creative Director of Waltham Forest London Borough of Culture, proudly described Art Night as not just "plonked" in the area, but inspired by, with and through the community. The renowned art festival will be able to put Walthamstow arts and culture on the London map. Opening conversations, looking in, forward and critically in troubling and changing times.
The festival will feature performances, music, and pieces in community and everyday spaces such as a fish shop, a Polish deli, two churches, a pub, a community hub, and the high-end COS clothing store. Using ordinary life as a wallpaper to these exhibitions critically engages with the character and uniqueness of the area. Not only have the artists and curators worked with local spaces, but also local people. Shiraz Bayjoo explores notions of migration and displacement in the Empire Cinema with students from Mission Grove primary school, Walthamstow. Christine Sun Kim has collaborated with students at Frank Barnes School for Deaf Children in King's Cross to create a series of site-specific commissions.
This is not an event to miss, with work from renowned artists such as Barbara Kruger, Oscar Murillio, and Julie Cunningham. Unlike many inaccessible art events, this one is free – cementing Art Night's ethos to bring communities and people together. Looking through an artistic lens helps us to look critically at an area, its struggles, its histories, its people, and it's future. Art Night has the potential to bring people from across the UK and across London into an area that has largely been overlooked as a hub of culture.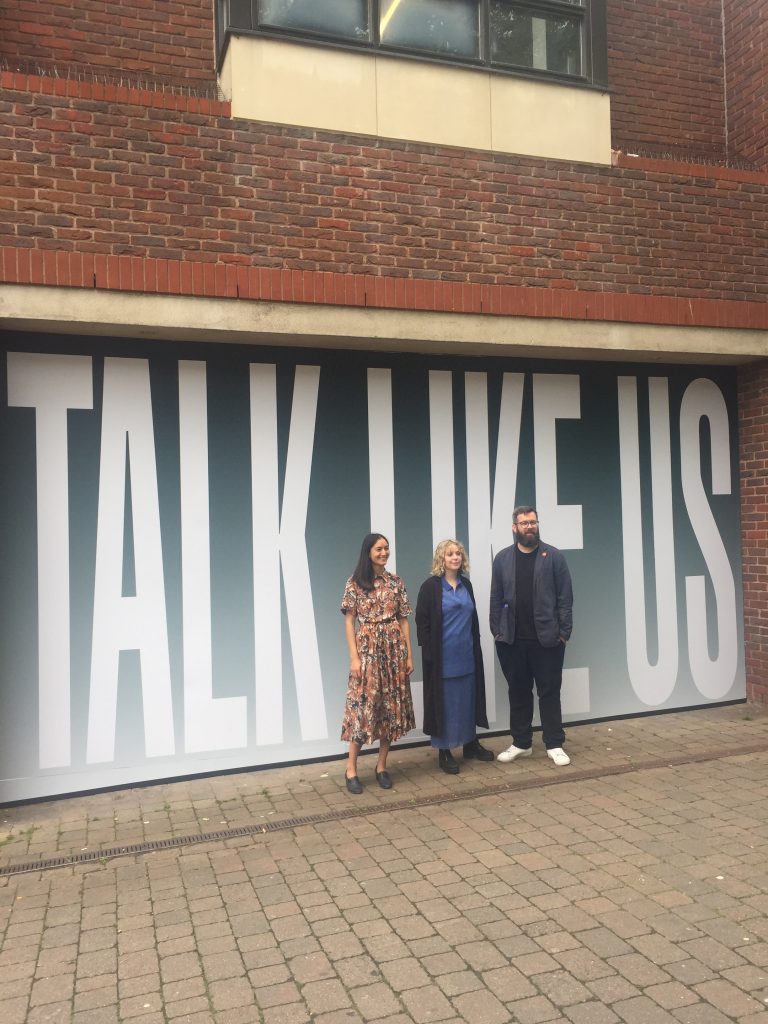 .
Director & Co-Founder Ksenia Zemtsova, Artistic Director Helen Nisbet, and Creative Director of Waltham Forest London Borough of Culture Sam Hunt pose in front of Barbara Kruger's piece in The Town Square of Walthamstow Image: Kate McIlwee
MORE: 2019.artnight.london
Categories
Tags