Miyako Ishiuchi: ''Mother's #38', 2002
Why are there so many good Japanese photographers? Lena Fritsch, talking at the Japan Foundation launch of her impressive book 'Ravens & Red Lipstick' (Thames & Hudson, £35), didn't feel any 'national style' could explain that – rather she cited the diversity of approaches and thought it more likely a numbers game: such was the interest in photography with the development of cameras (Canon, Fuji, Nikon, Olympus, Pentax…) and thousands of camera clubs set up to explore them, there was a vast population of enthusiasts in 60's-70's Japan. We should not be surprised if some stars emerged. The most famous in the west are probably Nobuyoshi Araki, Daido Moriama and Hiroshi Sugimoto * (the tradition was decidedly male, incidentally, though female photographers have emerged this century).
But the book reveals plenty of other artists of interest. Slightly contrary, perhaps, to Fritsch's denial of any national style, three types of photograph are prevalent: the diaristic, apparently casual, approach in which the photographer's life may be foregrounded (Araki and Moriama fit here); theatrically staged photographs, typically implying a narrative (eg Elko Hosoe features prominently); and, perhaps most characteristically, documentation of objects or places which disguise a more subjective angle than is immediately evident. Let's take images by four photographers I would associate with that last tendency, though of course there are crossovers.  They include the two series referenced in the book's title:

Shomei Tomatsu: 'Nagasaki, Bottle Melted and Deformed' 1961 is a 'portrait' of a bottle mutated by the heat and radiation of the blast so as to resemble a carcass or a surreal creature.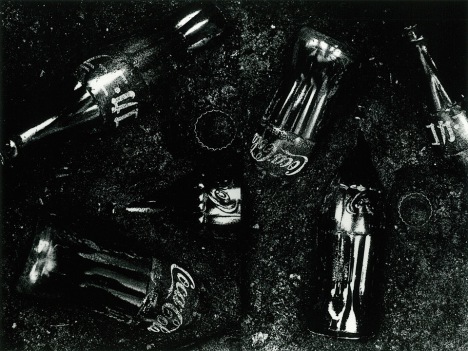 Kikuji Kawada: photobook 'The Map' (1965) addresses the scars of post-war Japan, featuring dark, grainy photographs of dumped American products such as Coca-Cola, and images of stains from the Atomic Bomb Dome in Hiroshima.

Masahisa Fukase: 'Kanazawa', 1977 from his 'Ravens' series, in which the recurrent birds set a darkly melancholic tone. Fukase, lonely following the break-down of his marriage, called himself 'a raven with a camera'.
Miyako Ishiuchi: ''Mother's #38', 2002 (top image) from a series which combines close-up photographs of the artist's late mother's body with her possessions, such as lipsticks.
* Fritsch reverses those name orders, so that the 'surname' comes second in British style. I've stuck with the more usual order, though I suppose that should be read, Japanese style, from right to left).
Art writer and curator Paul Carey-Kent sees a lot of shows: we asked him to jot down whatever came into his head
About Paul Carey-Kent