One, Two, Three, Four is a debut exhibition and body of personal works from Danish photographer Casper Sejersen opening at Cob Gallery.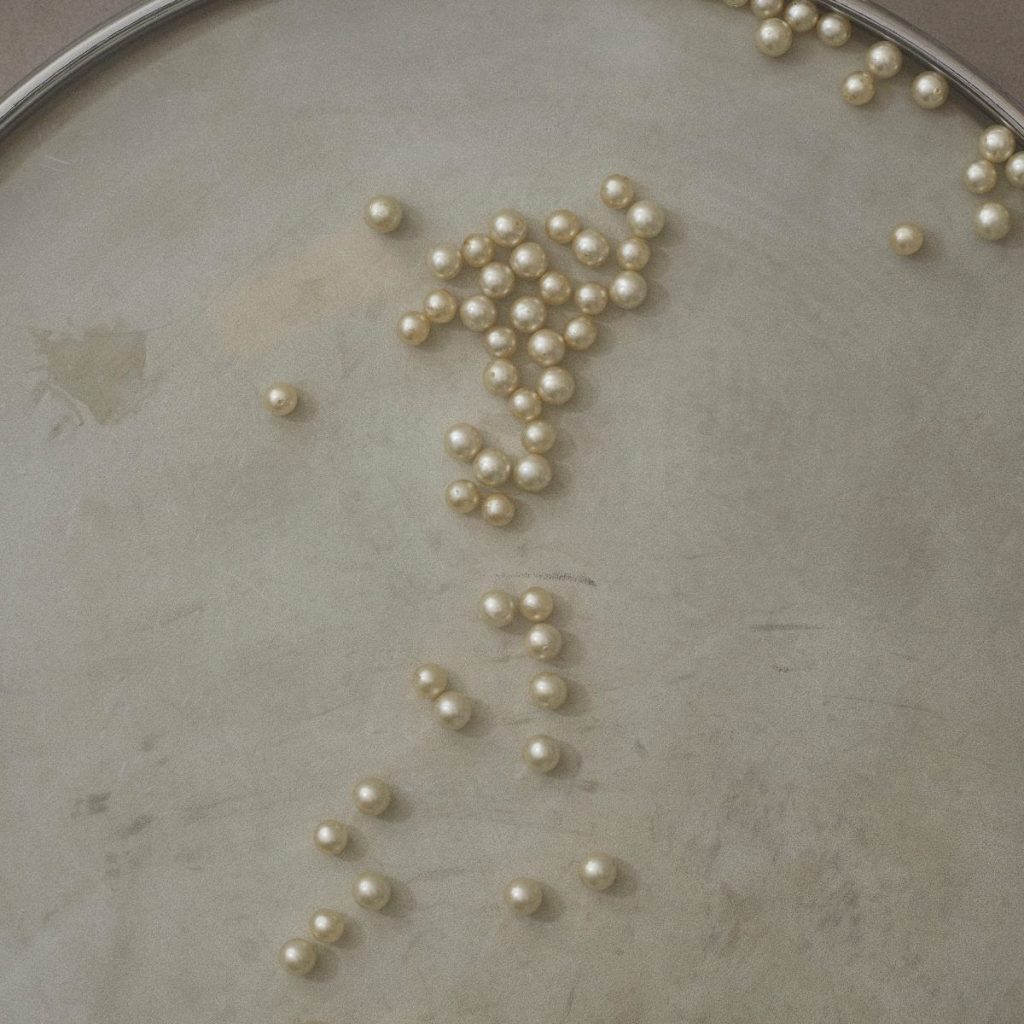 CASPER SEJERSEN Pearl Roll #2, 2019 Archival pigment print on canton palatine paper
Visually alluring and often deeply disquieting, Sejersen has become known for a transcendent photographic style marked by his often dreamlike placement and characterisation of figures and objects. One, Two, Three, Four establishes Sejersen as an artist whose work is both engrossing and unsettling, balancing authority with fragility.
Sejersen's unique application of semiotics, and stage-like compositions are arranged as alternative 'personal worlds'. Within these, Sejersen distills a potency of narrative that investigates psychology of the self, sexual politics, familial intimacy and childhood memory, all the while underpinned by a tension that explores the boundaries of personal freedom versus societal constraints.
Within the highly personal collection of images featured in One, Two, Three, Four, Sejersen exposes a vulnerable Freudian excavation of autobiographical reflection. Still lives arranged of pearls, cigarettes and florals are symbolic of early childhood interactions with his mother and grandmother and a sublime sunrise view from his hometown of his birth are contrasted with images that masterfully imbed a nuanced approach to disorder and control.
Meanwhile, the exhibition also surveys Sejersen's remarkable experiments in the art of representing aural sensations visually, creating idiosyncrasies that combine moments of strange tranquility with others soaked in visual noise.
As its title suggests, One, Two, Three, Four takes its cues from rhythm and, in particular, the motif of drumming – an unconventional prompt that Sejersen makes expansive by permitting himself to roam freely along connected biographical and imaginative tangents – the former being an artist self portrait and this relationship with his father, both of them drummers. Nine extreme close up images of varying drums skins greet you on entrance to the exhibition. Similarly a series of candle flames flutter and flicker to the sound waves of a drum beat.
Sejersen's works exhibit his near obsessive preoccupation with the coexistence of violence and structure within a drum beat's relationship to the phrase in which it sits. Concurrent to this, the random and unpredictable marks of a drum are made symbiotic to images of accidental injury on the human skin – the thud of a body in a pavement accident, or a fall down the stairs, becomes interchangeable with the boom of a mallet on a bass drum. These beats, offbeats and snares, set the tone and permeate every work in the exhibit.
Cultivating an intricate personal world of synaesthetic symbolism, Sejersen moves beyond dogmatic arguments between digital and analogue to employ a painterly approach to texture and form. The result is visually arresting work where ambiguity of process has the effect seducing us into a finely poised other-world where reality and reconstruction, memory and desire bleed into one another in unexpected ways.
CASPER SEJERSEN ONE, TWO, THREE, FOUR 11 May – 15 June Cob Gallery cobgallery.com
About The Artist
Copenhagen-based Danish photographer Casper Sejersen (b. Aalborg, 1968) works in fashion, film, fine art and commercial contexts. He has created numerous editorials over the past decade for international publications including Another Man, AnOther, Dazed and Confused and Modern Matter, and has made fashion campaigns for brands such as Helmut Lang, Burberry, Hugo Boss, Kenzo, Fendi, Louis Vuitton and Dior.
Sejersen's approach to editorial and commercial work foregrounds a particular type of psychologically charged 'character': he frequently works with actresses Charlotte Gainsbourg, Isabell Huppert, Kirsten Dunst and Cate Blanchett in this context, since each of these women have an especially strong 'character type' inflected with psychological tension or erotic undertone.Belongs to Joe, published by MACK in 2015, contains a series of 'orgasm portraits' of the cast of Lars Von Trier's film Nymphomaniac (2013). More broadly, the book is a photographic response to the film (accompanied by contributions from art historian Cecilie Høgsbro) that amounts to a bold interweaving of ecclesiastical history, sadism, fascism, pyrotechnics and botany.
caspersejersen.com
Categories
Tags