FAD caught up with Louise O'Kelly and Katharina Worf ahead of Block Universe 2019 (18 May – 2 June) to talk about the 5th edition of Block Universe and the expansion into Berlin (14 September) and their plans for Venice.

Sophie Jung; The Bigger Sleep; 30. November 2018
Tell us about the festival in a nutshell (LOK)
Block Universe was founded to foster the careers of artists working with performance by supporting them in the creation, production and realisation of newly commissioned work. We provide a platform for interdisciplinary performance practices with the mission to create a long-term, sustained engagement with performance art. Presenting an annual programme in institutions, museums, and unique off-site spaces throughout London and internationally, Block Universe is committed to being inclusive and accessible.
This year for the first time we are also programming outside of London, in two other major arts locations, alongside a national touring work.
It's our 5 year anniversary this year, and we're delighted to have expanded the festival to include two full weeks of performances, talks and events in London as well as expanding internationally to Berlin and Venice with new commissions and programme strands.
For the London edition, we have an incredible line up of performances and an exciting range of discursive events, reflecting upon the type of work being made by artists today. That includes a post-dance conference at Tate Modern, a poetry event at Whitechapel Gallery, a panel discussion on historic performance festivals with the Live Art Development Agency (LADA) and a symposium on performance of the self in digital space in collaboration with Goldsmiths students.
Why the expansion into Europe for the 5th year?
(KW) This is how we are celebrating our 5th anniversary in 2019! We want to expand our Universe and widen our geographic scope, always keeping in mind our mission to create a long-term, sustained engagement with performance art. The London festival was set up in 2015 in the context of an open European city, and we are committed to upholding this legacy.
In a sense, the expansion to Europe was born in response to the current inward-looking political climate, where the UK retreats from its welcoming attitude. With our expansion, we want to set a precedent and support the free movement of art and ideas.
We are an international team from Ireland, Germany, Russia and Portugal and we strongly believe it is more important than ever to demonstrate that art and culture bridges borders, and that we are capable of continuing to offer platforms and opportunities to a myriad of artists. As commissioners, we want to promote our Block Universe artists work widely and make sure their work gets the widest possible exposure. Our 2019 theme is "world-making", which aligns with our vision for Block Universe. We want to establish a cultural connection by creating dialogue between Europe and the UK. Having fruitful international conversations, partnerships and exchange really is the heart of what we do.
What will be the London highlights for 2019?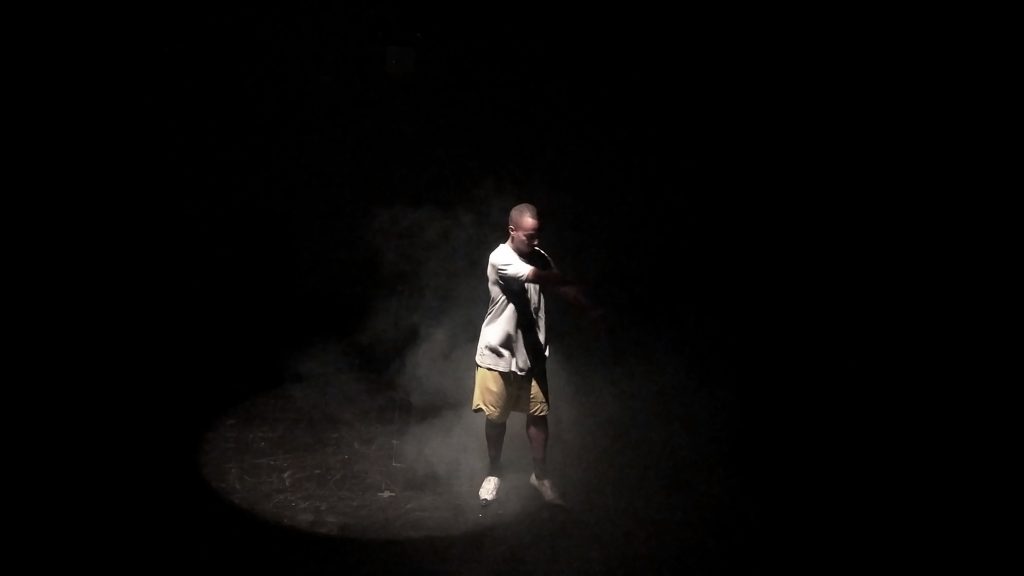 Mbu performed by Paul Maheke, CA2M Madrid – image: Arantxa Boyero, 2017
(KW) We are very excited about our new commission with French artist Paul Maheke and Melika Ngombe Kolongo (Nkisi) who's collaborative and immersive work Sensa will comprise music, design and dance. It is developed in collaboration with Performa New York, where it will travel after it's London premiere at Hoxton Hall.

Michael Portnoy, Portnoy (born 1936) Improvises, 2018, Photo by Shannon Nallan, Courtesy of Hauser & Wirth
American choreographer Michael Portnoy will present an intriguing one-hour performance at The Swiss Church London on 24 May, literally turning the art world and art history upside down. For this, the art historian Claire Bishop will do a short introductory lecture about Portnoy revealing that in fact he has been masquerading himself as a much younger man and that he is 35 years older than he claimed to be. We learn that he has sculpted his face using prosthetic make up all these years. It is a celebration of his career which spans over 25 years.
We are also going to present our first installation and performance, which will be on view for the full two weeks of the festival. Sophie Jung will inhabit an empty space at Cork Street Galleries, presenting her piece The Bigger Sleep which premiered at Kunstmuseum Basel earlier this year. It is a surreal work that will overtake parts of the building: Jung reclining on a chaise lounge, whilst her silent collaborator Peter Burleigh interacts with the mise-en-scene created by the artist.
Various sculptural elements will be carefully placed throughout the space, creating vantage points but also triggering stories. The title of this project alludes to "The Big Sleep," a novel by Raymond Chandler that came out in 1939, and Howard Hawks' 1946 movie adaptation, now a film noir classic. The artist's performance takes inspiration from the novel's atmosphere of disorganization and despair, gradually interweaving snippets of text and peculiar moods to build slapstick-like narratives that seem to defy all logic.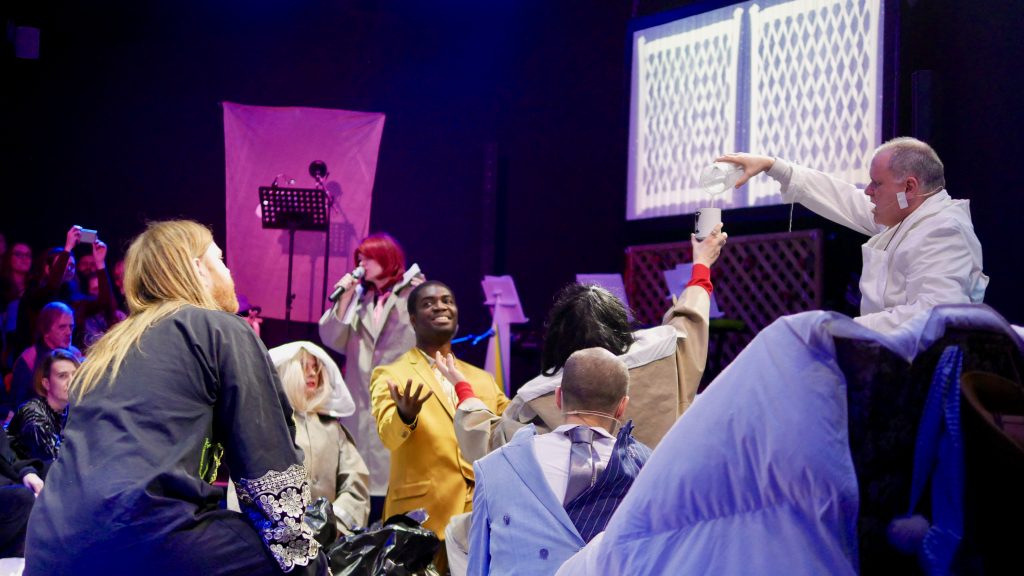 Ravioli Me Away
We are also proud to be hosting the final dates in tour (and the only ones in London) of Ravioli Me Away's incredible new opera THE VIEW FROM BEHIND THE FUTURISTIC ROSE TRELLIS. This is selling fast it is almost sold out so be quick if you want to see it!
You are working with some new institutions in London 2019 – where are you expanding to and what can people see there?
(LOK) Every year we work with a number of different venue partners, as it's important that the work fits with the context. A great example of this is Romanian artists Alexandra Pirici's ongoing action 'Leaking Territories'. Originally commissioned for Münster Skulptur Projekte in 2017, it took as its starting point the town hall where the Westphalian Treaty was signed, marking the creation of modern nation-states as we know them. It was important that the location in which this work would be experienced in London had resonances with the original concept and context, hence the choice of the Imperial War Museum. Taking place in the year of Brexit, and during the dates when the European elections are taking place, this setting speaks so much to history, politics and the consequences of humanity.
Performances, talks and events are also taking place at Tate Modern, Whitechapel Gallery, Cork Street Galleries and unusual spaces like the Swiss Church in Covent Garden.
Can you tell us a little bit more about Venice and Berlin too? What are your plans there and what was the motivation for these projects?
(KW) We are delighted to work with Lithuanian, London based artist Indr? Šerpytyt? whose practice we have been following for a very long time. She works in a range of media, so we are particularly excited to have commissioned a live work with her. In Venice we are going to present a new piece, whose title 'Territorial Symphonies' says it all: This work consists of a brass band playing the national anthems of the countries which lie outside of the bounds of the Giardini. Over three consecutive afternoons from 8-11 May, the band will be sitting on a boat going through the canal Rio dei Giardini, forming a continuous fanfare to the missing and absent. This work questions the hierarchies and national displays of power and wealth of those 29 national pavilions that sit within the walls of the Giardini. The countries excluded of course includes Lithuania and over 60 other countries who were not economically world players in the period of time the pavilions were being built.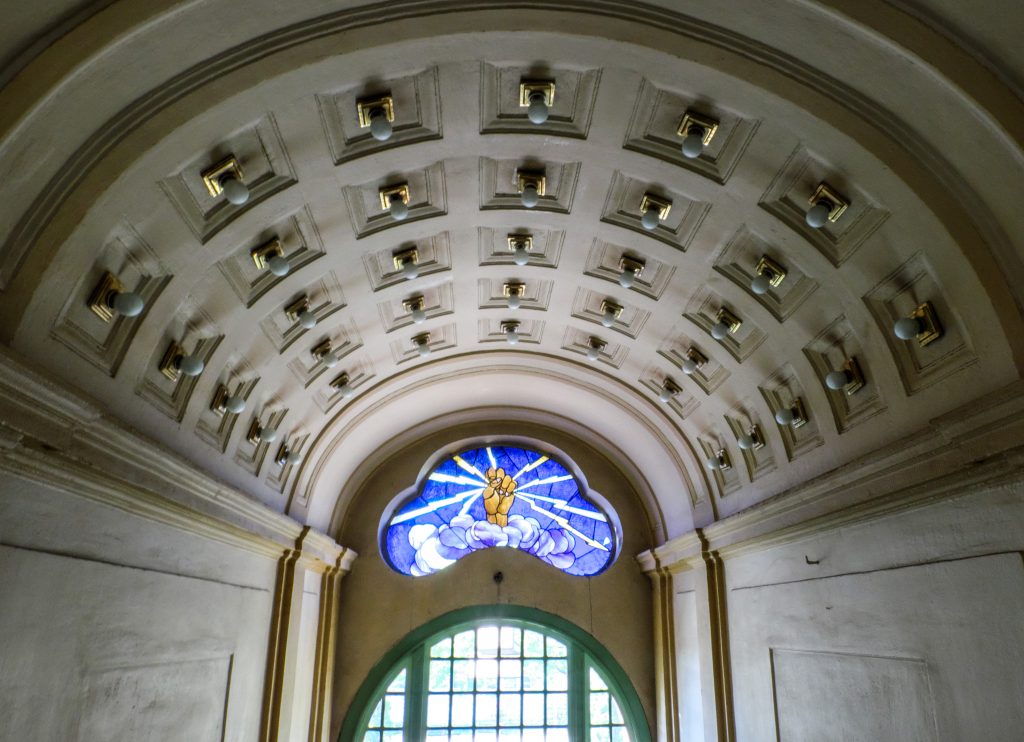 POWER NIGHT
Meanwhile in Berlin, we are thrilled to be collaborating with the newly founded institution, E-Werk Luckenwalde, for which we have planned an exciting line up of artist commissions this September. POWER NIGHT will become an annual event and will activate the long-neglected site near Berlin, bringing together architecture with performance to create vibrant, thought provoking experiences for visitors. For one night only the commissioned artists will map the raw spaces of the listed building with their bodies, objects, soundscapes, and immersive installations.
POWER NIGHT will feature 10 new performances by both emerging and established, international artists who will respond to Block Universe's 2019 curatorial concept of 'World-making', and the E-WERK's 2019 thematic concerns of energy, autonomy and utopia. Artists include: Rowdy SS (UK), Nina Beier (Denmark, Berlin), Performance Electrics (DE), with more announced in June.
If people had to see one thing this year at Block Universe in London what would it be?
Definitely come by Cork Street Galleries as this will be the Block Universe Hub, and we are going to host a range of events there, from talks, tours, to performance. Our team will mostly be there too, so it is a great chance to get to know us and find out more about Block Universe and what's in the making!
Performance is a big part of the official Venice programme this year and lots of Block Universe artists are part of that – is that exciting for you to see too?
(LOK) Block Universe was founded out of a desire to support artists working with performance by giving them a platform and visibility, so it is very rewarding to see many of the artists who we have championed being part of the official programme, and having significant international exposure through the Biennale. Having a programme of performances included in the official programme also serves as important recognition of artists working in this medium.
You are commissioners and curators – is further collaboration and new ventures out with London in the pipeline for year 6?
LOK: We are indeed looking forward to 2020 already! The past 5 years have flown and I think we are just hitting our stride, so watch this space!
KW: I joined Block Universe almost three years ago and it's been a roller coaster! I love the moment when the curtain falls and a year's work is laid out in front of you. It is celebratory relief until the adrenaline kicks back in and we have to start planning for the year ahead. I must admit that this 2019 edition is a very special one for me. It marks a new chapter of Block Universe's international vision where we have the opportunity to build on wonderful partnerships with friends and colleagues. I am very excited to bring Block Universe to Germany and cannot wait to bring these two closer together. Follow Block Universe on its journey, there is definitely so much more to come!
Venice performance dates:
Daily on a boat going through the Giardini Canal
Wednesday 8 May: 3-4:30pm
Thursday 9 May: 10:30-11:30am in front of the Navy Officers Club and 3-4:30pm on a boat going through the Giardini Canal
Friday, 10 May: 3-4:30pm
Territorial Symphonies is a new commission by Indr? Šerpytyt?, produced by Block Universe. The commission is presented in partnership with Dubai-based Alserkal, with the additional support of the Lithuanian Culture Institute and the High Commission of Cyprus, UK.
Block Universe's London festival takes place from 18-28 May. Tickets are now on sale.
18 May – 2 June
Sophie Jung (CH, LX, UK) at Cork Street Galleries
Film screenings in partnership with Film & Video Umbrella, Cork Street Galleries (downstairs).
18 May
'Words that we share: Performance as Poetry' at the Whitechapel Gallery.
20 May
Panel discussion: 'Edge of an Era – 1980s Performance Art and Now' at LADA
22-28 May
Alexandra Pirici (RO) at Imperial War Museum
23 May
'Symposium: Performance of the self in digital space' at Goldsmiths, University of London
24 May
Michael Portnoy (USA) & Claire Bishop (UK/USA) at The Swiss Church
26 May
'Post Dance Conference' at Tate Modern
30 and 31 May
Paul Maheke (FR) and Melika Ngombe Kolongo (Nkisi) (BE) at Hoxton Hall.
1 June
Ravioli Me Away (UK) at The Albany
Further information for the Berlin programme will be released in June 2019. blockuniverse.co.uk
Categories
Tags