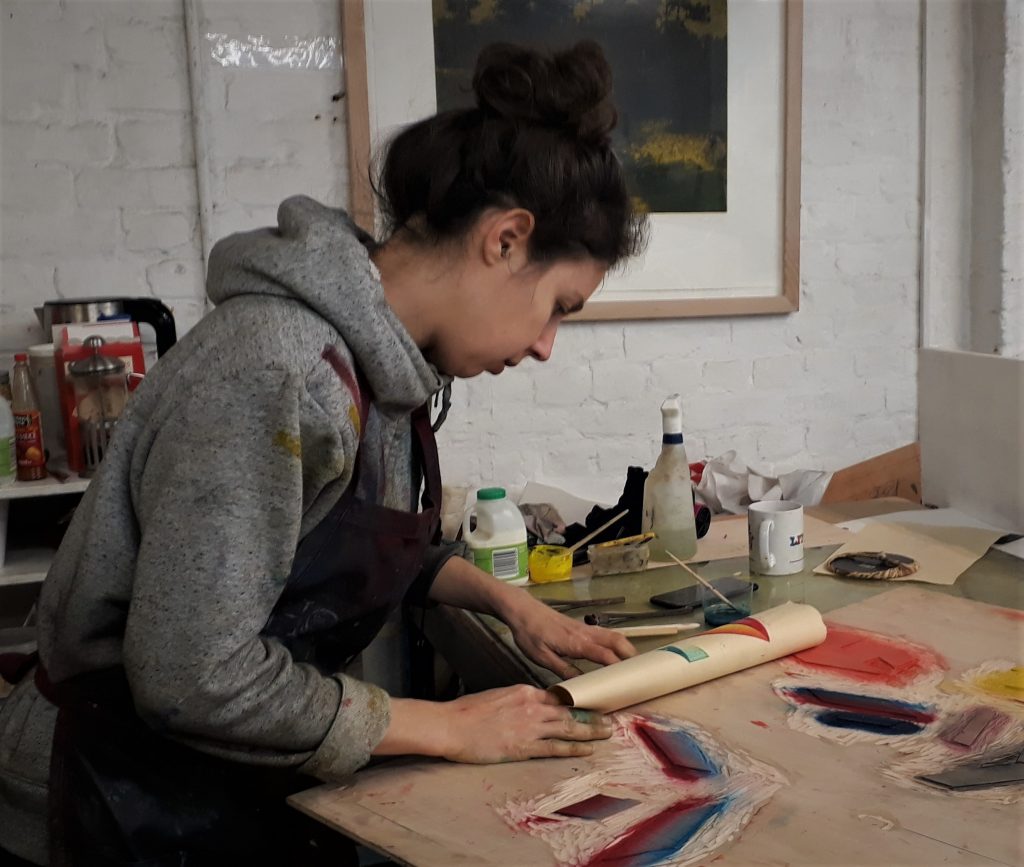 Sophie Layton aligning the paper for a Japanese woodblock print
I recently visited Sophie Layton at her workshop in the Artichoke Print Workshop in Brixton. It's a  studio which operates on a hot desk basis so that some 30 printmakers can share the impressive facilities. Having traveled to Japan in 2014, Sophie became interested in traditional Japanese techniques of making woodblock prints with watercolour, and returned to Japan to study the method in 2017. I had the chance to try my hand at the processes involved: making sure the Japanese paper is kept moist; dropping the colour, together with some rice glue, onto the blocks; ensuring alignment when placing the paper; and then hand rubbing the block with a mounted bamboo leaf, as is traditional.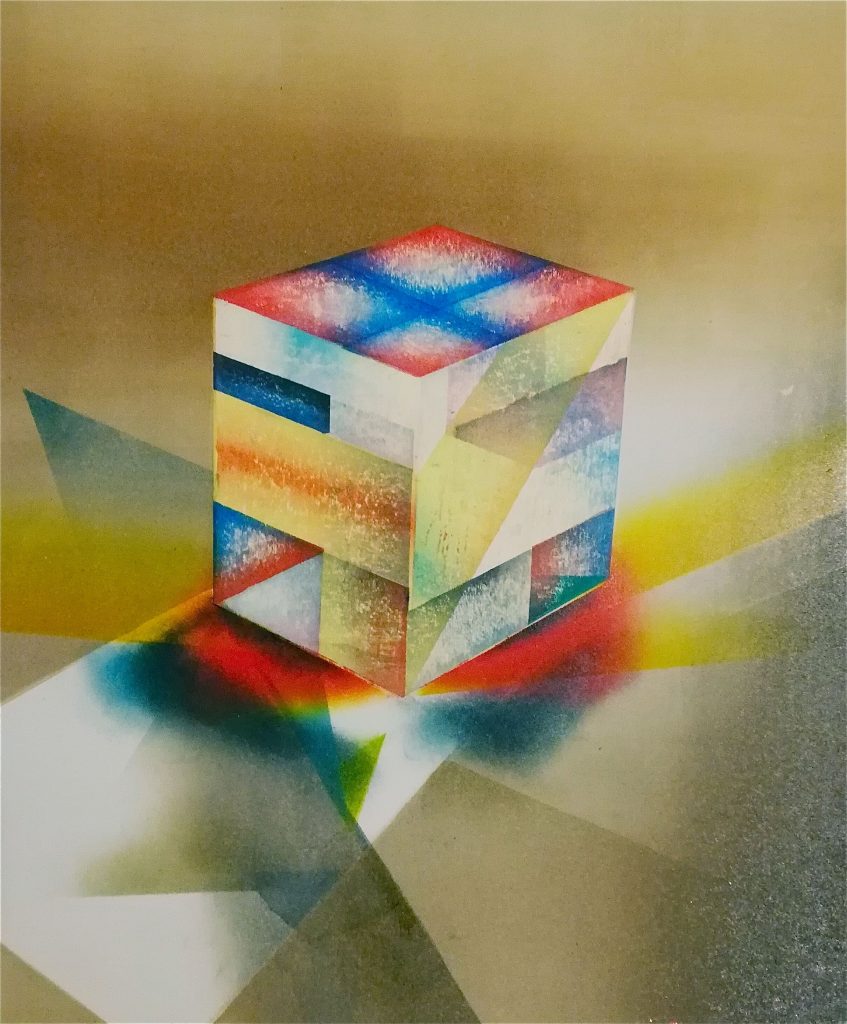 Sophie Layton: 'Refracting Light VI', 2019
Layton proceeds from a preparatory drawing to cut all the different forms to be used in different parts of a single block of plywood (for easy storage, and so that one element of a whole print cannot get separated and lost). Sophie's fiancée is the glassblower Tim Rawlinson, who is noted for making cubes with complicated interior geometric colouring. Sophie's show (opens Wednesday 8th May at Eames Fine Art, Bermondsey) will include some of his cubes, and work by Sophie herself which takes them – rather touchingly – as a starting point.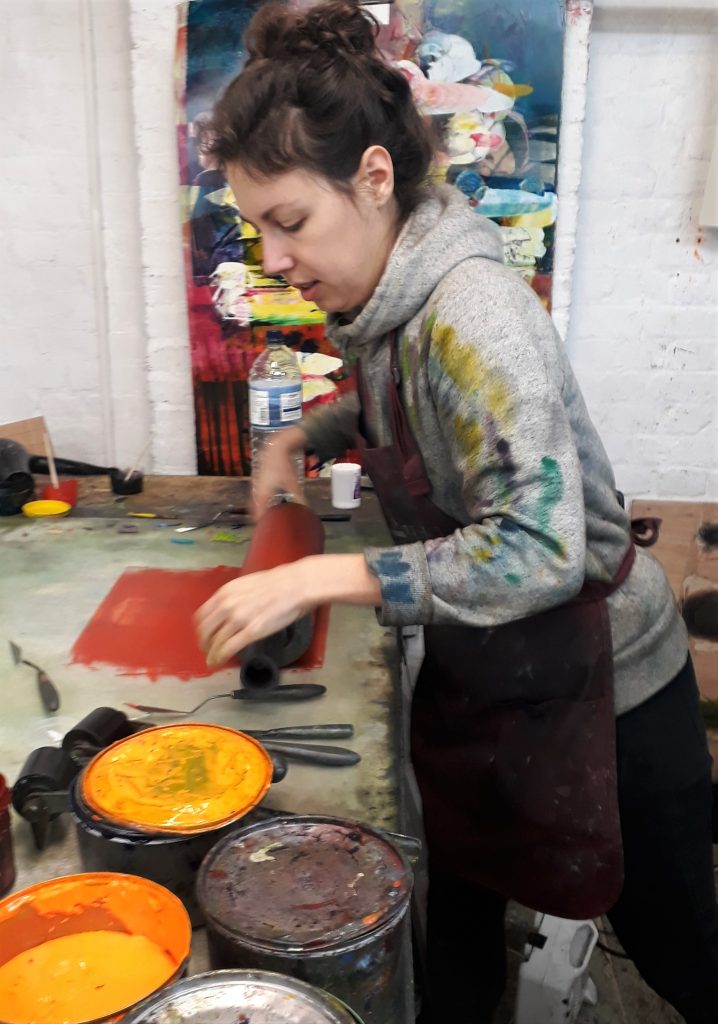 Preparing to apply paint with a roller, European style
First, the woodblock abstractions which start out by depicting the cubes. Second, monoprints made in a more European stoil-basedoil based inks, but based on photographs of Japanese flower arrangements (something else Sophie has studied) onto which she shines a light through one of Tim's cubes to produce prismatic lighting effects. Both printing methods allow for very painterly results. The three intimately related bodies of work should look good together, and I will appreciate them all more for understanding something of the history, skill and care which lies behind them.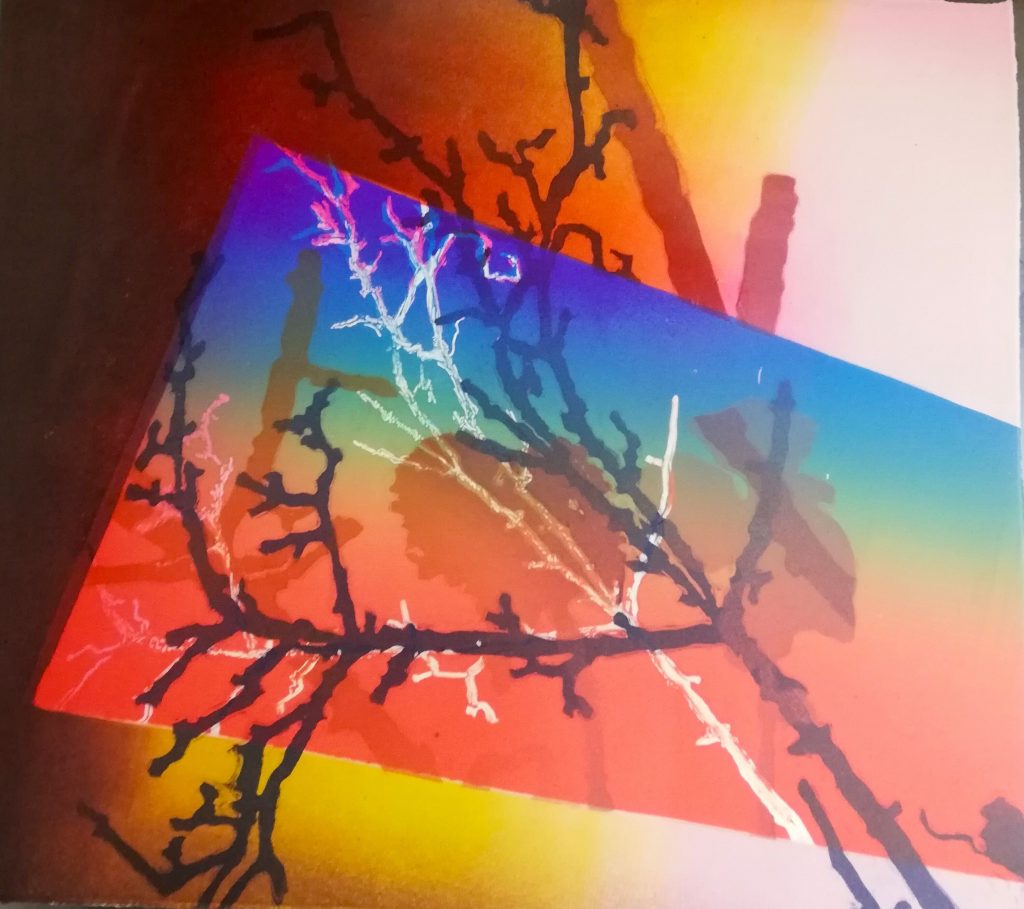 Sophie Layton: 'Ikebana', 2019
Art writer and curator Paul Carey-Kent sees a lot of shows: we asked him to jot down whatever came into his head
Categories
Tags