Jeremy Couillard and Rachel Rossin have been selected to create new work to be exhibited as part of the Phillips x Daata Artist Commission. The digital video works will be premiered separately and exhibited at Phillips, along with a playlist of artwork curated by the artist on view. Following the public exhibitions, the artworks will be offered for sale through Daata Editions' online platform. Jeremy Couillard will be the first to show his work from April 25 through April 30 at the Phillips showroom in Manhattan, New York.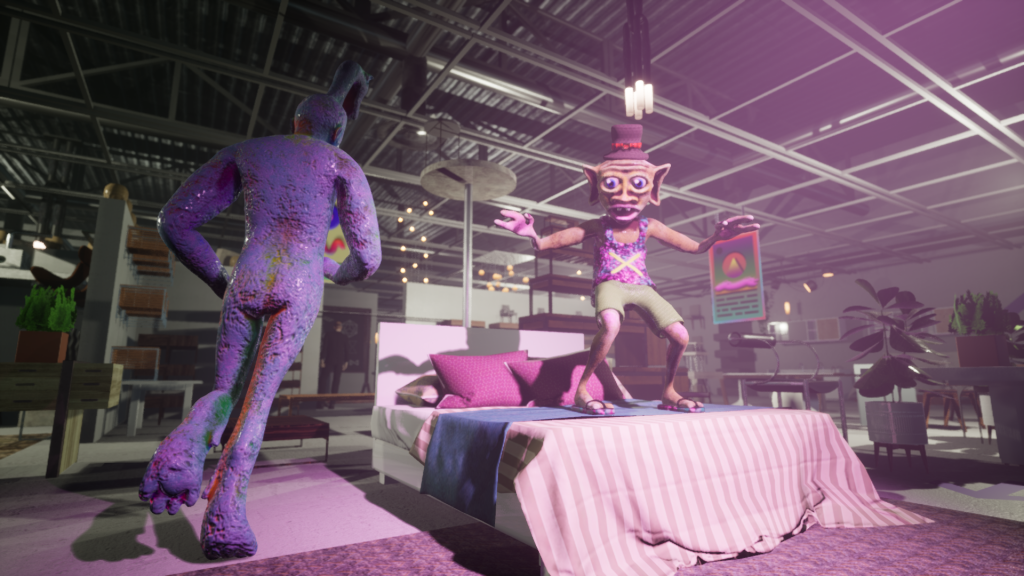 David Gryn of Daata Editions said
"The Phillips and Daata partnership allows us to support artists working in cutting-edge and emerging digital mediums through commissioning artworks. We are thrilled to be working with exciting young talent like Jeremy, and introducing them to a new collector base, projecting them into the next level of their careers. The artists chosen represent a new generation of contemporary art makers."
Titled HOTR Home Furnishing, Couillard presents a absurdist Utopian futuristic narrative in which aliens have saved humans from their own destruction. The story opens in an IKEA-like warehouse which is being used as a re-education camp for the wealthy one percent, who have been charged with assembling flatpack furniture for the middle class. We watch as an alien, having recently relocated to Earth, visits the warehouse in search of a lamp. In payment he must complete a series of missions throughout the labyrinth of the warehouse. Couillard is partly inspired by advertising, part inspired by video games. An exercise in rapid world building, the artist produced HOTR Home Furnishing using UnrealEngine, the same 3D animation software used to make the popular game Fortnite. With a background in painting, the artist approached world-building in a similar way, layered and poetic, perfecting the medium before experimenting. Dreamcatcher, a playlist curated by Couillard will be on view along with his work at Phillips and online at Daata-editions.com. Artists include Phillip Birch, Jacky Connolly, Keren Cytter, Ollie Dook, Ed Fornieles, Takeshi Murata, Rashaad Newsome, Letta Shtohryn, Saya Woolfak, and Lu Yang.
Jeremy Couillard recently completed a virtual reality video presented by the New Museum and Rhizome, as well as an installation built around his video game Alien Afterlife at yours mine & ours gallery in New York. In addition to this new commission, he is currently finishing up a two year long project, Sometimes to Deal With the Difficulty of Being Alive I Need to Believe There Is a Possibility That Life Isn't Real, a networked simulation play which will premiere this year. Couillard was recently awarded a 2017 NYSCA/NYFA Artist Fellowship in Digital Media. He has exhibited internationally, including in New York, Los Angeles, Texas, Poland, the Netherlands, and the United Kingdom. He graduated in 2012 from Columbia University with an MFA in painting. He is currently based in New York.
Jeremy said
"Daata Editions seems to have the only reasonable model out there, one that supports artists immensely. Daata works harder than everyone else. They are at almost every fair, they are in galleries from Beijing to New York to London and are one of the only platforms for experimental video art that pays artists up front and right away. It's really impressive how much they get around and share the work they're supporting."
Categories
Tags