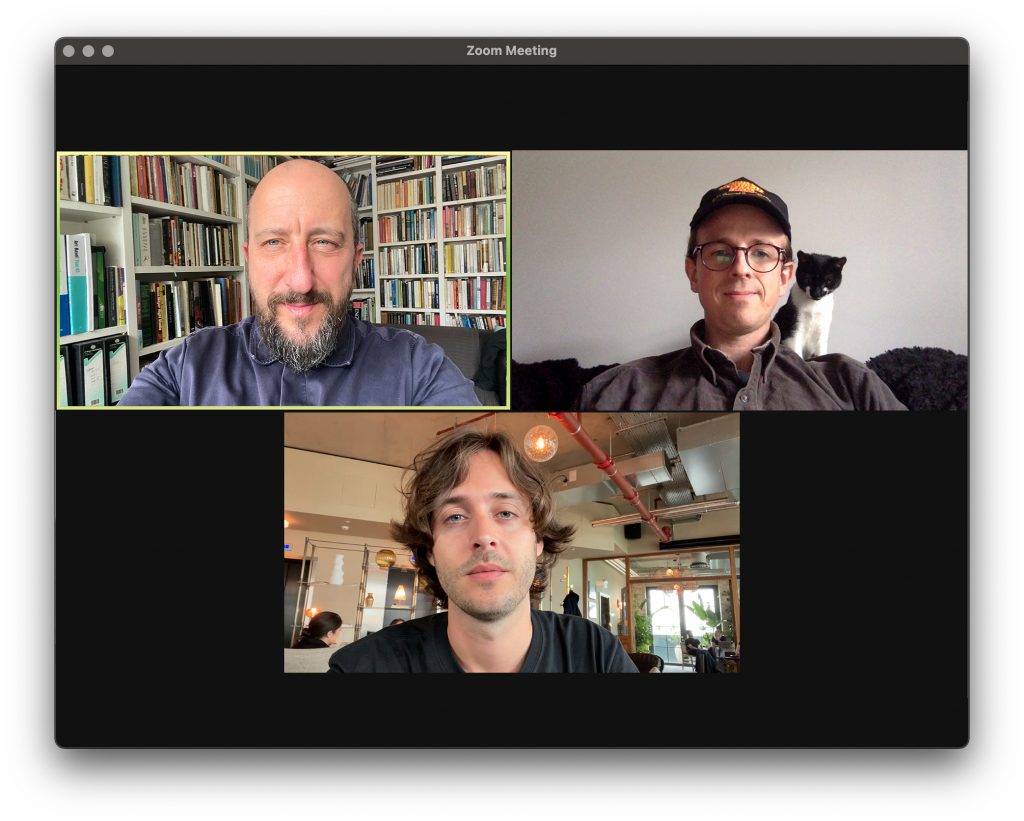 Daata have partnered up with Foundation for an inaugural drop of three artists who have been making waves on the web and in the world.  For insights into how to grow a digital art entity organically and at scale in alignment with their existing philosophy, FAD's MOOGZ got in the mix with Daata's key players: founder David Gryn, Daata Fair organiser Barnie Page and Daata's tech wiz Josh Hardy.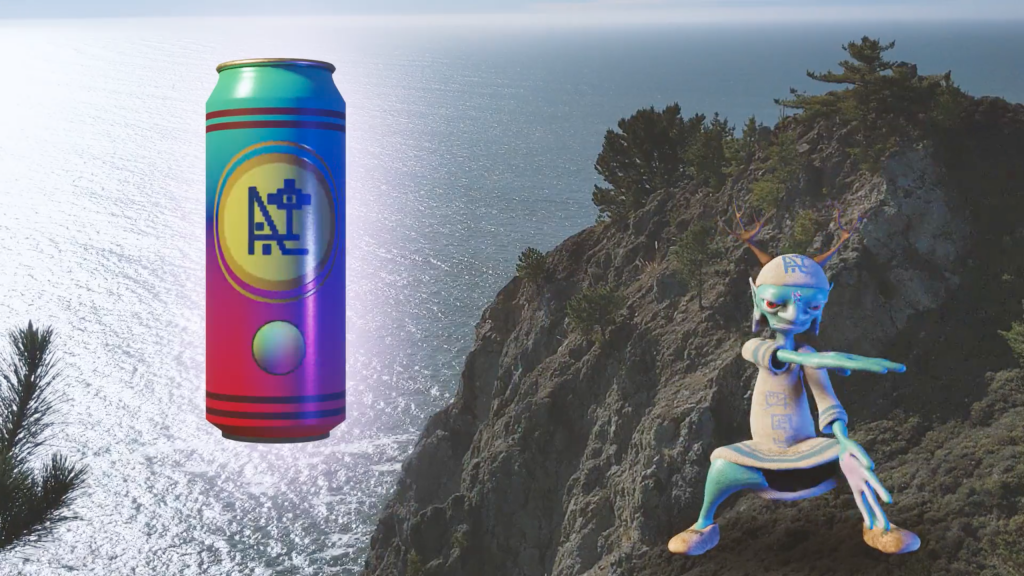 David, as the founder of Daata, would you like to give our readers an introductory precis to Daata?
Daata is all about showing and selling video art. It took hold and got a great reaction from galleries worldwide, which led to higher price points with galleries from London to India, where we saw the type of art works and value shift significantly in the last year.
We've been bubbling in the NFT space for 6 years and are still persistently commissioning works which focus on what we do, and what we do well.  Daata was set up to be able to show artist video and ultimately create a marketplace. For the last six years, Daata has been hoping for a new buzz around the watching and connecting of digital media. That buzz has arrived.
What's new for Daata since the NFT explosion?
David: We're determined to make sure commitment to the Daata Fair remains in place with potential to enhance the commission relationships for example on the online front, Foundation reached out to collaborate with Daata, and in the fair space Daata have co-commissioned with Art Fair Philippines.  Daata persists in driving quality commissioning processes and fair programming.
The first Daata NFT drop is landing on Foundation.  Who have you selected and what drove the choice?
David: We selected three artists. We have done projects with who consistently deliver timely but really quite different works across an expansive breadth. Jeremy Couillard and Petra Cortright are already firmly established. Daata's relationship with Keiken started off with Bob Bicknell-Knight, who's made an impact at Daata with consistent curatorial practice.  Bob's on the third or fourth collaboration curating a programme with Daata and brought Keiken firmly onto our radar. We immediately sensed that Keiken and Bob would work well.  Keiken and Petra are all deeply engaged in what's going on with NFT, AR and video. 
Daata are a big player delivering video art, while the seminal drop on Foundation will put a serious stake in the ground on the NFT front.  What's on the horizon for Daata and AR?
David: Our approach to AR is indicative of where we are and where we're heading – launching the augmented reality app in the coming week and dovetailing into the crazy new world. The app is not yet released and still in the testing phase but there are already lots of artists wanting to work on it.  But we also want to share the video, apps and on the website and gives the app a purpose because showing the works on a Daata app is ideal.
Speaking of showing works, what trends have Daata observed of how the collector community are presenting their digital collections?
David: We've seen some trends in how collectors are showing.  Daata have sold things on some devices, where Apple iPads are then framed while a lot of the collectors simply use screens on their phones.  Daata's artworks are downloadable to any device and can simply be transferred into screens.
Barnie:  I haven't noticed any trends as such, but there's a notable prevalence of smart TVs, and of course the USB capability too. I've heard of people having a folder on their phone with all their collection, then casting it to a screen.  Similarly, I've heard of collectors using a dedicated iPad just for art works. Now, with the app that will help people to have their collection in one place.
With the rapid pace of development in the new artworld pace, what's Daata's process for creating new technologies?
David:  While Daata's digital, it's not extensively a technology platform.  This aspect is shifting as Josh has joined to specifically offer technology capabilities – it's vital to have someone really integral to the team to make sure we get our approach right, all the while integrating things from one part to another.
What challenges potentially lurk on the horizon in the new technologies?
David: Where there's technology that works for the process, Daata doesn't see NFT as some whacky new technology – simply that people are more tempted to buy art through that process.
There are opportunities to do new things and tech changes all the time, so we're sticking to the idea of staying adept at doing what Daata do – continuing to stream or cast the artworks. In developing NFT and associated technologies we are in constant conversations with companies and specialists creating the future tech where the velocity is extreme –  we've absolutely noted the the West coast adage that "time flies in West coast business development". Another challenge are the potential for serious security issues.  Historically, Daata thought about security but never had any worries – now that the online art market has such high potential for value, people naturally care a lot more about security and its value.  
Change is good; however that doesn't mean anything that happens with change is good.
There's an ever-increasing array of ways to communicate with the digital art community such as Twitter, Discord, Twitter Spaces, Clubhouse.  Which communities do Daata frequent?
David: We've been sticking close to the traditional art methodology and remain quite conscious of adding voice to the noise and hub-bub on the various social media channels. We're sticking truthfully to what Daata do and the right way of doing it without mansplaining to the internet about how brilliant we are. For Daata goal is to support artists and the artworks.  We're not reactive against development – there are people positioning themselves of course, but Daata doesn't have anything to prove. In terms of the key NFT communities like Clubhouse or Twitter… even Instagram, they're places where Daata are prepared to enter into dialogue, but it's not for the sake of it.
Barnie: Daata are coming at it from an artworld position.  A lot of the audience is already part of that dialogue and that's where most of the engagement occurs. While conversations are taking place in new places, Instagram is where Daata feel most comfortable.  That's what been using for years – because it's visual. Daata remain focused on art history and devotion to a smaller audience dedicated to art collection – collectors interested in digital media.  While fully aware the space has a growing audience, we're not looking to reach out to the masses for the sake of it.
Josh: In terms of technical learning, I learn a lot from Discord and Telegram groups, always making sure to check in on the development channels simply because it's the developers who really know what's what.    Particularly around issues with NFT royalties on Ethereum, the developers weren't taking a position on that, while people on Clubhouse don't actually always know what's up.
Can we hear about Daata's growth and vision in potential avenues including Metaverses or market positioning?
David: Daata has been growing team members – the team has grown exponentially during lockdown – but it remains essential to filter the information overload by staying true to what Daata knows what we do well. That especially includes learning from the artists; we're not aiming for first player or early adoption, we're determined to do it as well as possible.  In the process we may not get everything right but Daata's certainly not envisioning " a get rich quick" speculation
Daata have stayed true to ourselves, so we stay focused on how to keep going and the ability to deliver quality artworks. In terms of Metaverses we're keeping an open mind: it's a possibility.
There's been dialogue and we've met with capable people, but right now we have a website that functions as intended.  Daata is resisting from being llike a gallery, but more positioned close to Amazon or Netflix by creating another layer of curatorial practice so that the art speaks for itself. Daata is not aiming for the experience to be like a game.  Yes we'll make it playful if one can but that's not always the wishes of the artist.  We're focused on by showing it as straight as possible by ensuring we've got the right direction from the artist.
In terms of the experience, think of it like Daata TV –  make your own playlists to enjoy playful ways of showing the collections.
Which physical institutions have Daata worked closely with recently?
David: Immediately springing to mind is the Julia Stoschek Collection – the ongoing Daata Fair is a collaboration with galleries worldwide. Then there's also Museum of Contemporary Art Kiasma in Helsinki, the Hammer Museum Collection and on the art fair front, from, Photofairs Shanghai, EXP CHICAGO, NADA, Art Cologne, Art Rio and of course comissioning with Art Fair Philippines.
When Daata works with the institutions, it's an opportunity to bridge the digital relationship to their existing audience, ultimately enabling innovation when finding ways to engage.
Barnie, was organising the Daata art fair business as usual affair, or were there new challenges to overcome?
Barnie:  Organising the fair was business as usual.  Yes there were a few alterations to the framework of the website but the vision was to make the fair operate within what they've already got setup on the site.   So that's how it unfolded – we made it work with a few workarounds and tools in there. Technically it wasn't a big obstacle.  Rather, it's getting galleries involved and picking who we want to work with, and bringing the exhibitors together,
Everything's a human relationship – communicating with different people is a new start to a different relationship.  Naturally some galleries have a better handle on the technical side, and there are still issues.  The perception from some galleries is that having an artwork which is freely available online diminishes its value.
There are so many different ways of thinking now with NFTs being such a big thing. It's changing the way people are thinking about what's authentic – what does an authentic artwork constitute? It makes for an interesting dialogue with the galleries. There's another part where because it's online, there's an assumption it's the Facebook etc type audience – expecting millions or thousands of attendees simply because it's online. But consider this, any gallery would have quite happy to have a single collector walk into their gallery.
Where sometimes there's a strange expectation with online, to deliver the undeliverable because there's a huge audience.  On top of that, there's the weird NFT language and attitudes.  Those two worlds are coming together but some artworks present no relationship with it and in my opinion, shouldn't.
We're in the teething stages worldwide on how to mesh these two worlds.  But that's what makes the challenges exciting.  Sometimes there's been no challenge simply because no-one was interested.
Speaking of the devaluation of a digital work by virtue of its free availability on the internet, what do Daata think of the fact it's possible to essentially pirate an NFT straight from a marketplace without paying for it?
Barnie: Primarily, the absence of certificate of authenticity to prove that you're the owner.  It's the same as taking a photo in a museum – the classic separation between ownership in the sense of photographing the Mona Lisa. However artlovers can have just as an intimate experience with a JPEG file in their collection. When I was at uni my tutor dropped off auction house catalogues, and seeing a painting by Magritte, I pulled the page out – that's what they're there for – and stuck it up on the wall.
Since then I visited the Magritte gallery and saw the real thing, and frankly, I was underwhelmed. So I bought a poster that was 1×1 scale.  It didn't have the same feeling at all. So it's that torn out page that means a lot to me.  I kept it blu-tac'd to the wall instead of framing it – it didn't look right in a frame either. On the other hand, collectors want to collect and own, and that's where the certificates persist in value.  Of course, not everyone wants to do that.  
David: Internally at Daata, there's an ongoing conversation about how to make the work more secure, and if somebody wants to steal something they can but it is stealing. I've had the same experience and feeling as Barnie.  Daata works with a lot of people who want to own the certified file and the object. It's a different mindset where Daata let people have their cake and eat it. There's free access to everything – one can download a file and play it how you want to play it by owning it… but the price points have never been so ridiculously high
Barnie: There's an artwork I loved by Oliver Laric, which activates the questioning ideas of authenticity and ownership.  It's titled 'Version'; it's still on Laric's website. 'Version' consists of various video works, sculptures, books and prints, but it exists in all these different forms. All of the video works have been available online, the book was printed and given out in a gallery, then distributed as a PDF for free on his site.  Laric is clearly playing with ideas of ownership and value.
Josh: I think when people say an NFT isn't valuable because you can "just download it", it just means they aren't thinking about it in the right way.. The rarification of the art world has been about its financial markets. There's a different model in the music industry to a usually very large audience, and it's like the market's trying to find the right ways of returning to the artist and the creator. And if a digital sale goes to the big players that's evidence that ultimately something is shifting now.
And finally, are there any behavioural patterns seen in NFT space such as charitable donations or lateral collections where Daata are looking to support artists and ecological causes?
Barnie: Ecology has remained a great concern for Daata from early discussions.  We're looking towards the future where the proof of stake comes in.  But for the time being, we're carbon offsetting for double the quantity of power we use.
David: Building artist trust is really important to Daata, same as the traditional institutions.  It's important for us to have an authentic voice.
It's a question of how do you keep that trust?  Previously the gallery model was the only model out there.  Now let's consider that prior ecosystem of artists – how do you know they're good? Because they're with a good gallery.  The gallery then works hard to make sales and get the artist into collections, and make helps to show the work well, building up a repertoire and a visual desire to look at the work.
Daata try our best, and other platforms may have bigger revenue models, we're not trying to pander to revenue or leap into new technology just for the sake of it.  Daata want to encourage having more emerging galleries and artists. In fact, Daata would probably put more energy into emerging artists to nurture their development, whereas mid-career artists need less help or support from Daata.
Daata have been aiming to find ways to support the artists by the sale, or by streaming, or by other outcomes for the artists. 
We make good connections for the artists and other platforms, the ecosystem isn't always about the sale.  Instead, "do right by the artist" is the Daata business model, and that's why they've survived this long and will continue.
Daata NFT drop #1 Bidding on Foundation  live now
more on Daata daata.art
Categories
Tags