Artworks by Petra Cortright, Jeremy Couillard and Keiken are open to bidding on Foundation from today May 12th. The auction will be open for 24 hours from the moment the first bid is placed. A bid placed in the final 15 minutes of the auction will extend the auction by a further 15 minutes.
"For Daata, embracing NFTs is a natural evolution from what we've been doing since our inception with regard to supporting artists. Blockchain technology allows us to automate many of our existing processes and can help us to ensure that artists continue to benefit from future sales of their artworks. We at Daata are huge admirers of Foundation in how they have built their platform to support and empower a vibrant and self-sustaining artist community."

David Gryn, Founder of Daata
The artworks were minted on Foundation (foundation.app) on 10th May 2021 joining a roster of leading artists previously commissioned by Daata including Eva Papamargariti, Takeshi Murata, Rachel Rossin, Jon Rafman, Yung Jake, and FlucT who have all sold works through Foundation.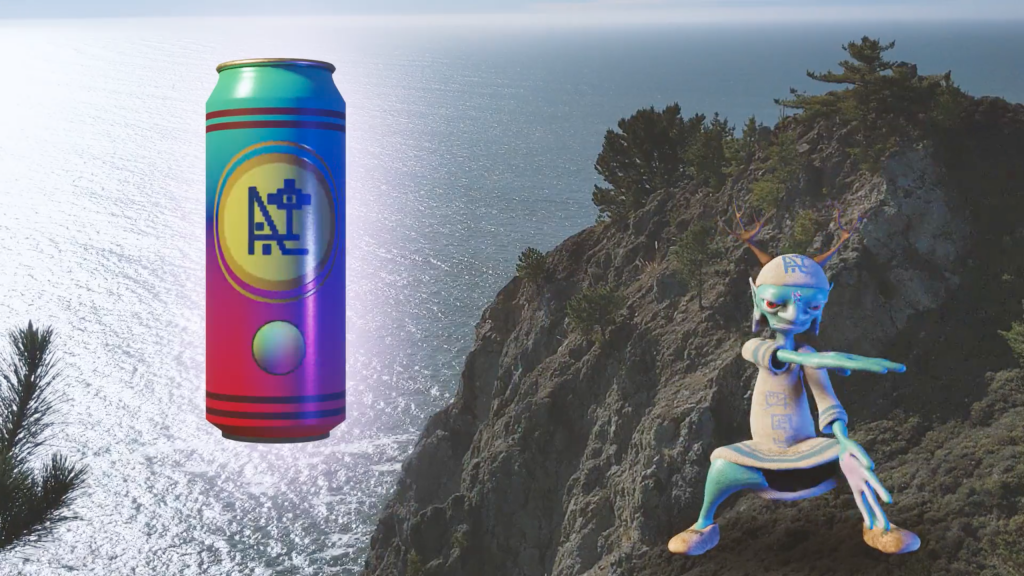 "Foundation is bringing value to digital art in a way that feels authentic to the medium, and building a new economy that gives a lot of creative power back to the artists."

Lindsay Howard, Foundation's Head of Community
Daata fully supports Ethereum's move to Proof of Stake and in the meantime will offset double the estimated carbon impact of their blockchain activity via Offsetra
Daata NFT drop #1 Bidding on Foundation today 8pm EST / 5pm PST (May 12th) 1am BST (May 13th)
Clubhouse event: The New Creative Economy: NFT Happy Hour 5pm PST / 8pm EST, May 12 / 1am BST, May 13
conversation with Daata's David Gryn, along with artists Petra Cortright, Keiken, and Jeremy Couillard.
Hosted by Lindsay Howard and Charles Damga.
Works in the collection drop
Keiken Dream Time Life Simulation, 2021 HD video, 00:04:19
Dream Time Life Simulation by Keiken explores imagined emancipatory technologies, structures and worlds that could exist in the metaverse. It is the third episode of The Life Game in which ME transforms into their avatars MA and MX. MA finds themselves in a liminal space time inside a decentralised metaverse and uses ALL, a decentralised reflection technology, to activate their metathinking. From there they decide to create a technology called "Dream Time Life Simulation" that allows them to portal into their memories and dreams. Here they explore their multiple consciousness, ancestral wisdom and diasporic memories and dreams of their motherland, Veracruz, Mexico.
Jeremy Couillard Tad Mol, The Inventor of the Letter G, 2021 HD video, 00:04:18
Tad Mol, The Inventor of the Letter G shows a couple fighting in their living room when they are suddenly interrupted by a commercial for a shamanic energy drink. They decide to make a pilgrimage to the shaman to imbibe the mysterious beverage. Once they consume it, they take on different stylistic forms and go on a short adventure through a mechanical universe created by the shaman.
The shaman inhabits a satirical "renaissance-man" space. He knows Tai Chi, lives in a hut on a hill and also runs a mystical energy drink corporation from his home. At some point, according to the title of the piece, he also may have had something to do with the invention of a letter. It's funny to think about someone actually inventing the letter 'G', or any letter of the alphabet. The more information that envelops our lives the easier it is to forget that there is an evolution of human actions and labour and ideas creating almost everything we see and experience in civilization. Every bit of an object or information has stories or emotions behind it that are totally forgotten and oftentimes claimed or manipulated by those who probably didn't have much of a role to play in them. Music by Chris Parrello.
Petra Cortright motels a sept-iles 1×2, 2021 HD Video, 00:04:10
motels a sept-iles originated from a project with Rhizome at the New Museum Seven on Seven 10th edition with Petra Cortright and programmer Carl Tashian. Carl wrote a Photoshop script which gently cycles through layers of the artist's painting file. Cortright paints in Photoshop, and almost every brush stroke is on its own layer. The script subtly animates the framework of the brushstrokes and architecture of the painting, revealing different versions. The videos in this series are created by opening a painting file, running the script, and screen-recording. This is an ongoing thread of her work which explores the fluid relationship between painting and video. Music by Jacob Gryn.
For further information please visit meta.daata.art
About the Artists
Petra Cortright (b. 1986, Santa Barbara, CA) is a contemporary artist whose multifaceted artistic practice stems from creating and manipulating digital files.
Cortright's digitally-conceived artworks physically exist in many forms – printed onto archival surfaces, projected onto existing architecture, or mechanically carved from stone. A notable member of what became known as the 'Post Internet' art movement of the mid-to-late-2000s with her YouTube videos and online exhibitions, Cortright later began to laboriously craft digital paintings by creating layer upon layer of manipulated images in Photoshop which she then rendered onto materials such as aluminum, linen, paper, and acrylic sheets.
Her works are in the permanent collections of the MoMA, MOCA, LACMA, Hammer Museum, Moderna Museet, Stedelijk, MCA Chicago, Kadist Foundation, BAMPFA, The Péréz Museum, San José Museum of Art, Santa Barbara Museum of Art, andRhizome's Net Art Anthology.
Jeremy Couillard (b. 1980, Michigan, USA) was educated as a painter and is a self-taught new media artist whose works often deploy humorous narratives about future dystopias to explore what motivates us as humans to work, live, and create.
Couillard has exhibited at Zabludowicz Collection (London, U.K.), Phillips Auction House (co-commissioned by Daata) (New York, NY), yours, mine & ours gallery (New York, NY), Lincoln Center (New York, NY), Louis B. James (New York, NY), Zhulong Gallery (Dallas, TX), Flux Factory (Queens, NY), and has screened his work at the New Museum and Rhizome (New York, NY), Salon 94 (New York, NY), the Brooklyn Academy of Music (Brooklyn, NY), and the Warhol Museum (Pittsburgh, PA).
Keiken is a collaborative practice, co-founded by artists Tanya Cruz, Hana Omori and Isabel Ramos in 2015, who frequently work with multiple collaborators. Based between London and Berlin, they come from mixed diasporic backgrounds (Mexican/Japanese/European/Jewish). Keiken, named after the Japanese word for "experience", creates speculative worlds using moving image, CGI, gaming software, installation, extended reality, programming and performance to merge the physical and digital. Their work simulates new structures and ways of existing, exploring how societal introjection governs the way we feel, think and perceive.
Recent exhibitions and projects include: E-motion Graphics, Yebisu International Festival for Art & Alternative Visions 2021, Tokyo Photographic Art Museum, Tokyo (2021); The Time Complex, Yerevan Biennial, Online; Augmented Empathy, FACT, Liverpool; The Metaverse Womb, 3hd 2020, HAU Hebbel am Ufer, Berlin; Ghosts & Apparitions, Sheffield Doc Fest, Online; Metaverse: We are at the end of something, Mira Festival, IDEAL, Barcelona; Sessions, Block Universe, Online; The Artist is Online, KÖNIG GALERIE, Online; How to Make a Paradise, Frankfurter Kunstverein, Frankfurt, The Eternal Network transmediale 2020, Haus der Kulturen der Welt HKW, Berlin (2020); Image Behaviour, ICA, London; Jerwood Collaborate!, Jerwood Arts, London (2019).
Categories
Tags