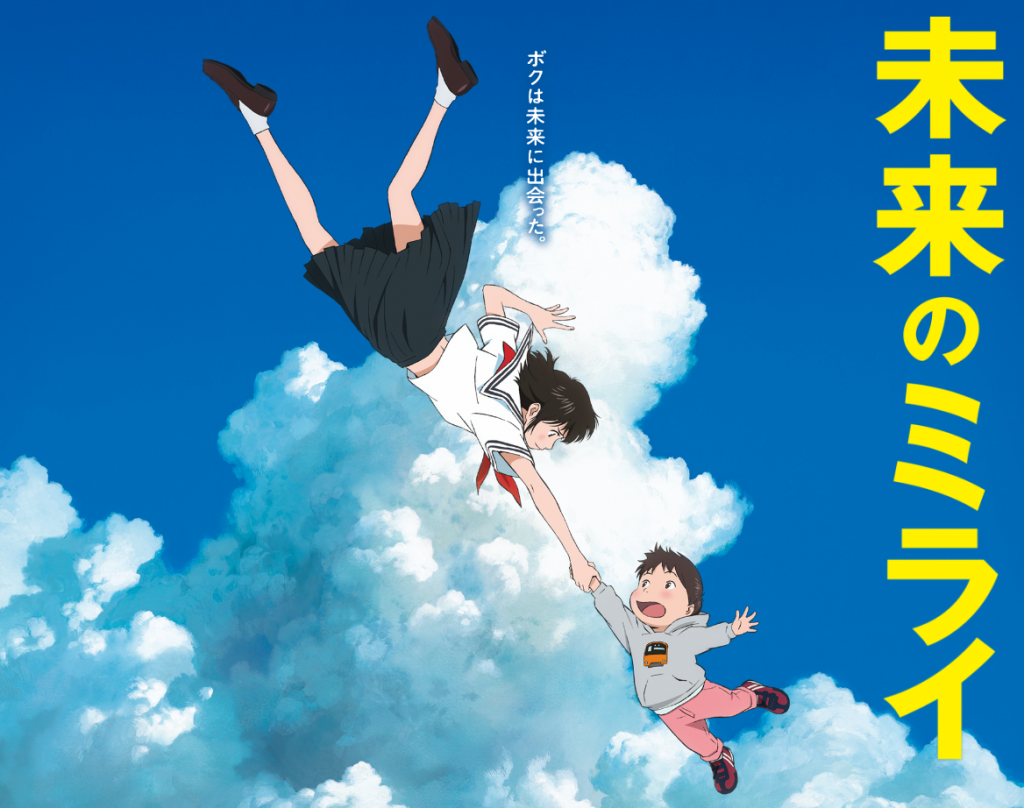 Mirai, or from its original title Mirai no Mirai (Mirai of the Future), is writer and director Mamoru Hosoda's seventh major film project and the first non-Ghibli Japanese animation feature to be nominated for an Oscar. Just how well will it hold up against other contending nominees known to have taken the crown on more than one occasion in the past?
From the same director who created masterpieces such as The Girl Who Leapt Through Time, Summer Wars and more recently, Wolf Children and The Boy and The Beast, Mirai is Hosoda's most recent release, premiering in Japan in July of 2018 and later that same year for other countries. The feature, produced by Studio Chizu which Hosoda himself co-founded in 2011 and having just won an Annie Award for best animated independent feature, is the sixth Japanese feature to have ever been nominated for an Oscar and the first ever non-Ghibli produced animation to make the list. With strong contenders such as Disney's Ralph Breaks the Internet, Pixar's Incredibles 2, Marvel's Into the Spider-Verse and Wes Anderson's stop motion feature Isle of Dog, odds do not seems to favour Mirai regardless of Hosoda's impressive body of work. This said, the nomination alone is fundamentally ground breaking in itself, proving how far Japanese animation has grown and spread in Western culture outside of Hayao Miyazaki's (Ghibli) shadow, the latter having won an Oscar for best animated feature film in 2003 for Spirited Away.
Mirai tells the story of four year old Kun, sweet but stubborn and spoilt rotten as the only child and centre of attention of his family until the arrival of his new baby sister Mirai throws his world off balance. With the spotlight taken away from him, Kun struggles to find his place while household dynamics shift, forcing him into a role he does not yet understand: being a big brother.
When teenage Mirai turns up from the future in his backyard accompanied by a variety of guests from different time periods, Kun's world expands and with it so does his perspective about what it means to be part of a family.
Mirai is probably Mamoru Hosoda's most personal project to date having recently become a father himself as he wishes to illustrate his own experience of having seen his family grow and complete itself. Through this project he recounts day to day family adventures through Kun's grimaces and tantrums, aiming for a joyful and endearing experience.
Although an entertaining and heart-warming story illustrated by Hosoda's usual expressive and dynamic animation, Mirai does tend to pale in comparison with the director's previous works and might not be the best film to introduce to a crowd who has yet to familiarise themselves with Hosoda's unique style of storytelling. This said, the feature does set high standards for the quality of art and animation which epitomises the talent relentlessly delivered by Japanese animation studios, opening Western culture up to different styles of art forms from around the globe and spurring them into friendly competition. With fast rising and proficient directors such as Masaaki Yuasa (The Night is Young Walk on Girl), Mamoru Hosoda and Makoto Shinkai (Your Name) creating masterpieces as popular, if not more popular than Ghibli productions (forcing Miyazaki out of retirement), a shift in the animation community is to be expected both on the Western and Asian front with more independent productions standing out from behind the usual Disney/Pixar giants.
While Mirai isn't a shoo-in to win this year's Oscar for best animated feature film, its nomination introduces Mamoru Hosoda's talent to a new audience while opening the door to new discoveries for animated film in more than one aspect.
Watch Mirai's trailer here:
Categories
Tags