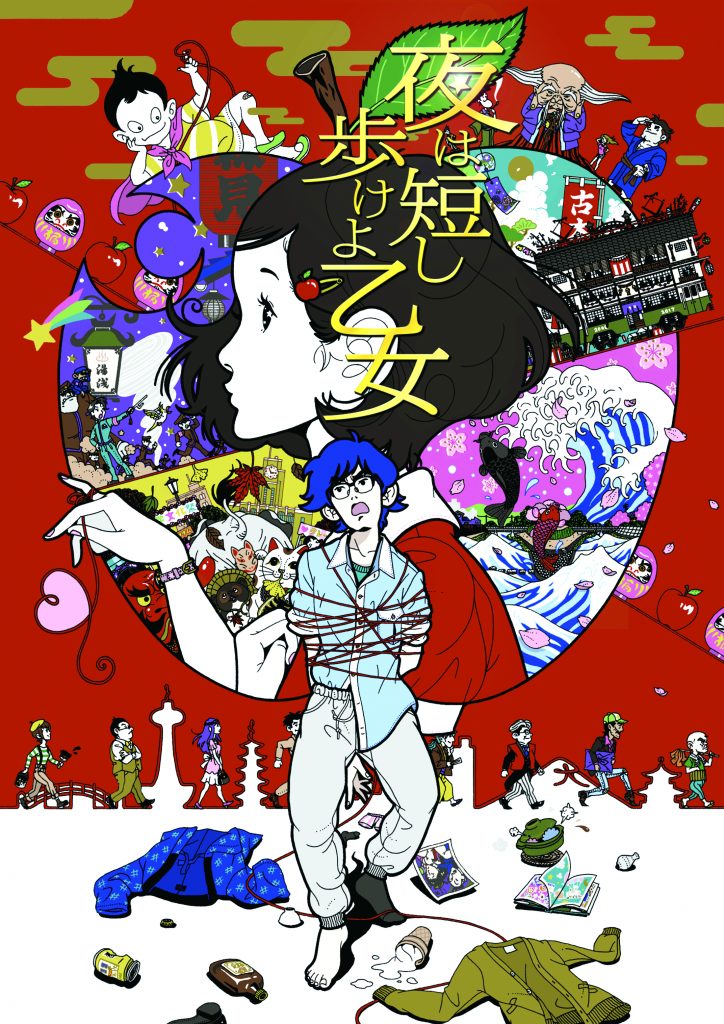 Co-founder of Science Saru Animation Studio and visionary director Maasaki Yuasa brings one of his most eccentric works to Western screens for a nationwide run on August 21-22 through US distributor GKids. Highly praised upon its initial release back in 2017, Yoru Wa Mijikashi Aruke Yo Otome (literally translated to The Night is Short, Walk on Girl) is sure to dizzy up spectators and paint towns red wherever it goes.
"A mysterious night that seems to span an entire year", or rather an unmentionable night out on the town where surreal events seem to transpire from a fever-dreamlike state onto the quaint streets of Kyoto; a narrative exploit entirely dedicated to chasing after a thrill thirsty Raven Haired Girl as she begins her journey through the longest night of her existence.
Trying their best to keep up with her fast paced story are a long line of friends of fortune picked up along the way, each of them adding their own pull and rhythm to the already supercharged evening. Camouflaged and lost in the crowd is the Black Haired Girl's upperclassman, Senpai, whose plan to chance his way into the girl's life leaves him disorientated and dazed having been taken for a spin by the night's discombobulating events. As madcap as ever, director Yuasa does once again what he is best known for: unleashing a world of madness, leaving viewers breathless and woozy.
Yoru Wa Mijikashi Aruke Yo Otome, whose general storyline remains purposefully superficial in order to leave room for its hallucinatory aesthetics, with impulsive fluid animations and rioting colour schemes, pushes its eccentric envelope to new heights using a combination of both Yuasa's love for old school 1940's American cartoons and artist Yûsuke Nakamura's vibrant pop art style illustrations which already featured on the original novel by Tomiko Morimi which inspired the animation. Nakamura's clean character designs and detailed lively backgrounds brings a rich yet peculiar ambiance to the now suddenly unfamiliar city of Kyoto, turning it on its head and down the rabbit hole to a whole new underground scene, blurring lines between dream and reality which is everything Yuasa stands for with his work where visual impact brings more than any well-structured plotline.
The disjointed narrative gives off a spontaneous, almost improvised vibe, pushing and pulling to where it wishes to be, a reminder of the Black Haired Girl's free spirit as she pours herself inside the streets of Kyoto, giving off a 'just go with it' aura which resonates both with the film's impulsive narration and unbridled animation style.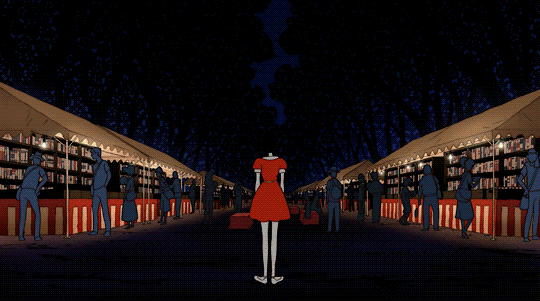 Walk on Girl is one of three works released by Masaaki Yuasa since the start of 2017 with Lu over the Wall (Yoake Tsugeru Lu no Uta) released barely a month later and Devilman Crybaby having aired as a Netflix original series in early 2018, currently making him one of the most prolific directors in animation, his artistic footprint easily recognisable at first glance. This said, though acknowledged and praised by the anime and creative community, how Yuasa's work will be perceived by an unfamiliar audience not yet accustomed to his pattern of quirks and eccentricities associated with his animations will be an interesting outcome to observe upon, with The Night is Young, Walk on Girl not being the most beginner friendly animation out there but whose magnificent restless art appears to have been made to live out and wholly express itself on the big screen.
Categories
Tags