This Spring, KARST, in partnership with The Box, Plymouth, will present an energetic programme of four exhibitions, each lasting for only one week (5-30 March 2019). KARST is the final gallery to host fig-futures' UK wide tour, where 16 shows have and will place across the UK in 16 weeks, following fig-2, where 50 exhibitions were staged in 50 weeks at the ICA, London, in 2015.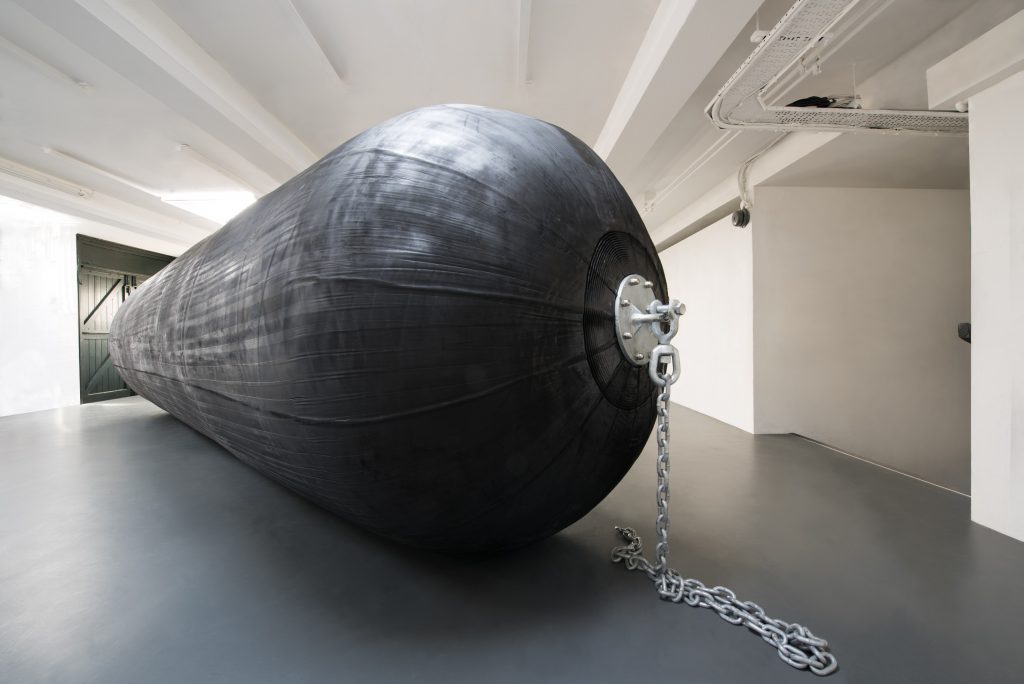 Image: Eva Grubinger (2015)
The final 2018-2019 fig-futures begins with drawings, paintings and videos by British artist Suzanne Treister, whose work speculates on the relationship between technology and alternative belief systems. For week two, Austrian sculptor and installation artist Eva Grubinger presents a 3D work that explores scale, context and the maritime as a metaphor. Paris-based Charlotte Moth will present architecture-inspired work in week three, including a new off-site installation in Plymouth's iconic 1950s market building. In week four the programme will round off with Laura Eldret, whose work often involves audience participation, transforming KARST's gallery into a space to socially engage visitors and community groups.
The final four fig-futures projects will be curated by independent curator Ben Borthwick.
Ben Borthwick, says: "fig-futures has enabled us to work with four brilliant artists to realise ambitious projects that resonate with Plymouth's audiences, architecture, and growing ambitions as a centre for contemporary art. In addition to delivering our exhibitions, a series of workshops organised by Outset and Art Fund has enabled us to share experience and exchange knowledge with the other national partners has been invaluable."
WEEK 1 / Suzanne Treister 5-9 March 2019 Private view + launch on Monday 4 March
Suzanne Treister (b.1958 London, UK) studied at St Martin's School of Art, London (1978-1981) and Chelsea College of Art and Design, London (1981-1982). She is now based in London having lived in Australia, New York and Berlin. Initially recognized in the 1980s as a painter, she became a pioneer in the digital/new media/web based field from the beginning of the 1990s, making work about emerging technologies, developing fictional worlds and international collaborative organisations. Utilising various media, including video, the internet, interactive technologies, photography, drawing and watercolour, Treister has evolved a large body of work which engages with eccentric narratives and unconventional bodies of research to reveal structures that bind power, identity and knowledge. Often spanning several years, her projects comprise fantastic reinterpretations of given taxonomies and histories that examine the existence of covert, unseen forces at work in the world, whether corporate, military or paranormal. An ongoing focus of her work is the relationship between new technologies, society, alternative belief systems and the potential futures of humanity.
WEEK 2 / Eva Grubinger 12-16 March 2019 Private view + launch on Monday 11 March
Eva Grubinger lives and works in Berlin. She has had solo shows at Museum of Contemporary Art Kiasma, Helsinki (2001); BALTIC Centre for Contemporary Art, Gateshead (2003); Berlinische Galerie, Berlin (2004); Schirn Kunsthalle, Frankfurt am Main (2007); Museum der Moderne, Salzburg (2009); Institute of Contemporary Arts, London (2015); and Belvedere 21, Vienna (2019); among others. She has participated in group shows at Deichtorhallen, Hamburg (2002); Taipei Fine Arts Museum (2008); Krannert Art Museum, Champaign, IL (2009); Marrakech Biennale (2012); Galeria Vermelho, São Paulo (2013); Witte de With Center for Contemporary Art, Rotterdam (2014); Kunsthalle Wien, Vienna (2015); and Busan Biennale (2018); among others.
WEEK 3 / Charlotte Moth 19-23 March 2019 Private view + launch on Monday 18 March
Charlotte Moth was born in the UK and has lived and worked in Paris since 2008. She was nominated for the Prix Marcel Duchamp in 2017. Major solo exhibitions include MIT – List Visual Arts Center, Boston, Seeing While Moving (2017), the Kunstmuseum Liechtenstein, Travelogue, and Parc Saint-Léger, Pougues-les-eaux, Pensée Kaleïdoscopique (2016); Tate Britain Archive Gallery, Choreography of the Image (2015). The Centre d'art contemporain de Genève, Ce qui est fragile est toujours nouveau (2012). A monograph book Travelogue produced by the Kunstmuseum Lietchenstein was published in 2016 in English and German with a French leaflet. Forthcoming exhibitions include Colección XVII: Charlotte Moth, CA2M Centro de Arte Dos de Mayo Comunidad de Madrid, curated by Caroline Hancock, 24 of February – 16 June 2019.
WEEK 4 / Laura Eldret 26-30 March 2019 Private view + launch on Monday 25 March
Laura Eldret (b.1982, UK) is an artist working across textile and installation. Awards include a shortlisted artist for the Vordemberger Prize (2016), and a Gasworks URRA residency in Buenos Aires (2016). Eldret programmed a major seminar What is the Digital Draw? about net art, computer art and the digital at Drawing Room, London (2016). Select exhibitions include CCA Derry, NI (2016); Tannery Projects, London (2016); Fig-2 50/50, ICA, London (2015); Focal Point Gallery, Southend (2015); Drawing Room, London (2015); Artlicks Weekend (2014); Tannery Arts, London (2014); South London Gallery (2013); Ikon, Birmingham, UK (2013); The Gallery, Arts University Bournemouth, UK (2012); Baltic Centre for Contemporary Art, Newcastle upon Tyne (2012); Glasgow International (2012); and Camden Arts Centre, London (2011).
fig-futures is a project supported by Arts Council England, Art Fund, and Outset Contemporary Art Fund and follows the major project fig-2 in which 50 projects were presented across 50 weeks at the ICA Studio, Institute of Contemporary Arts, London in 2015. fig-futures takes the one-week exhibition structure along with fig-2 alumni artists to four venues across the UK.
As well as allowing new work by emerging artists to reach new audiences, fig-futures will leave a legacy through a new collecting model for the acquisition of the artworks after the exhibitions have come to an end. Artworks by fig-futures artists will be selected in conversation with participating artists to then enter into collections of the participating galleries. This will leave a legacy of art for generations to come in each location and is made possible with support from Arts Council England, Art Fund, and Outset. fig-futures will also help to foster relationships between fig-2 artists and institutions, advancing artistic and curatorial discourse nationwide. Acquisitions will be announced in Spring 2019 at the end of the tour. fig2.co.uk
Categories
Tags