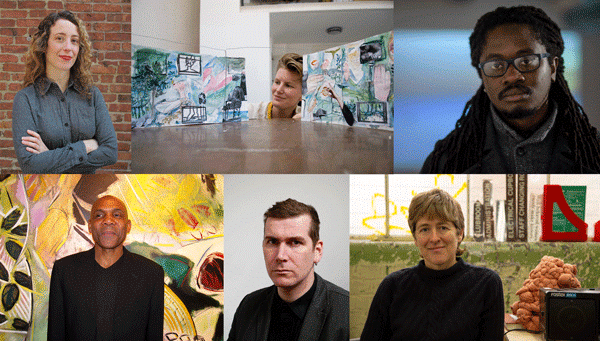 Clockwise from top left) Aliza Nisenbaum; Laure Prouvost © Giorgio Benni, Courtesy Lisson Gallery; Larry Achiampong. Photo credit Roger Sinek, 2017; Nina Wakeford; Bedwyr Williams; Denzil Forrester. Photo by Geraldine Rogers
Art on the Underground has announced its programme for 2019, comprising major new works from internationally renowned artists. As we approach the prospect of the UK leaving the European Union and edge towards an uncertain future, the 2019 programme will explore what it means to be 'on edge', individually, collectively, politically and socially. The 2019 programme will look at the role artists can play in developing utopian ideas of togetherness and belonging.
Bringing leading international artists to London, Art on the Underground's programme discusses the emotional weight of longing and belonging to the city as it crosses this edge. Major commissions situated across London include:
For her first UK public commission, Aliza Nisenbaum will be in residence at Brixton station for two months, painting Transport for London staff.
Laure Prouvost will create her first public commission in the UK, an ambitious city-wide series of signs and slogans, infiltrating all 270 London Underground stations and seen by millions of people each day.
Denzil Forrester will reinterpret his seminal painting 'Three Wicked Men' from 1982 for his first public commission in over three decades.
Larry Achiampong will re-imagine London Underground's iconic logo, the Roundel, in a configuration of his ongoing series, the 'Pan African Flag for the Relic Travellers' Alliance'.
Nina Wakeford will present her two-year research project alongside the new Northern Line Extension programme in South London.
For the Pocket Tube map, Bedwyr Williams will create one of his iconic drawings which merge art and life with a comedic twist.
Art on the Underground's 2019 programme is part of the Mayor Sadiq Khan's London is Open campaign, emphasising that, despite Brexit, London remains open to the world, open to visitors, investment, talent and ideas, creativity and opportunity. It follows a critically acclaimed 2018 programme which showcased exclusively women artists to celebrate the 100 year anniversary of the 1918 Representation of the People Act.
Categories
Tags