Launched today Thursday 20th June Art on the Underground present French artist Laure Prouvost's first public commission in the UK, an ambitious city-wide series of poster infiltrating advertising sites across all 270 London Underground stations.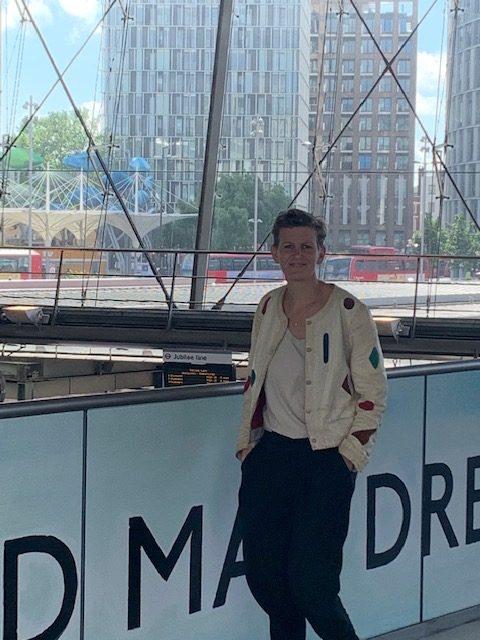 Laure Prouvost' at the launch her first public commission in the UK for Art on the Undergound photo: Mark Westall
Launching on 20 June and on view until 15 December 2019, Prouvost has created posters in print, for digital screens and the cover of six million pocket Tube maps as well as major installations at Heathrow and Stratford stations that bookend the project from east to west London. In these sites Prouvost draws on her own tradition of sign painting alongside London Underground's early history of wayfinding and graphic design where signs were produced by hand. Each poster is a digital reproduction of a hand- painted sign complete with a sentence devised specifically for the Underground in its iconic Johnston typeface, with corporate logos painted too.
Synonymous with Prouvost's distinctly playful and poetic voice where English is her second language, the crux of the project begins with the poster stating 'you are deeper than what you think', an interplay between the literal place the work will be encountered and a reminder that there is more inside all of us than we might initially feel. Further works include 'oh stay with us the party has just begun' that will fill the entire atrium at Heathrow station and 'ideally these words would pause everything now' a 20-metre sign at Stratford station that directly addresses the millions of passengers who pass through Stratford station each day.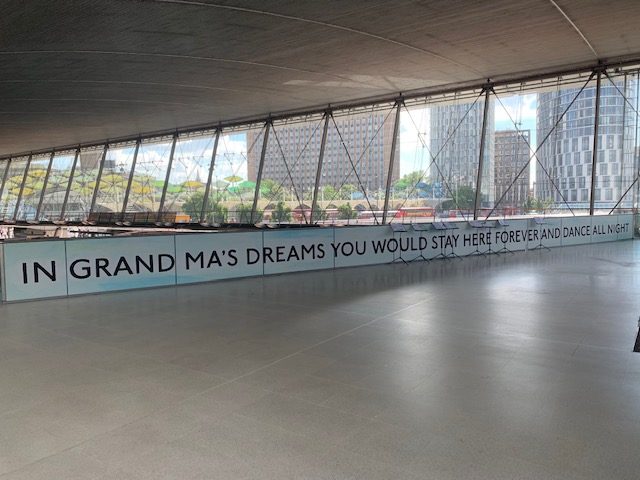 Recurring throughout the commission is Prouvost's Grand Ma, a long-standing figure in the artist's work. Floating through blue skyscapes Grand Ma appears in Bethnal Green, Notting Hill and Stratford stations as well as on the cover of the Spring 2019 edition of the pocket Tube map.
With 1.3 billion annual journeys on the London Underground every year, the commission will have a vast presence in London. As we approach the prospect of the UK leaving the European Union, Prouvost challenges us to question everything.
The commission will launch on 20 June 2019 at Stratford station, with a performance by Shards written by Prouvost to celebrate London, the UK and the future of our relationship with the EU.
The project forms part of Art on the Underground's 2019 programme exploring what it means to be on the edges, whether individually, collectively, politically and socially.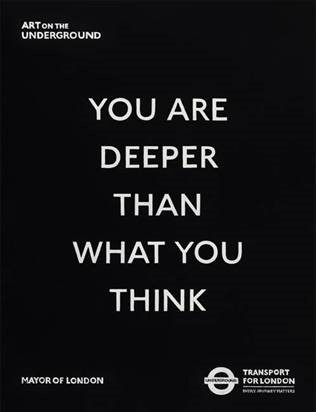 Laure Prouvost commented:
"In my dream and Grand Ma's we were in the underground and they asked us to fly (post) along the walls… deep down to reach new states, for you to stay with us and stay connected. Her dream is here…"
Eleanor Pinfield, Head of Art on the Underground commented: "Prouvost's hand-crafted signs, painterly drawings and playful messages create an intimacy with her huge audience, the millions of people travelling through London. Enveloping us in a fictitious world, each one of Prouvost's signs seems to speak directly to us, a small spark of connection to our environment as we travel through the city. Across 2019, Art on the Underground's commissions are exploring what it means to be 'on edge' and asks how artists can play a role in developing ideas of togetherness and belonging. The humorous messages and language slippages in Prouvost's signs are an echo of the voices of this international city, a reminder not to overlook or mistranslate those around us."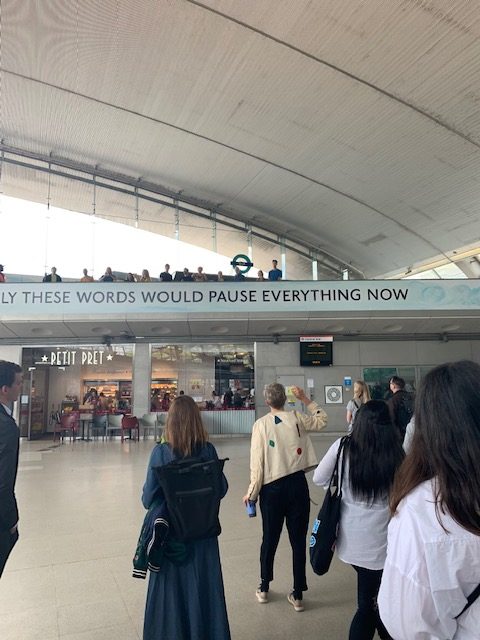 2019 is an uncertain time for the United Kingdom as it faces the prospect of withdrawal from the European Union. Reflecting on the emotional weight of longing and belonging to the city as it faces this edge, Art on the Underground's programme will present a wide-range of commissions across London from leading international artists including Aliza Nisenbaum and Denzil Forrester at Brixton station; Larry Achiampong at Westminster station; Nina Wakeford who will present her two-year research project of the new Northern Line Extension; and a Pocket Tube map cover designed by Bedwyr Williams.
About The Artist
Laure Prouvost was born in Profond near Hauterive. She now lives in her ' deep see blue ' caravan galloping towards Venice.
Along the way, she will through herself in the air, through the cracks of the waves.
Fallen from the nudes she received her BFA from Central St Martins, London in 2002 and studied towards her MFA at Goldsmiths College, London. She also took part in the LUX Associate Programme.
IDEALLY here a list of shows and important museum exhibitions… (and not the list below):
Solo exhibitions include: 'Ring, Sing and Drink for Trespassing', Palais de Tokyo, Paris, France (2018); 'They Are Waiting for You', BASS Museum, Miami, USA (2018); 'the wet wet wanderer', as part of 'Para|Fiction', Witte de With Center for Contemporary Art, Rotterdam, The Netherlands (2017); 'softer and rounder so as to shine through your smooth marble', SALT Galata, Istanbul, Turkey (2017); 'And she will say: hi her, ailleurs, to higher grounds…', Kunstmuseum Luzern, Switzerland (2016); 'GDM – Grand Dad's Visitor Center', Pirelli HangarBicocca, Milan, Italy (2016); 'all behind, we'll go deeper, deep down and she will say,' Museum Fu?r Moderne Kunst Frankfurt Am Main, Frankfurt, Germany (2016); 'we would be floating away from the dirty past', Haus Der Kunst, Munich, Germany (2015); 'For Forgetting', New Museum, New York, USA (2014); Max Mara Art Prize for Women, Whitechapel Gallery, London, UK and Collezione Maramotti, Reggio Emilia, Italy (2013); 'Laure Prouvost / Adam Chodzko' as part of 'Schwitters in Britain', Tate Britain, London, UK (2013). Prouvost won the MaxMara Art Prize for Women (2011) and was the recipient of the Turner Prize (2013). Prouvost has been selected to represent France at the 58th International Art Biennial Venice in 2019. MuHKA, Antwerp is currently presenting a mid carer overview, AM-BIG-YOU-US LEGSICON.
Laure Prouvost is represented by Lisson Gallery, Carlier | Gebauer and Galerie Nathalie Obadia.
About Art on the Underground
Art on the Underground invites artists to create projects for London's Underground that are seen by millions of people each day, changing the way people experience their city. Incorporating a range of artistic media from painting, installation, sculpture, digital and performance, to prints and custom Tube map covers, the programme produces critically acclaimed projects that are accessible to all, and which draw together London's diverse communities. Since its inception, Art on the Underground has presented commissions by UK-based and international artists including Jeremy Deller, Yayoi Kusama, Mark Wallinger, and Tania Bruguera, allowing the programme to remain at the forefront of contemporary debate on how art can shape public space. Art on the Underground is funded by Transport for London.
Categories
Tags