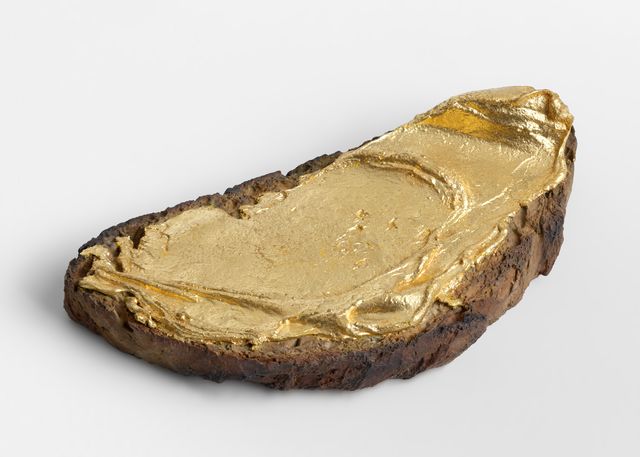 Work No. 3071 Peanut Butter On Toast
A new exhibition by Martin Creed entitled 'Toast' will include new sculpture, painting, drawing, tapestry, video, live action and music. Creed has become known for hugely varied work which is by turns uncompromising, entertaining, shocking and beautiful.
Creed's many films and videos, including most recently 'Work No. 2811: What the fuck am I doing?' (2017), 'Work No. 2656: Understanding' (2016), and his infamous 'Work No. 610: Sick Film' (2006), a film of people being sick, shot elegantly on 35mm film.
Music, talks and theatrical presentations are an important element of Creed's work. These include 'Words And Music', his improvised one-person show which ran at the Edinburgh Festival in 2017, and frequent concerts and recordings – such as the album 'Thoughts Lined Up' (Telephone Records 2016) – and several orchestral pieces: 'Work No. 1375' (2012), commissioned by London Sinfonietta, and most recently 'Work No. 3025' (2018), for String Quartet, commissioned by David Roberts Art Foundation.
The frequently exhibited balloon sculptures, filling half the air in a room, enjoyed by children and adults alike. The first from the series was 'Work No. 200: Half the air in a given space' (1998).
Creed's music for the opening of the London Olympics, 'Work No. 1197: All the Bells in a Country Rung as Quickly and Loudly as Possible for Three Minutes' (2012), made with the participation of people country-wide on the morning of the Olympic opening ceremony (even Big Ben joined in).
The much-loved Scotsman Steps in Edinburgh, a public staircase joining two streets made with more than a hundred different types of marble, 'Work No. 1059' (2010). There are a number of other Creed marble floors, including at the Jumex Museum, Mexico City 'Work No. 1051' (2013) and at Sketch restaurant in London, 'Work No. 1347' (2012).
His array of reassuring signs saying EVERYTHING IS GOING TO BE ALRIGHT, currently installed in Edinburgh and London (Tate Modern) UK, Christchurch NZ, Detroit MI, Vancouver BC, and now also in Doha QA.
And his spectacular spinning monuments such as 'Work No. 1357: MOTHERS' (2012) (Fort Worth USA) and 'Work No. 2630: UNDERSTANDING' (2016) (New York USA), commissioned by Public Art Fund.
'Work No. 850' (2008), in which athletes sprinted through Tate Britain every one minute.
'Work No. 409', Creed's popular Singing Lift which goes 'Ooh' going up and 'Aah' coming down, on show in the UK at The Royal Festival Hall in London, Ikon Gallery in Birmingham, The Fruitmarket Gallery in Edinburgh, and also at Van Abbe Museum, Eindhoven NL.
'Work No. 1020' (2009), a dance work commissioned by Sadler's Wells, which involves classical dancers and music played by Creed and his band.
Martin Creed: TOAST 30 Nov 2018 – 9 Feb 2019 hauserwirth.com/
Categories
Tags