Martin-Creed-Portrait (c) Hugo Glendinning
Martin Creed has a new exhibition AMIGOS opening at Centro Botín in Santander, Spain this April.
AMIGOS will be a site-wide commission, stretching from the surrounding Pereda Gardens all the way into the second-floor galleries of Centro Botín, by way of the lift and lobbies, Martin Creed will break down the physical and institutional boundaries between the galleries and the rest of the building, including live performances of a new work by roving musicians; the creation of monumental wall paintings that will cover every inch of the walls of the galleries and the surrounding spaces on the second floor, and with gallery staff wearing uniforms painted by Creed. At each end of the gallery, the views from the large bay windows over the Santander Bay and the gardens have been incorporated into this unique show.
The project is curated by Benjamin Weil, Artistic Director of Centro Botín.
Speaking about the show, Benjamin Weil, said:
"This pluridiscliplinary and multi-dimensional project invites visitors to reconsider their environment, drawing attention not just to the humblest details of the architectural elements of the building that are often overlooked, but also to the gallery attendants themselves, fostering a more acute and attentive look at what are generally regarded as the most menial aspects of the environment. We are especially delighted that the work is being developed here at Centro Botín in close collaboration with young artists during Martin Creed's invited residency as part of our International Artists Workshop programme."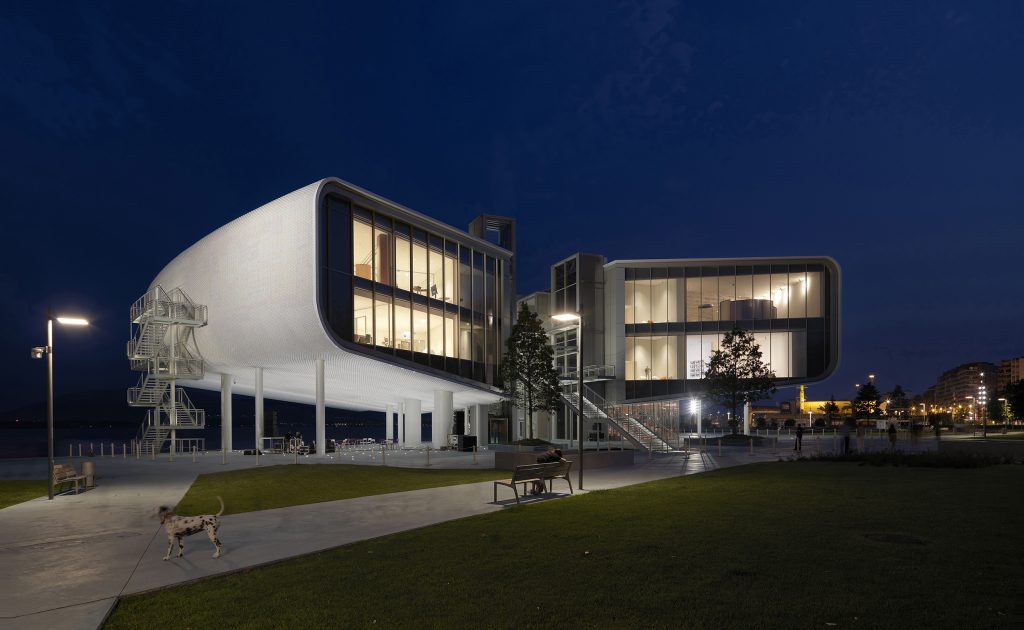 Centro Botín Photo: Enrico Cano
Since 1994, the Fundación Botín Visual Arts Workshops have brought together young artists from all over the world with such major creative talents as Tacita Dean, Carlos Garaiocoa, Mona Hatoum, Carsten Höller, Cristina Iglesias, Joan Jonas, Jannis Kounellis, Julie Mehretu, Gabriel Orozco, Juliao Sarmento and Juan Uslé. For his workshop, Martin Creed has invited young artists and musicians to a ten-day session during which they will work on scripting and composing a new piece, whilst also working on their own personal projects under his mentorship.
Martin Creed: AMIGOS 6 April to 9 June 2019 Centro Botín, Muelle de Albareda, Jardines de Pereda, 39004 Santander, Spain www.centrobotin.org
About The Artist
Martin Creed (b. Wakefield 1968) grew up in Glasgow and lives and works in London. He works in a wide range of media including performance, installation, sound, text, sculpture, painting and drawing. His practice has been described as 'a series of exercises in awareness,' using commonplace materials and minimal intervention to draw to our attention things that we might otherwise overlook. He came to prominence in 2001 when he won the Turner prize with Work No 227: The lights going on and off, which was subsequently acquired by Tate for its permanent collection. This controversial work involved the lights in an empty gallery being switched on and off at intervals and is typical of the playful and understated nature of Creed's work. Among his other works are Work No 1119: All the bells in a country rung as quickly and as loudly as possible for three minutes, in which thousands of women, men and children all over the UK took part, simultaneously ringing bells of all kinds, sounding car horns and even banging pots and pans, as a commission for the Cultural Olympiad of the London Olympic and Paralympic Games in 2012.
Martin Creed founded his first band, Owada, in 1994 with Adam McEwen and Keiko Owada and in 2011 he set up his own label, Telephone Records. In addition to releasing a series of singles and albums, he has also composed orchestral works, including Work No 955, for Birmingham Symphony Orchestra; Work No 994, for Hiroshima Symphony Orchestra, and Work No 1375, for the London Sinfonietta.
Centro Botín
Centro Botín is a major new visual art centre in Santander, Spain, which opened in 2017, developed by Fundación Botín, a philanthropic Spanish institution founded in 1964. The building, as well as the urban intervention within which it is located, linking the city centre and its bay, has been designed by the renowned architect Renzo Piano. As well as offering a new wide-open door to art to the people of Santander city and the Cantabria region, it will strengthen the city's social and cultural fabric and create a new attraction, in an exceptional seaside location, for all who visit Santander from around the world. Led by an outstanding team of international experts, Centro Botín is, first and foremost, dedicated to displaying and supporting art. It also offers educational and wider cultural programmes, many of which link the experience of art to the development of creativity and wellbeing. The building provides a home for the Fundación Botín's permanent art collection, along with galleries for major exhibitions. Within the gallery spaces, and outside in the newly restored and extended Pereda Gardens, there are also displays of visual art of international calibre, from the historic to the contemporary. The building and its surrounds also offer excellent and generous areas for performance, screenings, education, discussion and creative projects. Centro Botín provides a base from which the Fundación can build on its longstanding support for art and artists, through international exhibitions, workshops and scholarships, and also pursue research into drawing styles of the major Spanish artists of all periods.
Centro Botín is a manifestation of the Fundación's long held belief that seeing art has the power to awaken each individual's creativity, and a key strand in the programming will be a pioneering research-led training programme to help people develop their emotional intelligence through art. The mission of the Fundación Botín, from its inception in 1964, has been to contribute to society's development. It does this by helping to generate cultural, social and economic wealth, not only in Cantabria, where it has always been based, but today also across Spain and as far afield as South America. The main focus is on uncovering and supporting creative talent in art, science, education and rural development. It is a potent mix of priorities, resulting in work that has enhanced the lives of many people, worldwide.
Categories
Tags