The Word is Art is a fascinating global overview of how contemporary artists incorporate text and language into work that speaks to some of the most pressing issues of the 21st century. There has been much scaremongering about the 'death of the book' and how, as words find new ways and means of transmission, people might gradually begin to shun writing. In the digital age, text becomes information, and information strives to become free. But what value can text hold in the sphere of visual art? How is such text different to poetry? Can the poetic itself be visual art, or is text in this context consigned to the realms of gimmick and catchphrase?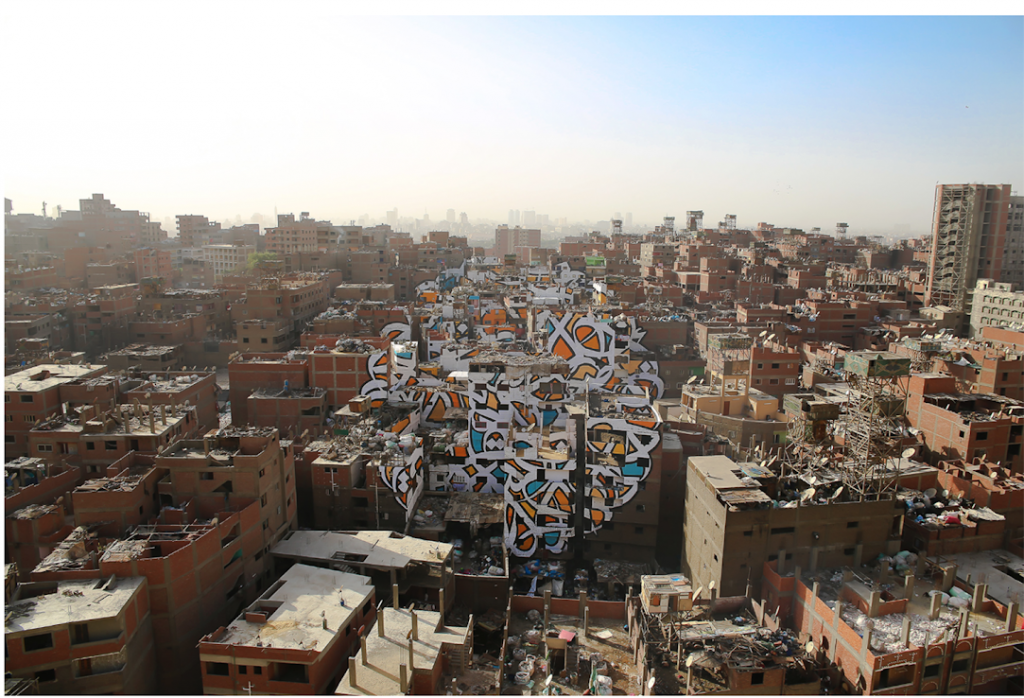 eL Seed, Perception Credit: Courtesy eL Seed. Photo: eL Seed
The Tunisian/French artist eL Seed's installation Perception, was painted across 50 buildings in Cairo
without the consent of the Government who have stopped street artists making work, and censure
artists across many media. The installation was in an area called Manshiyat Nasr, where Coptic
Christians live. They are called Zabaleen (the garbage people) but do not use this term themselves.
They collect the city's rubbish and recycle it, yet are discriminated against because of their work, and
they are seen as dirty. The text eL Seed used is from Saint Athanasius of Alexandria, a 3 rd century
Coptic Bishop and states: (Anyone who wants to see the sunlight clearly needs to wipe his eye first). The anamorphic image took the artist and a team of workers over three weeks in install, and it could clearly be seen from the nearby Moqattam Mountain. Perception 2016 Installation, paint on 50 buildings
Looking at the work of a broad range of artists including Annette Messager, Barbara Kruger, Cerith Wyn Evans, Christian Marclay, Christopher Wool, Chun Kwang Young, eL Seed, Fiona Banner, Ghada Amer, Glenn Ligon, Harland Miller, Jenny Holzer, Kay Rosen, Laure Prouvost, Martin Creed, Rachel Whiteread, Raymond Pettibon, Roni Horn, Tania Bruguera, Zhang Huan, and many more, The Word is Art examines each of these questions, contending above all that in the digital and online age, words have become more important than ever. With the advent of texting and social media, many predicted the debasement of language, and some have pointed to evidence of this in our 'post-truth' culture. Michael Petry demonstrates that, on the contrary, words remain critical, powerful and central to art practice.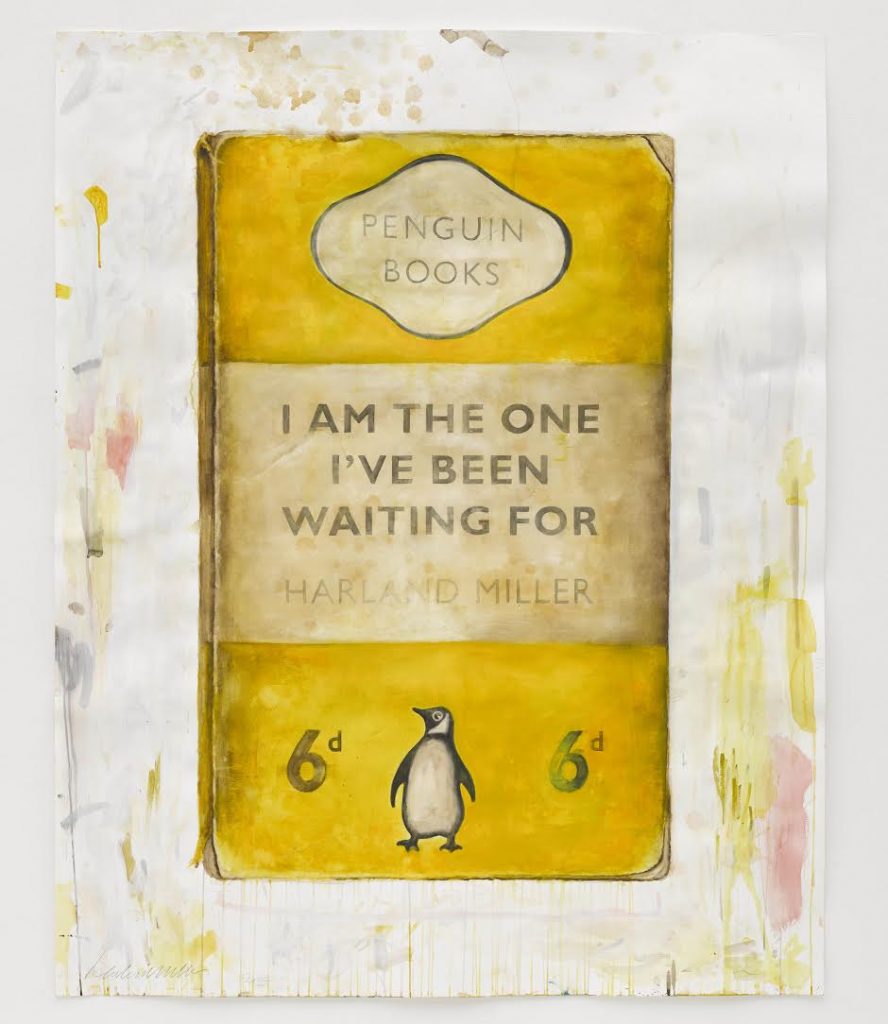 Harland Miller, I Am The One I've Been Waiting For Credit: © Harland Miller. Photo: George Darrell © White Cube. British artist Harland Miller uses the visual format of the classic Penguin paper back as his starting point. He changes the size often painting them on an epic scale. Miller creates ironic titles that seem as if they could be actual books from a past age. Too Cool to Die (2004) is presented as if Miller were the author, while Dirty Northern Bastard (2009) is attribution to D.H. Lawrence and I'm So Fucking Hard (2002) to Ernest Hemmingway. Other fictional titles have no author but play with the expectation of who might have written a book called Incurable Romantic Seeks Filthy Whore (2007). Miller's
Digital communication has seen the word as text permeate life in ways that the poets and artists of yesterday could never have imagined. Presenting a brief history of word- and book-based art, and examining major area where the word has dominated artistic practice – Installed Words, Three-Dimensional Words, Light, New Media, The Conceptual Word, Social Comment, The Drawn Word, Book – The Word is Art takes us on a fascinating and richly illustrated global tour of diverse contemporary art forms.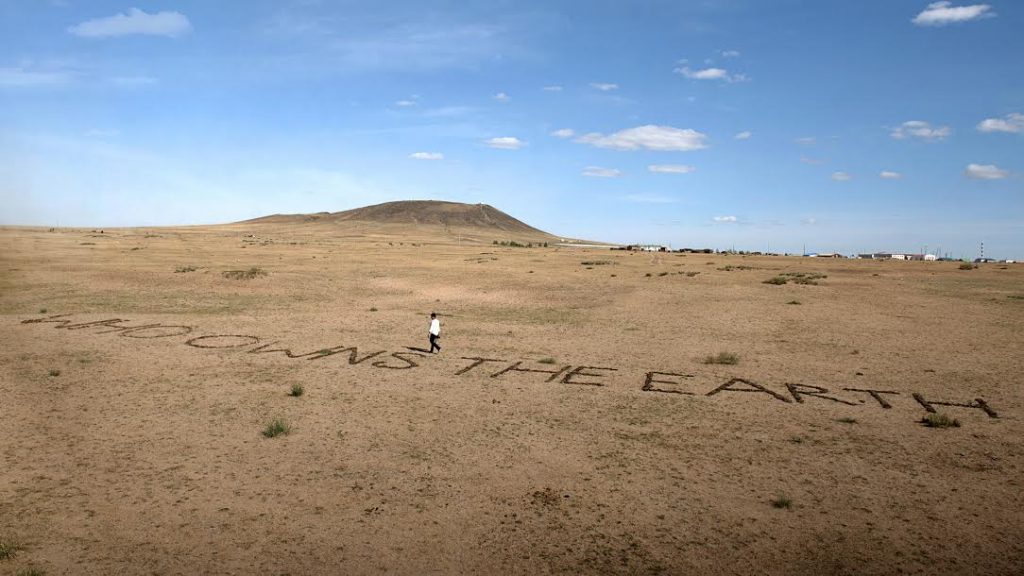 Vibha Galhotra, Who Owns the Earth? Credit: Courtesy the artist. Photo: Injinaash Bor
The Indian artist Vibha Galhotra was invited to make a site specific work for the 2016 Land Art
Mongolia (LAM 360°) Biennial. Her work Who Owns the Earth? saw the question placed directly on the
ground. The text was made of cow dung, a natural material found in the area. Her work addresses the
fragile ecosystem found there, the nomadic culture of the people who live there and the threat due
them because of climate change. Galhotra quotes Ban Ki-Moon "Already, hundreds of millions of
people are facing increased hardships. Three quarters of all disasters globally are now climate
related…" Who Owns the Earth? 2016 Istallation mixed media, 3 x 30 meters LAND ART MONGOLIA – 4th Biennial
Michael Petry is an artist, author and Director of the Museum of Contemporary Art (MOCA), London. The Trouble with Michael, a monograph of his practice, was published in 2001, and his 2012 one-man show, 'The Touch of the Oracle' at the Palm Springs Art Museum, was accompanied by a ten-year career retrospective publication. Petry was the first artist-in-residence at Sir John Soane's Museum. He has written a number of books, including Installation Art, The Art of Not Making: the new artist/artisan relationship and Nature Morte: Contemporary Artists Reinvigorate the Still-Life Tradition, all published by Thames & Hudson.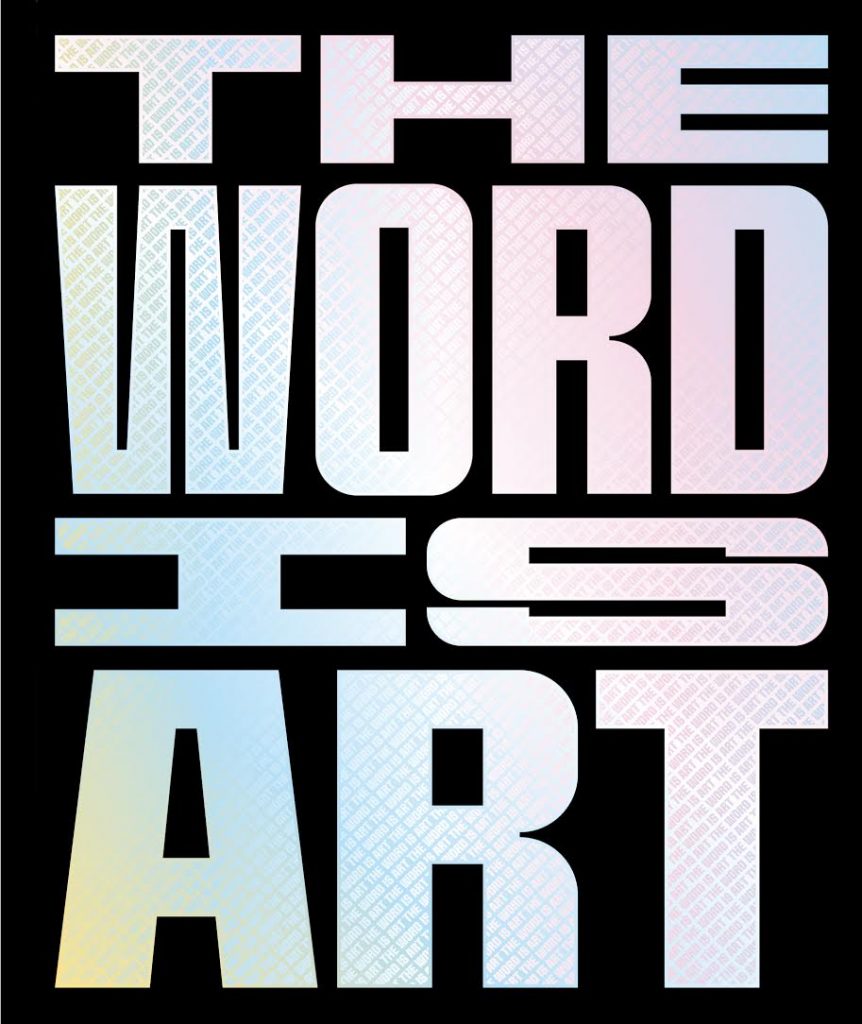 The Word is Art Michael Petry £39.95 hardback Extent: 288pp Size: 27.5 x 23.0cm
ISBN: 978 0 500 239667 250 illustrations thamesandhudson.com/the-word-is-art
Categories
Tags