Frida Kahlo: 'Self-Portrait', 1948
How does a painter currently making her way respond to the life and work of Frida Kahlo? I attended the V&A's 'Making Herself Up' with Emma Cousin, whose paintings recently made a splash at Edel Assanti gallery.
We agreed that my question suggests a false division: life and work are integrated in Kahlo's case. The show combines her paintings with clothes, photographs and intimate possessions which her on-off husband Diego Riviera had sealed for 50 years at the La Casa Azul in Mexico City after Frida died in 1954. All contributed to Kahlo's construction and performance of a self through which she generated a charge which carries through into her paintings. Her approach finds a ready parallel in modern women such as Madonna and Tracy Emin. Is it a problem that Frida traded on her beauty? Cousin thought not, as Kahlo had not adopted existing standards, but created her own, embracing her facial hair and mixing and matching European and Mexican influences. Nor did she submit to her physical disabilities, the social constraints on women, or the career disability of being seen as a mere adjunct to the great Diego. Frida composed herself as she would a picture, and turned her photographic self-presentation into a daily theatre of beauty and pain.  And the paintings stand up well: Emma was drawn to the way Kahlo builds up the substance of flesh, and how she feeds the conventions of ex voto painting into her construction of space. Posthumously, as the sell-out show testifies, Frida Kahlo has succeeded fully in her refusal to go unnoticed.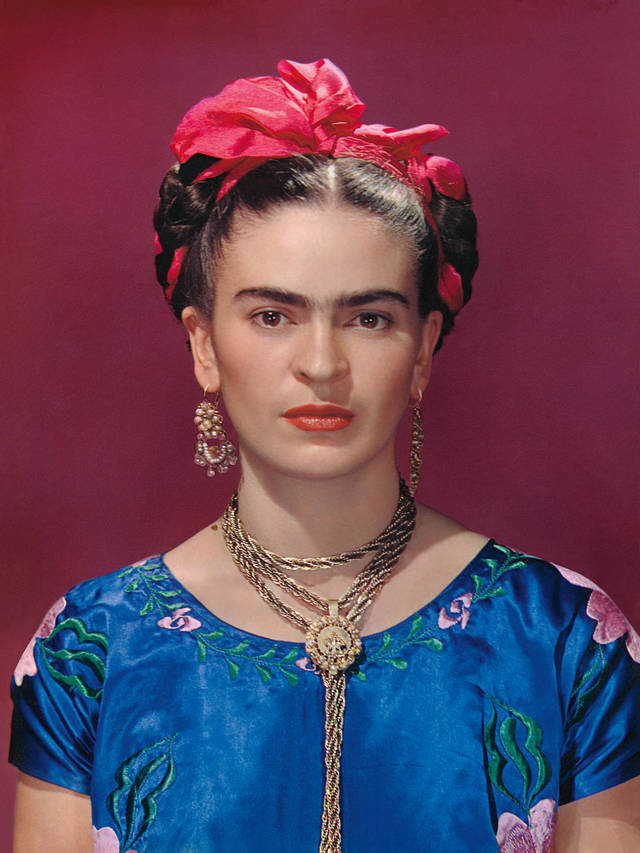 Frida Kahlo in blue satin blouse, 1939, photograph by Nickolas Muray
Art writer and curator Paul Carey-Kent sees a lot of shows: we asked him to jot down whatever came into his head
Categories
Tags