Artist filmmakers at the cutting edge of moving image join forces for an immersive and boundary-pushing programme of performance, discussion and film at Whitechapel Gallery on 17th – 18th November prior to the announcement of the 2018 Film London Jarman Award winner on 27 November.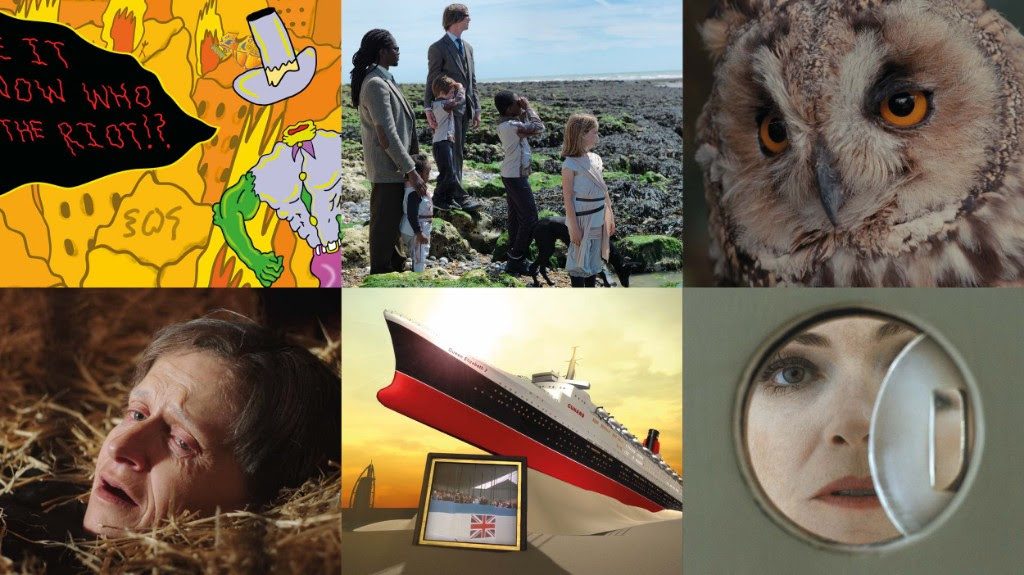 The weekend is the culmination of a two month long, UK-wide tour of the work of the shortlist: Larry Achiampong & David Blandy, Jasmina Cibic, Lawrence Lek, Daria Martin, Hardeep Pandhal and Margaret Salmon. The artists will be joined by curators, writers and actors as they explore issues as diverse as mirror-touch synaesthesia, India's independence, feminist language and virtual architecture.
MORE INFO: whitechapelgallery.org/the-jarman-award-weekend-2018/
PROGRAMME
Saturday 17 November
12pm: Screening of three films from the Film London Jarman Award Touring Programme
Daria Martin A Hunger Artist 2017
Hardeep Pandhal Pool Party Pilot Episode 2018
Margaret Salmon Eglantine, extract, 2017
1.45pm: Reflections on the Double: Daria Martin will perform in collaboration with actor Flora Nicholson. She will explore how images touch us and reveal first-hand accounts of those who experience mirror-touch synaesthesia (in which touch to other bodies is felt palpable on one's own skin).
2.45pm: Hardeep Pandhal in conversation with academic and writer Emilia Terracciano. Hardeep will also present his work Konfessions of a Klabautermann (first shown at Berwick Film and Media Festival).
4.15pm: Margaret Salmon in conversation with writer Dr Laura Guy. Discussing feminist deconstruction of language, image and the erotic, along with a screening of her film Mm.
Sunday 18 November
12pm: Screening of three films from the Film London Jarman Award Touring Programme
Jasmina Cibic, NADA: Act III – The Exhibition (2017)
Lawrence Lek, Geomancer Chapters 1 and 2 (2018)
Larry Achiampong & David Blandy, Finding Fanon Part I (2015)
1.45pm: Jasmina Cibic in conversation with art-historian and critic Dr Isobel Harbison.
2.45pm: Lawrence Lek: The Artist is Absent. An hour-long music video mix about virtual architecture, the places that the viewer inhabits without being physically present.
4.15pm: Media Minerals Performance: a scripted performance encounter between Larry Achiampong & David Blandy, followed by an in conversation with Chief Executive of the New Art Exchange, Nottingham, Skinder Hundal.
Whitechapel Gallery Zilkha Auditorium 77 – 82 Whitechapel High Street London E1 7QZ Tickets: £5 per day
whitechapelgallery.org/events/the-jarman-award-weekend-2018/
PARTICIPANTS
FLORA NICHOLSON is an actor, known for Wonder Woman (2017), Darkest Hour (2017) and An Inspector Calls (2015).
DR LAURA GUY writes on feminist and queer visual culture. Her work has been published in various venues including Aperture, Frieze, the Moving Image Review and Art Journal and in the edited collection Feminism and Art History Now. She is currently working on a book titled Lesbian Graffiti.
EMILIA TERRACCIANO is the A. W. Mellon Global South Fellow at Wadham College, Ruskin School of Art and TORCH at Oxford University. Previously, she held a Leverhulme Early Career Fellow at the Ruskin School of Art, Oxford University. Emilia's expertise lies in global modernism and contemporary art, focusing on South Asia and its diasporas. Her research and teaching interests include: documentary art practices, film and new media; plant-human encounters, botanical conflicts and science fiction. Her monograph Art and Emergency: Modernism in Twentieth-Century India was published by IB Tauris in 2017. Her writings have been published by Art Journal, Art Bulletin, Marg, Modern Painters, Frieze, Caravan, 1000Words and The Burlington Magazine.
DR ISOBEL HARBISON is an art historian and critic based in London. She regularly contributes to titles including Art-Agenda, Art Monthly and frieze. Harbison is Lecturer in Critical Studies in the Art Department, Goldsmiths, teaching on the BA Fine Art and the MA Artists' Film and Moving Image. Her first book, Performing Image regards the intersection of performance and moving image since the 1960s in order to historicise and contextualise widespread social media use and individually felt impetuses to perform images. It is published by MIT Press in February 2019.
SKINDER HUNDAL is Chief Executive of New Art Exchange a leading award-winning contemporary art gallery and arts organisation based in the inner city neighbourhood, Hyson Green, Nottingham UK. New Art Exchange is the largest space in the UK featuring art representative of African, Caribbean, South Asian and culturally diverse voices and expressions in contemporary art and culture. Prior to NAE, Skinder was based at Sampad, a leading UK development agency for South Asian and cross-cultural arts, based at Midlands Arts Centre – Birmingham, West Midlands.
For further information or images contact Penny Sychrava PR on 0796 791 5339 penny@pennysychrava.com or Anna Highet at Film London 020 7613 7679 anna.highet@filmlondon.org.uk
About the Award
The Film London Jarman Award recognises and supports artists working with moving image and celebrates the spirit of experimentation, imagination and innovation in the work of UK-based artist filmmakers. The Award is inspired by visionary filmmaker Derek Jarman.
The Award is presented in association with Channel 4 and the Whitechapel Gallery and is supported by Genesis Cinema.
Now in its eleventh year, the Award has built an enviable reputation for spotting rising stars of the UK art world. Previously shortlisted artists include Laure Prouvost, Elizabeth Price, Monster Chetwynd, Duncan Campbell, James Richards and Luke Fowler, all of whom went on to be shortlisted for or to win the Turner Prize.
Film London Jarman Award Past winners
Luke Fowler (2008), Lindsay Seers (2009), Emily Wardill (2010), Anya Kirschner & David Panos (2011), James Richards (2012), John Smith (2013), Ursula Mayer (2014), Seamus Harahan (2015), Heather Phillipson (2016) Oreet Ashery (2017).
About Film London Artists' Moving Image Network (FLAMIN)
Film London, with funding from Arts Council England (ACE), is a major supporter of artists' filmmaking, through the Film London Artists' Moving Image Network (FLAMIN). FLAMIN was launched by Film London in 2005 as a one-stop resource to provide London-based artists working in the moving image with access to funding, guidance and development opportunities. Through unique commissioning funds, FLAMIN has commissioned over 150 productions, and supported the careers of countless other artists with programmes of one-to-one advice sessions, residencies and workshops. filmlondon.org.uk/FLAMIN
@FL_FLAMIN
Categories
Tags