Art critic Tabish Khan brings you 'The Top Art Exhibitions to see in London' this week. Each one comes with a concise review to help you decide whether it's for you. Most of my picks from last week are still open to visit as well: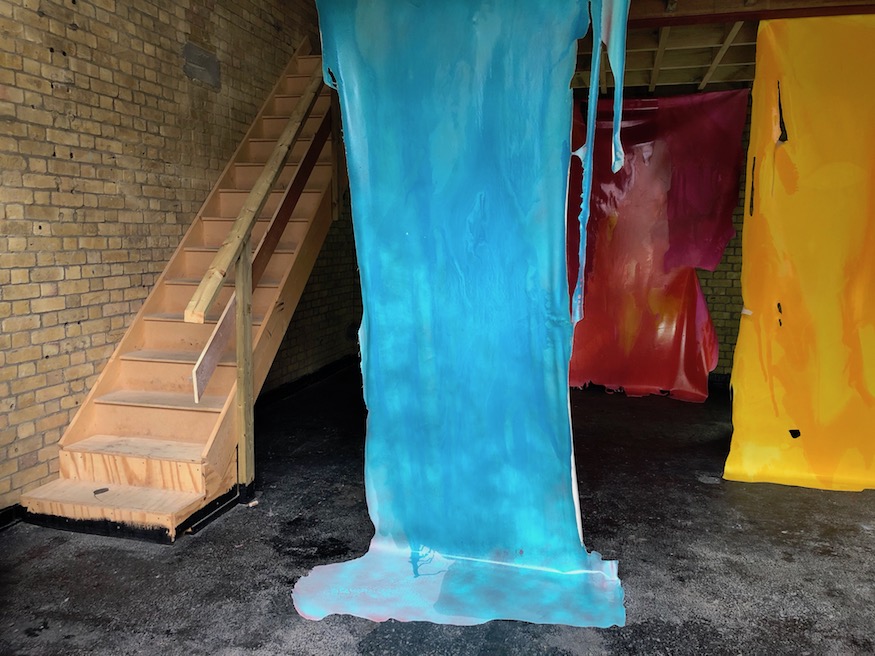 Jessie Mac Stevenson: Skins @ Eccleston Yards
Colours hang from the ceiling, slashed and frayed with spidery veins appearing within these mazy works. Upstairs the textured wall based works are peeling and you have to resist the urge to pick at them, it's like that scab that you really should ignore. The artist uses the CYMK colour spectrum associated with printing and digital worlds, and presents them through paint to challenge how we see the world around us with these oh so tactile works that make great use of the two storey space. Until 1 November.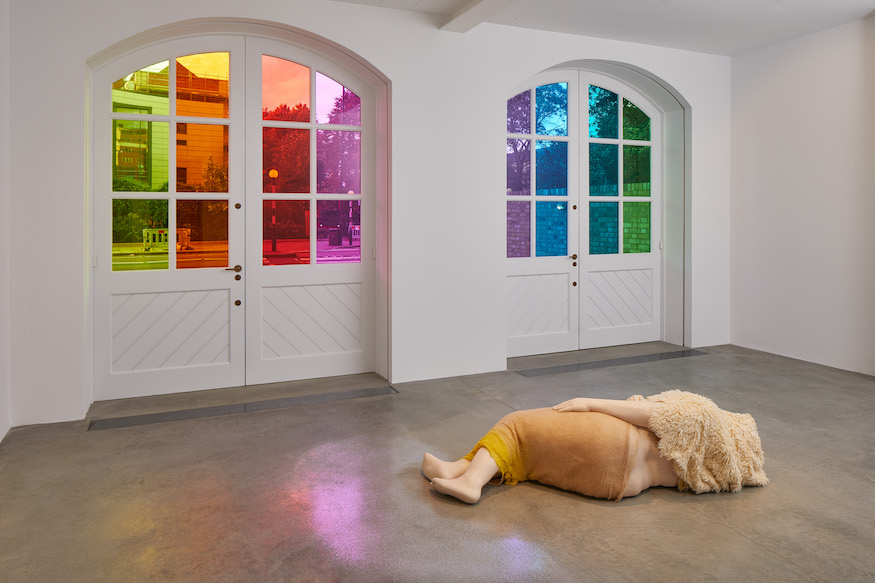 Knock Knock @ South London Gallery
A saw emerges from below the floor as it complete cutting a circle — if this was a cartoon we'd step on it and would fall through. It's just one humorous work in this show across two building and it's a great way to inaugurate the South London Gallery's second building across the road from the main gallery. Add in a sleeping clown in the middle of a room, a fish bowl of knock knock jokes with no punchline and we get a fun and quirky exhibition. Until 18 November.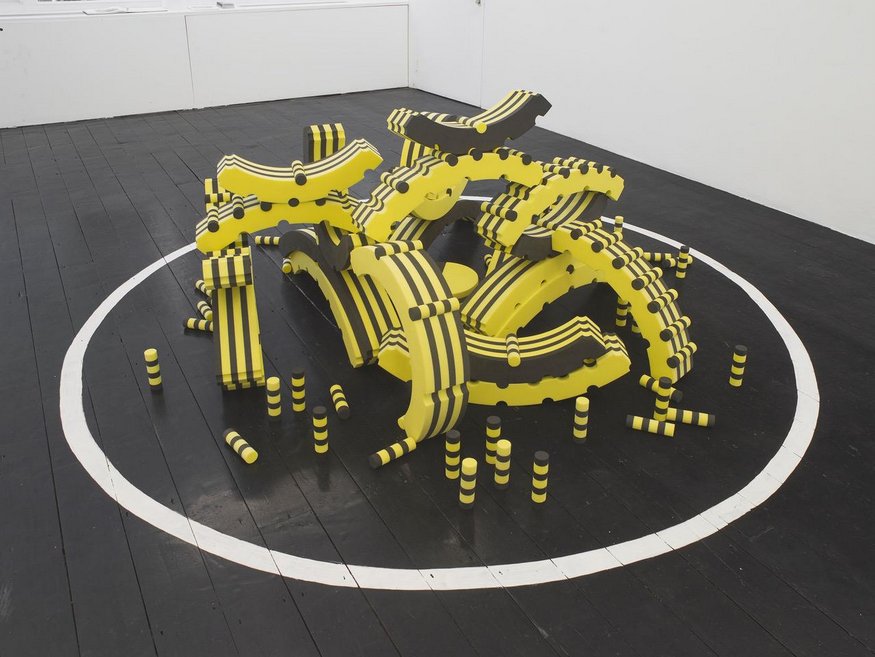 Yelena Popova: Her Name is Prometheus @ L'etrangere
There's a model of Plutonium made from yellow and black foam that we can knock over and rebuild into whatever shape we want, taking one of the most deadliest elements and turning it into something light-hearted. It's part of Popova's fascination with nuclear research, having grown up in the then USSR and a residency in Wakefield where a nuclear scientist was imprisoned for spying for the Soviets. She has also dedicated a chair to nuclear scientist Lise Meitner who refused to participate in the weaponizing of nuclear materials, and has therefore been largely forgotten by history. It's a fascinating mix of art, politics and science. Until 3 November.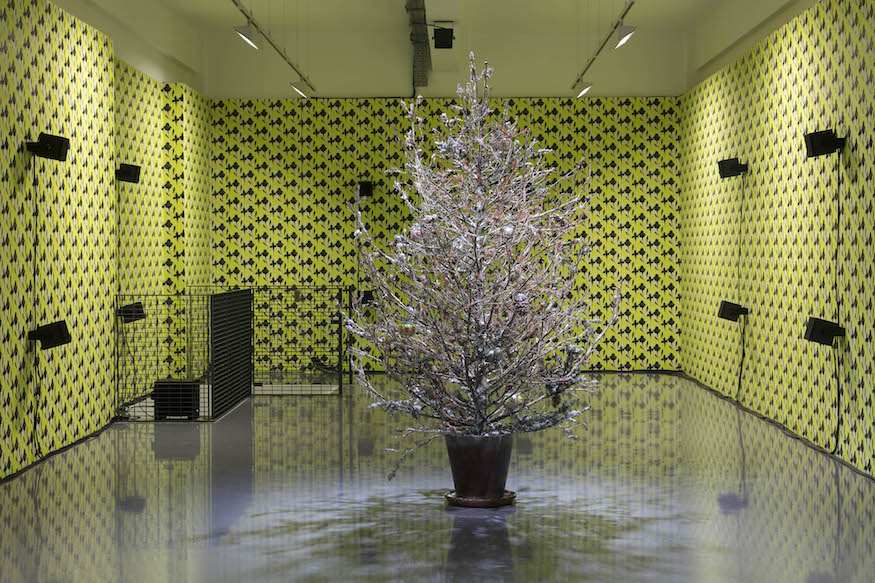 Philipe Parreno @ Pilar Corrias
A Christmas tree stands all dead and frozen in the middle of the gallery, it's a stark contrasts to one Parreno made ten years ago that was celebratory. Given how the world has changed over the last ten years it's a fair reflection of what it's become. Dissonant noises from the walls up and downstairs, coupled with fluorescent walls creates a very creepy atmosphere. Until 10 November.
David Breuer Weil @ E&R Cyzer
A horizontal figure rises up to float away but is held to the ground by bindings, these maquettes are smaller versions of the giant one that can be found in Marble Arch. The walls see paintings of bodies stretched apart in this corporeal show. Until 1 November (may be extended).
Amy Stephens: Land|Reland @ William Benington Gallery
A volcanic rock is mounted on a metal pedestal, elevating it to totemic status. Nearby a marble off-cut is placed in the galley, it's massive and it's scary to view this as not fit for purpose for the marble industry, which deals at a much greater scale. It's a show where natural objects are left as they are and given greater context in a gallery to change our relationship with them. Until 17 November.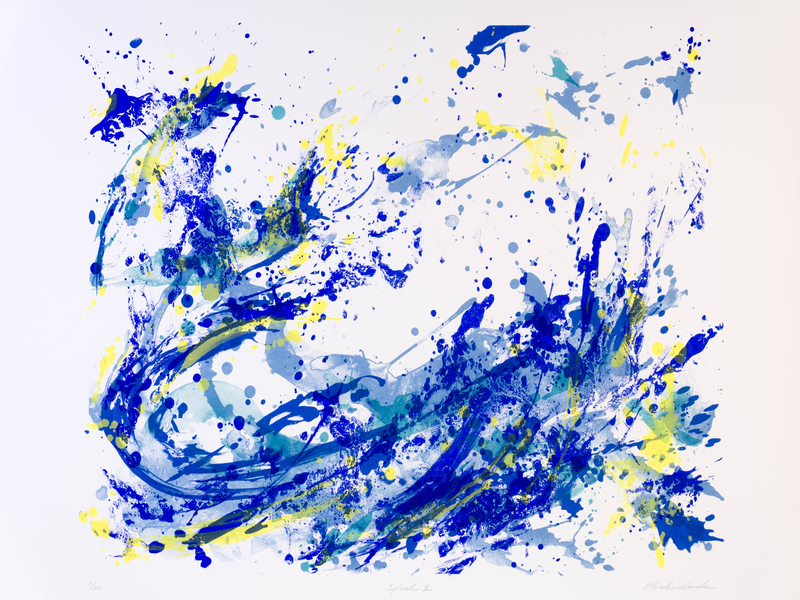 Hiroko Imada: Shapes of Water @ Sway Gallery
Inspired by Hokusai's Great Wave, Imada creates beautiful abstract works inspired by the flow of water whether it be through woodblock printing, watercolour or ink — with her own twist to traditional Japanese techniques. Until 30 October.
All works courtesy the artist and gallery. South London Gallery photo: Andy Stagg. 
Categories
Tags