kamel mennour are presenting three exhibitions by Tatiana Trouvé at its galleries in London and Paris, and at its Frieze London booth with new works specially conceived for each location.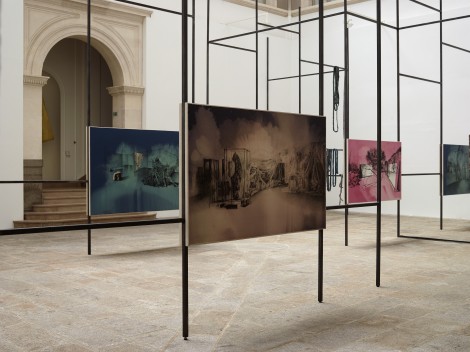 View of the exhibition "Tatiana Trouvé" at the musée des Beaux Arts de Rennes 2018 Exhibition of the Pinault collection © Photo. Jean-Manuel Salingue © ADAGP, Paris
Italian-born, Paris-based Tatiana Trouvé is known for her sculptures, installations and drawings often brought together in precisely-scaled architectural installations which suggest the possibility of underlying narratives. Frequently using cast materials, such as concrete, marble, copper and bronze, she transforms everyday objects into poetic architectural sculptural forms.
On view for the first time at Frieze London, a new large-scale fountain installation features water falling from an uprooted bronze tree surrounded by a cracked concrete floor, allowing visitors to dive into an immersive experience.
At kamel mennour's London gallery, Tatiana Trouvé re-enacts her emblematic Prepared Space installation. In this piece, the entire surface of the floor and walls is marked by long slits inserted with spacers, borrowed from the world of architecture and construction. The various trajectories intersect and join each other to form an abstract navigation map, creating a microcosm with random punctuations, a kind of geographic homage to Cage's "prepared pianos". This is the artist's first major solo exhibition in London since her South London Gallery show in 2010.
In the Paris gallery, Tatiana Trouvé presents a group of sculptures inspired by visits to her studio at night. The exhibitions are accompanied by a text from philosopher Emanuele Coccia.
TATIANA TROUVÉ
"Navigation Map, London 2018", 51 Brook Street, London W1 2 Oct to 10 Oct
TATIANA TROUVÉ
"A Quiet Life", 47 rue Saint?André?des?Arts, Paris 6 15 Oct to 24 Nov
About The Artist
Tatiana Trouvé was born in 1968 in Cosenza, Italy. She lives and works in Paris, France.
She has participated in major international biennales such as the Biennale di Venezia (2003 and 2007), the 29th São Paulo Biennale (2010), the Biennale de Lyon (2015), the Istanbul biennale (2017), the Yokohama Triennale, (2017) and the BIENALSUR, 1st Contemporary Biennal of South America (2017), and group shows at the Hayward Gallery in London (2010), and the Pinault Foundation Punta della Dogana, Venice (2011), at the ACCA, Melbourne (2012), the Museo Jumex, Mexico City(2013), the Bass Museum of Art, Miami (2013), and the Albertina Museum, Vienna (2015).
Solo exhibitions include Double Bind at Palais de Tokyo, Paris (2007); 4 Between 2 and 3 at Centre Pompidou, Paris (2008); A Stay Between Enclosure and Space at the Migros Museum of Zurich (2009); Tatiana Trouvé, the South London Gallery (2010); and Il grande ritratto, an extensive exhibition inspired by the title of Dino Buzzati's science fiction novel and conceived in response to the challenging architecture of the Kunsthaus Graz (2010). The travelling exhibition I tempi doppi was presented at Kunstmuseum Bonn, Museion Bolzano-Bozen and Kunsthalle Nürnberg (2014). The Longest Echo — L'écho le plus long at Mamco, Geneva inaugurated her first retrospective exhibition (2014). The Sparkle of Absence was her first solo show in China at Red Brick Museum, Beijing (2016). Public Art Fund commissioned Desire Lines on view at Central Park in New York in 2015.
In 2018 she had solo shows at the Musée des Beaux-Arts de Rennes, at the Via Medici in Roma, and at the Petach Tikva Museum of Art, Tel-Aviv. In 2019, she will present a solo show at the Broad Art Museum in the Michigan.
Categories
Tags