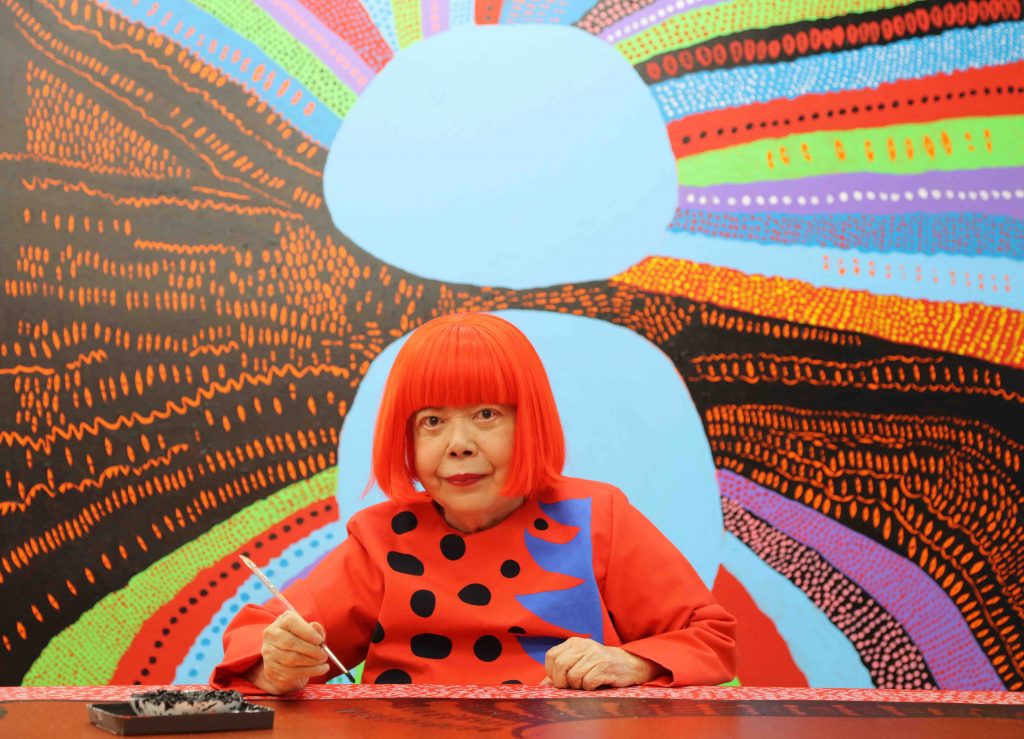 Portrait of Yayoi Kusama © Yayoi Kusama
EXHIBITION
This Frieze week see's the uk release of Kusama – Infinity and a major exhibition of new work by Yayoi Kusama. Taking place across the Wharf Road galleries and waterside garden of Victoria Miro, the exhibition will feature new paintings, including works from the iconic My Eternal Soul series, painted bronze pumpkin and flower sculptures, and a large-scale Infinity Mirror Room.
Paintings from the artist's celebrated, ongoing My Eternal Soul series will be on view at Gallery II, Wharf Road. Joyfully improvisatory, fluid and highly instinctual, the My Eternal Soul paintings abound with imagery including eyes, faces in profile, and other more indeterminate forms, including the dots for which the artist is synonymous, to offer impressions of worlds at once microscopic and macroscopic.
The pumpkin form has been a recurring motif in Kusama's art since the late 1940s. Coming from a family that made its living cultivating plant seeds, Kusama was familiar with the kabocha squash in the fields that surrounded her childhood home. Like pumpkins, flowers have long been an important part of Kusama's oeuvre and reflect the dualism between the natural and the organic found throughout her art. Sharing the artist's distinctive bold palette, large-scale, painted bronze flower sculptures will be exhibited outside in the gallery's waterside garden where, characteristically, they straddle a line between nature and exuberant artifice. At once simplified and fantastical, these forms, their surfaces covered with polka-dotted planes of vivid colour, are designed to be viewed from multiple angles, encouraging audiences to move around them.
The exhibition marks the debut of a new Infinity Mirror Room, which will envelop visitors inside a large mirrored room with paper lanterns covered with polka dot patterns, which are suspended from the ceiling. Conveying the illusion of being unmoored in endless space, this large-scale work is the latest example of Kusama's famed immersive environments. It offers a sense of infinity through the interplay of the rhythmic patterns of colourful spots covering the black spherical lamps and the surrounding mirrors.
Yayoi Kusama: THE MOVING MOMENT WHEN I WENT TO THE UNIVERSE
3rd October–21st December 2018 Victoria Miro, 16 Wharf Road, London N1 7RW
MOVIE
UK release of a film about the artist's extraordinary life, Kusama: Infinity. The story of the making of the film is indicative of the ways Kusama's fortunes have soared. Its director, Heather Lenz, first tried to get the idea off the ground in 2001. She pitched the story to every production company she could think of and was told the same thing by all of them. Her idea was "too arty", Kusama had "no name recognition", and "no one wants to watch a movie about a woman artist". No longer
"Most people have seen her work on Instagram,"
Lenz says,
"but when they hear what she had to go through to achieve the success that eluded her for so long, they really connect with that. We did a few screenings and though most people knew the work, out of an entire audience only two people knew for example that she lived in a psychiatric hospital."
Lenz's film reveals how Kusama's life has been if anything more estranging than her obsessive work, and the ways in which one informs the other. It does it no harm as a tale of perseverance and triumph that it falls into neat chapters of Kusama's self-transformation.
Kusama – Infinity release October 5th kusamamovie.co.uk
Categories
Tags