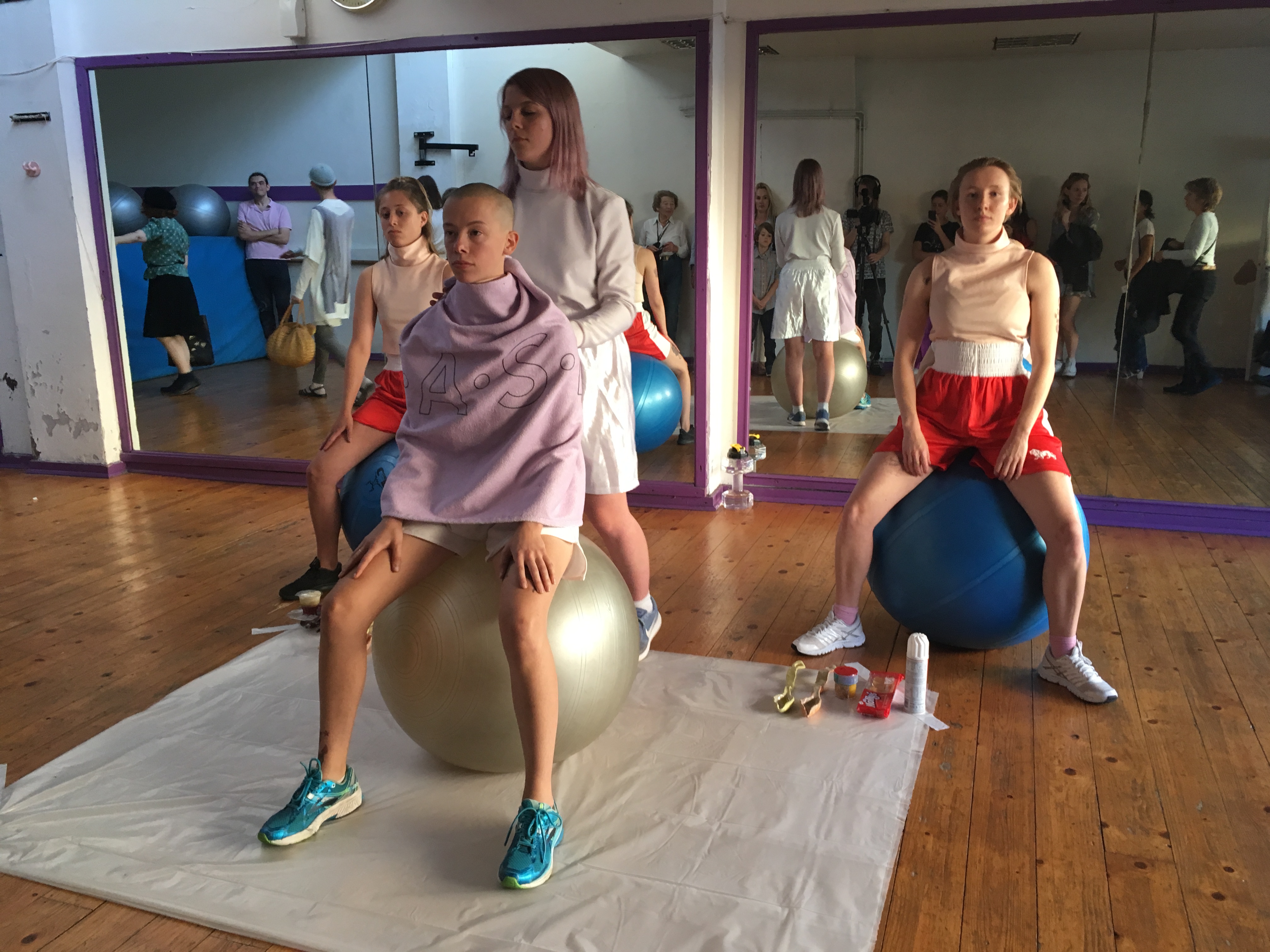 Two Sundays ago, emphasis on the beaming sun, I headed over to Exmouth market for a day that had been marked in my calendar for months now. Sasha Galitzine's Salon 63 was finally taking over barbershops, hairdressers, salons and health clubs along the 63's route from Clerkenwell to Peckham.
I had previously attended the parade organised with Andrew Logan in May (again, a bright day – evidently it's no coincidence) and was excited to see the full blown project come to life.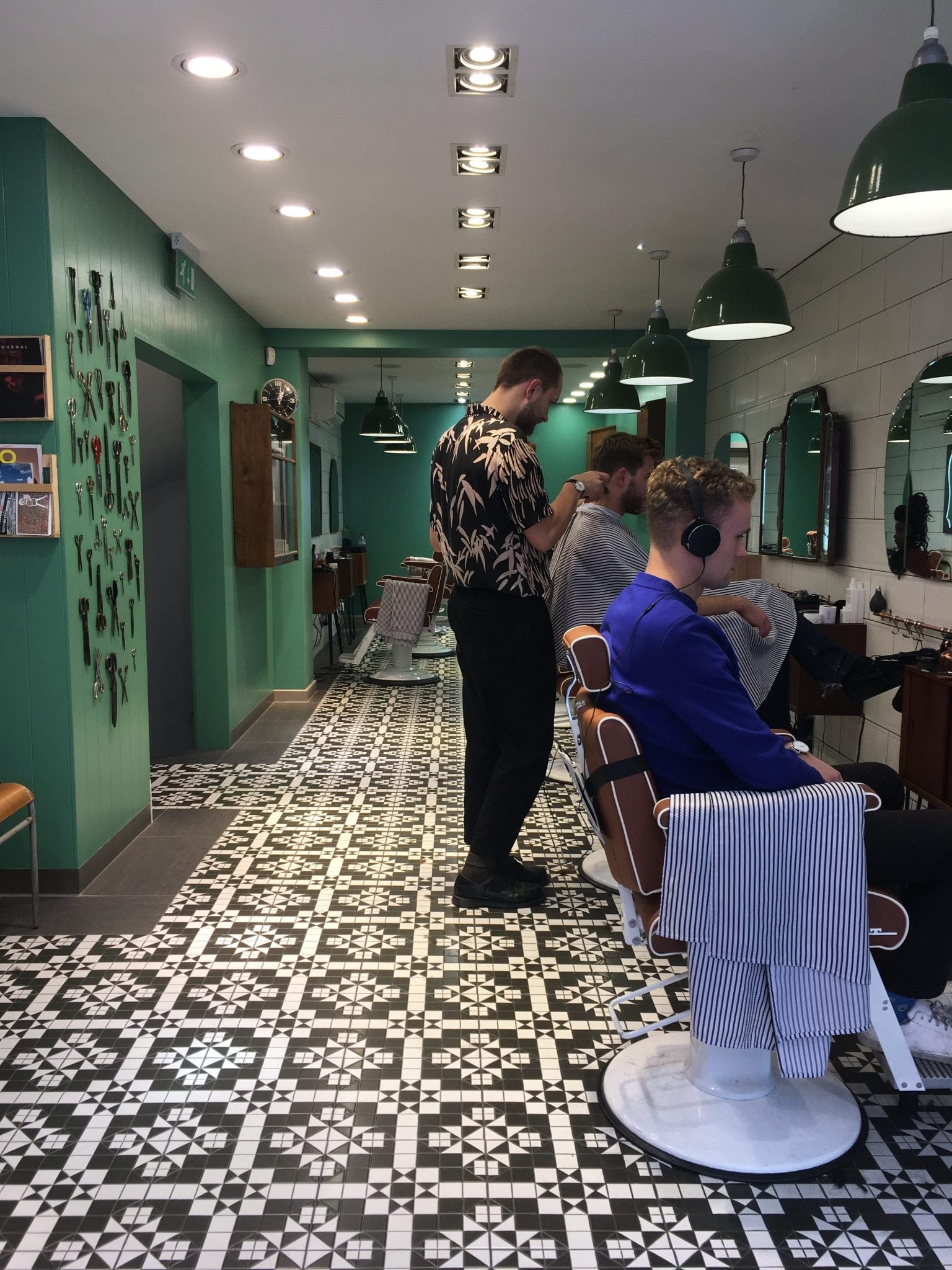 The first stop was Barber Streisand where, on two of the otherwise perfectly normal salon chairs, a pair of headphones sat. Lead by one of the hairdressers, I sat in front of the mirror as the headphone was placed on my ears and a voice asked me to look at myself – for an uncomfortably extended period of time. The discomfort was challenging but pleasantly so, the voice continued to whisper and engulf me as it was binaural – and, as it happens, I was listening to Mikado by Hans Rosenström. The scene, a dialogue in Ingmar Bergman's Cries and Whispers was narrated by the same barber who had walked me to the chair, meaning that a fellow listener was hearing the same in a different voice. With drinks and a great deal of energy flowing, field recordings and interviews happening and curious Sunday brunchers stopping to see what was going on the atmosphere was one of excitement.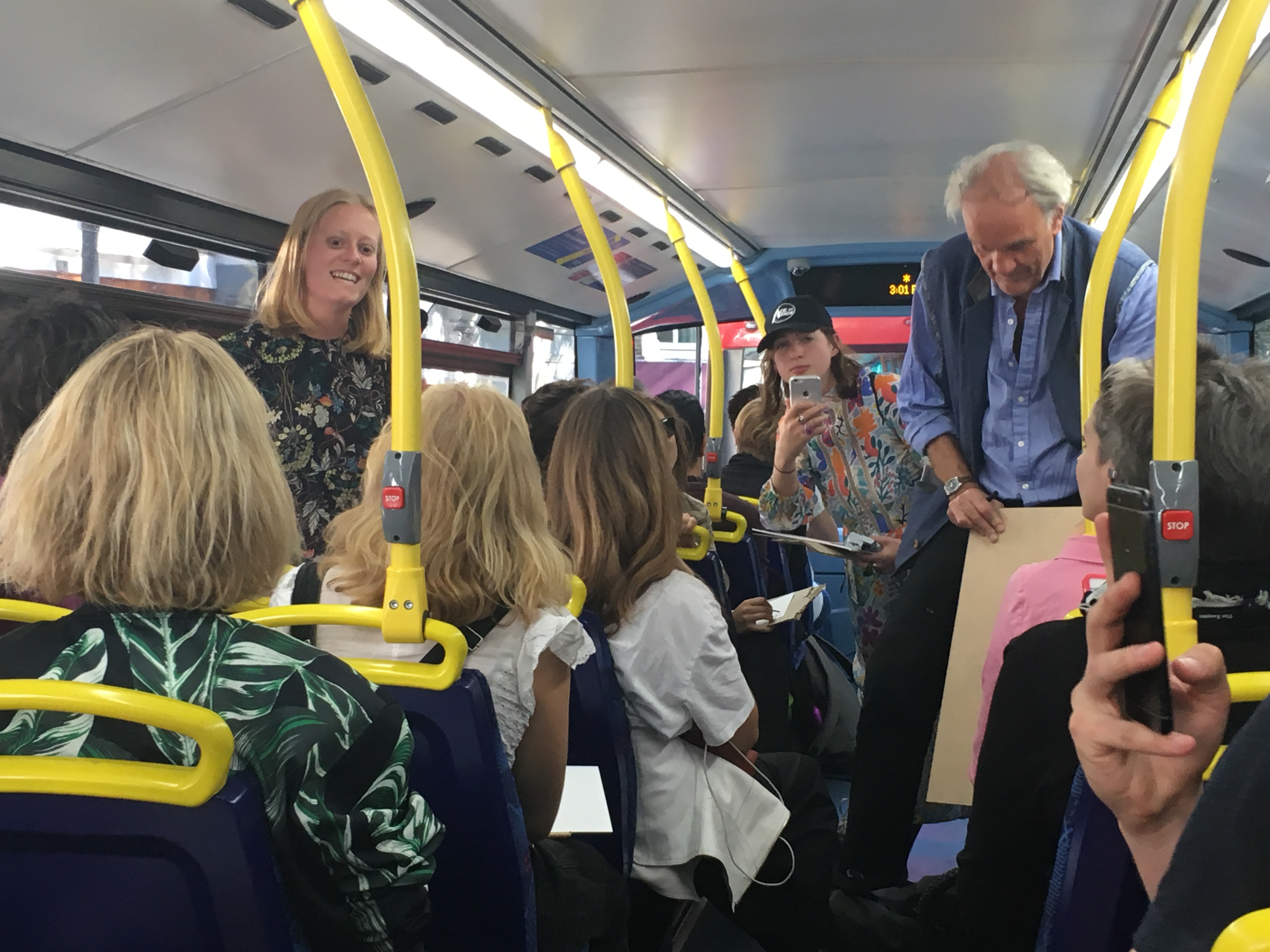 We later boarded the 63 en route to Elephant & Castle. The journey itself was restless as we occupied the top floor of the bus, armed with charcoals, paper and cardboard for added stability for an impromptu lesson in portraiture – courtesy of Nick Bashall and Beatrice Hasell-McCosh. Masterpieces in hand, we eventually alighted at Elephant & Castle and headed towards the shopping centre – for a complete déjà vu as the witnessed the screening of the May parade in La Bodeguita, as the clientele continued their lunch. The video provoked further interest and those who hadn't attended seemed to regret witnessing it live. I roamed around the shopping centre for a while, taking in the array of closed shops, local cafes and daily interactions before proceeding out once again – heading towards The Artworks, the business and creative centre composed of containers (à la Boxpark).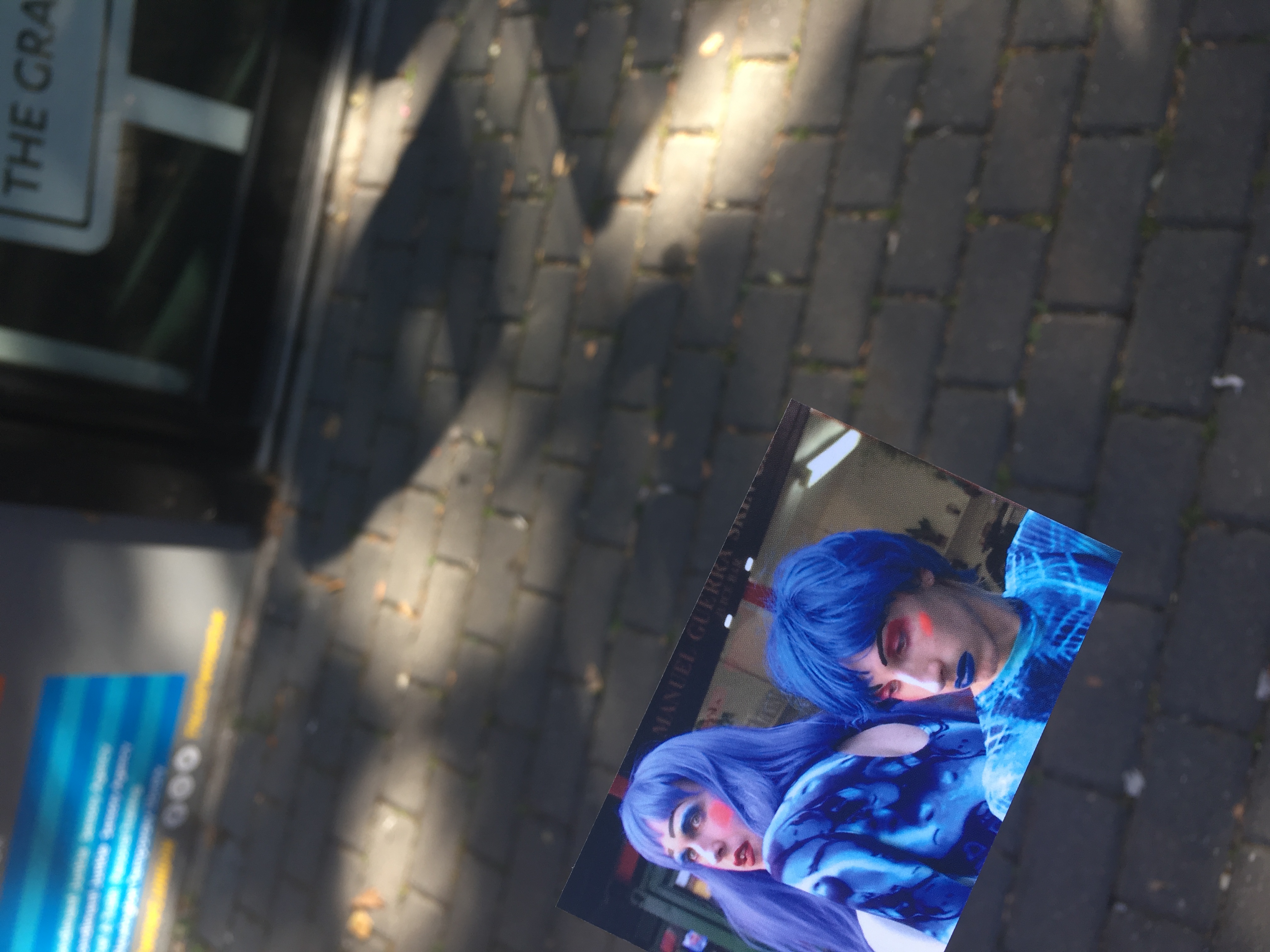 In front of Sylvio's Juice Bar boutique we found business cards, courtesy of Paul Kindersley (who was there in the flesh as well as on screen). We opened the link to Bold Beautiful Beauty Bag, shot in the Artworks,  on our phone until the proprietor Manuel Guerra loaded the laptop and, with some clever product placement and an enveloping scent (available for sale there!), discussed the closing of the Artworks and the Council's lack of responsiveness in allowing tenants to find a new  space. Along with the shopping centre, closing the container hub will result in the forced relocation of a large portion of the local community and the loss of a hub where businesses, retail and food hotspots interact. This was the running theme that Salon 63 sought to address – by bringing contemporary artists, and their interpretation of beauty, in salons, hairdressers and health clubs – we are invited into a community that is precisely this, a community. When walking into the different locations it was clear that customers were regulars, they knew the owners well, they discussed their kids growing up, their quotidian life. The artists spent considerable time working with the owners of the spaces hosting their works, experiencing the interactions that make these places a meeting point, neighbourhood specials.
We left Manuel and his skin care range and boarded the 63 once again – this time without charcoals as the bus was packed – heading towards Miami Health Club on Old Kent Road.
By this time we had tripled in numbers as everyone was eager to see Stasis perform – so much so that entry was as crowded as Corsica Studio on a sold out night (just to keep it in South London) and we had to squeeze past each other. After exploring Gery Georgieva's work in the tanning booth and Paloma Proudfoot's sculptures in the tiled showers I made my way to the Jacuzzi (I sadly had not brought my swimsuit so couldn't splash away). The Jacuzzi is yet another example of the dialogue between artists and business owners as Freddy Tuppen decided to work on renovating the formerly out-of-order area, building on his architectural and sculptural practice. The refurbishment has allowed Miami Health Club to offer more services to their clients and expand on courses for local students. I then made my way to the dancehall (along with what felt like a mass mob) where, one by one, we positioned ourselves. Those who could not make it inside the studio started peering through the windows from outside, gathering an additional audience of intrigued passerbys.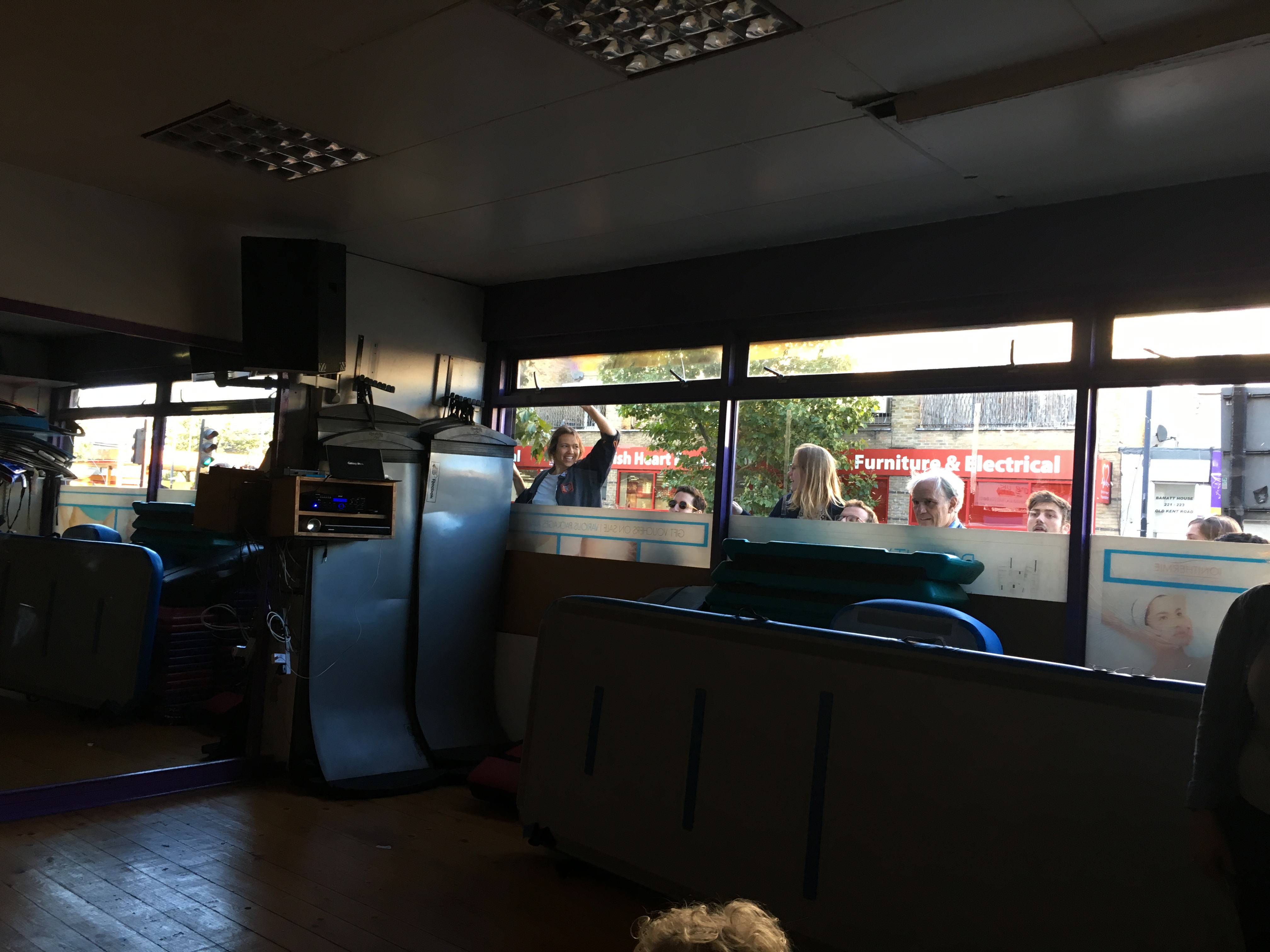 The four members of Stasis began their performance to a Britney track. As two of them bounced increasingly uncontrollably to the bass, they passed different ingredients – sprinkles, whipped cream, cake decorations – to Paloma, who proceeded to style Olivia. The 'hair products' would drip in lumps, as more items were added in what was probably the most extravagant styling session I have witnessed. As more products fell to the ground, the bounces became comedic, thumps were loud and mad and the scene came to a dramatic crescendo when the girls offered a spoonful of the hairstyle to us, with few very brave souls tasting the product of their labour from a distinctive Paloma Proudfoot creation.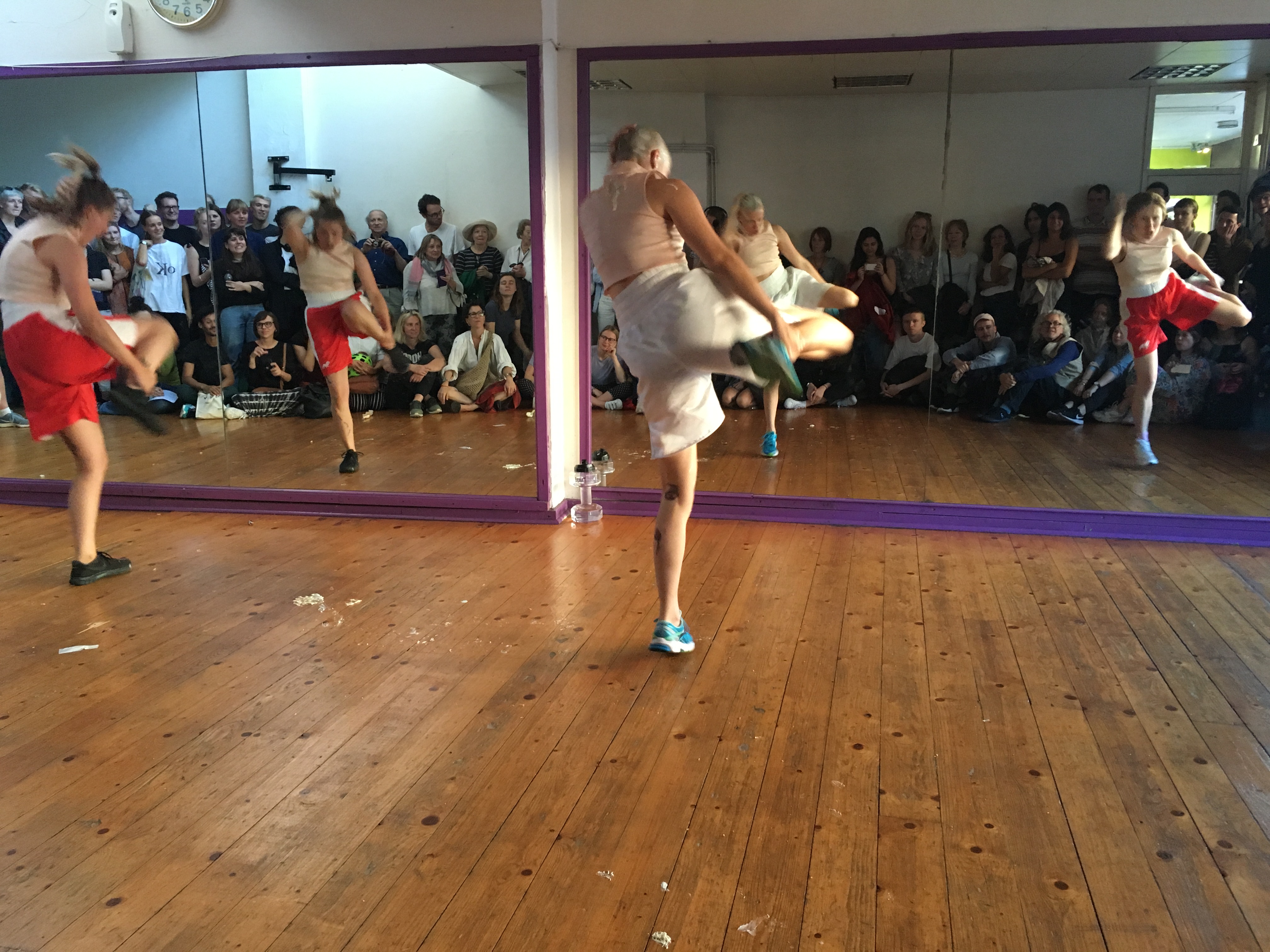 Part two of the performance really looked to the space we were in – Miami Health Club – and its fitness classes. The body pump routine devised was extremely intense and well-coordinated and guaranteed to burn off calories (although I would not trust myself to do the moves I have immortalised above). Refreshed from (not doing) the workout we continued our exploration of the space, I ended up meandering through spa treatment rooms, weight machines and chatting to the trainers and salon employees in so doing. These interactions were what made Salon 63 truly special – everyone we met was extremely friendly and eager to share their stories.
One of the best features of the itinerant show was Isaac Olivera's Divine Destiny magazine which contained photos of the artist's weirdly wonderful performance. It would have been incredible to see the massive head of hear wonder around the streets of Peckham and take up his three month residency at Divine Destiny. Cousin Itt has been my favourite Addams Family character since I was a kid, so missing this was a terrible loss but at least I can flick through the photos as often as I like…. The magazine itself functioned as a salon directory too: business cards from the salons participating in Salon 63 as well as others whose tenancies will come to an abrupt end mixed together – in the hope of helping them find a new location from which to work, as assistance from the Council so far has been lacking.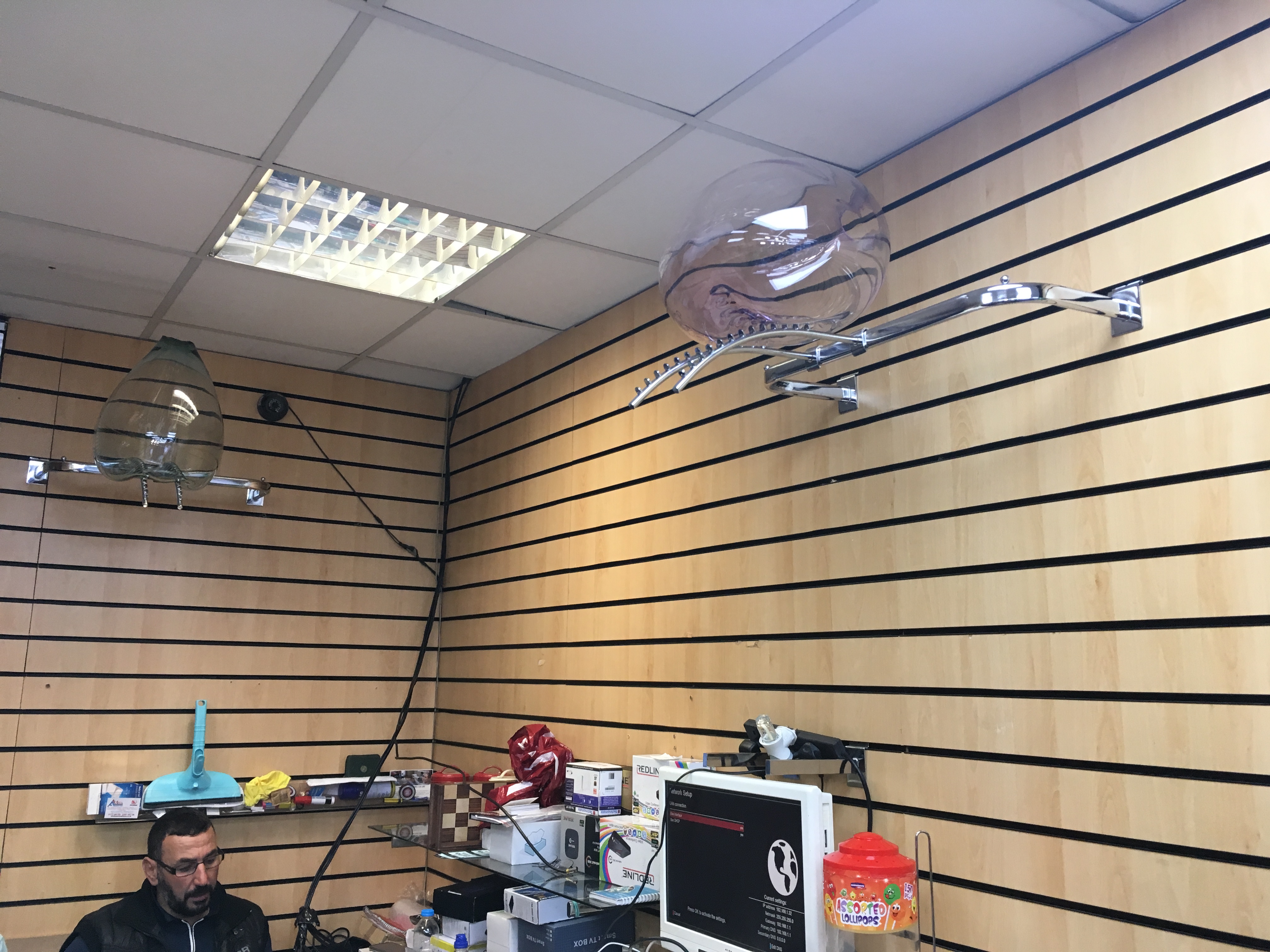 Post Miami Health Club, I continued on to Sam's Barbers where beautiful glass creations by Gabriele Beveridge sat atop metal bars, appearing as malleable and light as balloons and then to Lewis Barbers where one of the walls had been decorated by colourful drawings made by children during Eloise Lawson's temporary studio. As parents were getting their hair trimmed, Lawson encouraged the kids to illustrate the atmosphere of the place which played host to a pop up Summer Exhibition, with its crowded wall of colour.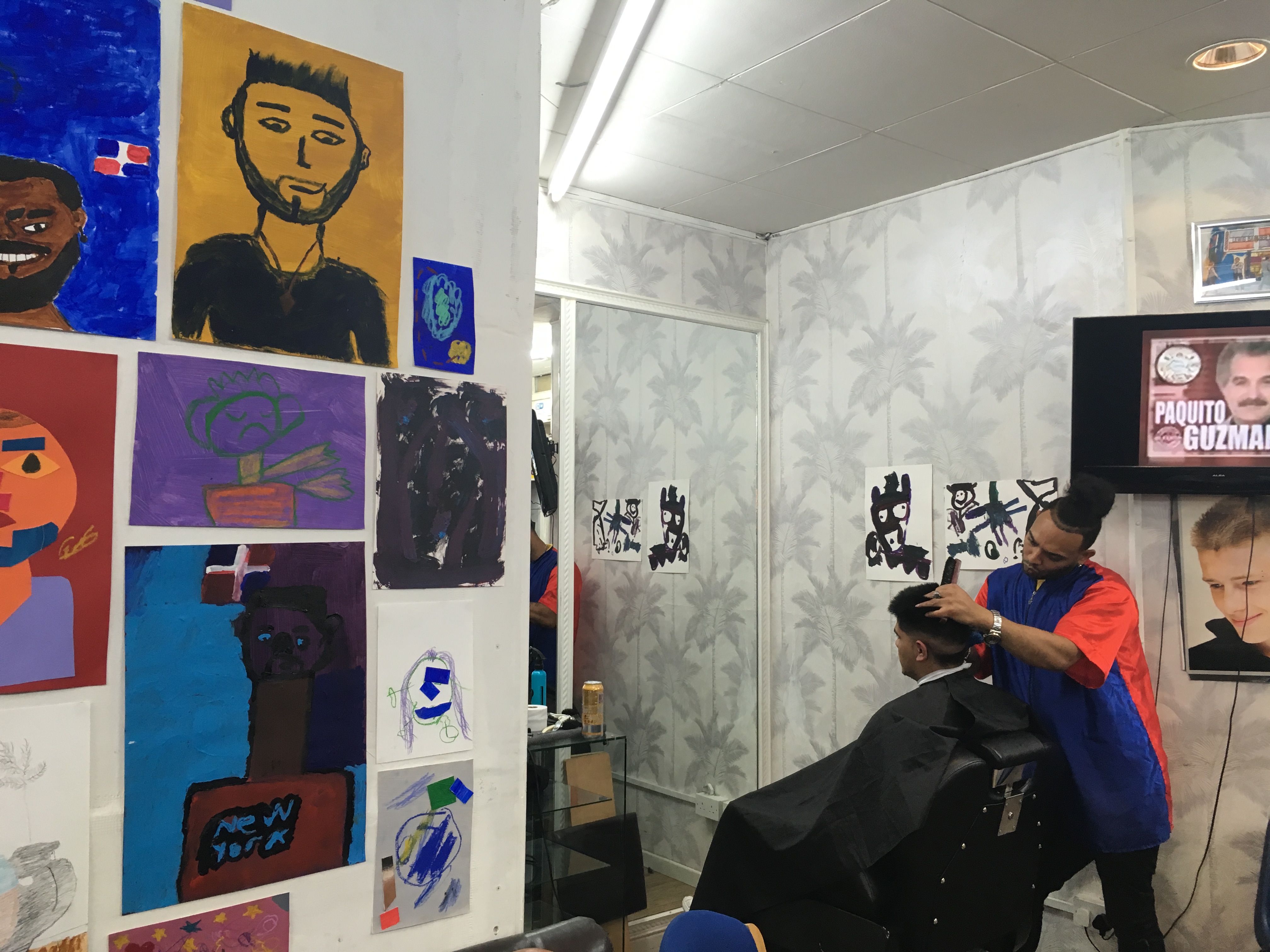 I left Old Kent Road as I had to return back East but Salon 63 continued until late, with a further performance in Peckham where the infamous wig made another appearance (Cousin Itt! I missed him again). On my journey back (which was on the 21 rather than the 63) I scrolled through my photos from the day, and noticed that every attendee I had captured was either fully engrossed in the performances and works or smiling in response to them.
The project, in involving the different communities that make Elephant & Castle and Peckham so vibrant, and the hubs that form their backbones, was refreshingly different to the (mostly) sterile or ultra sterile spaces in which these works would have otherwise been displayed.
For further information on the project and to learn more about the individual artists and the participating salons visit salon63.co.uk
Salon 63 ran from 16 to 24 September 2018.
Categories
Tags