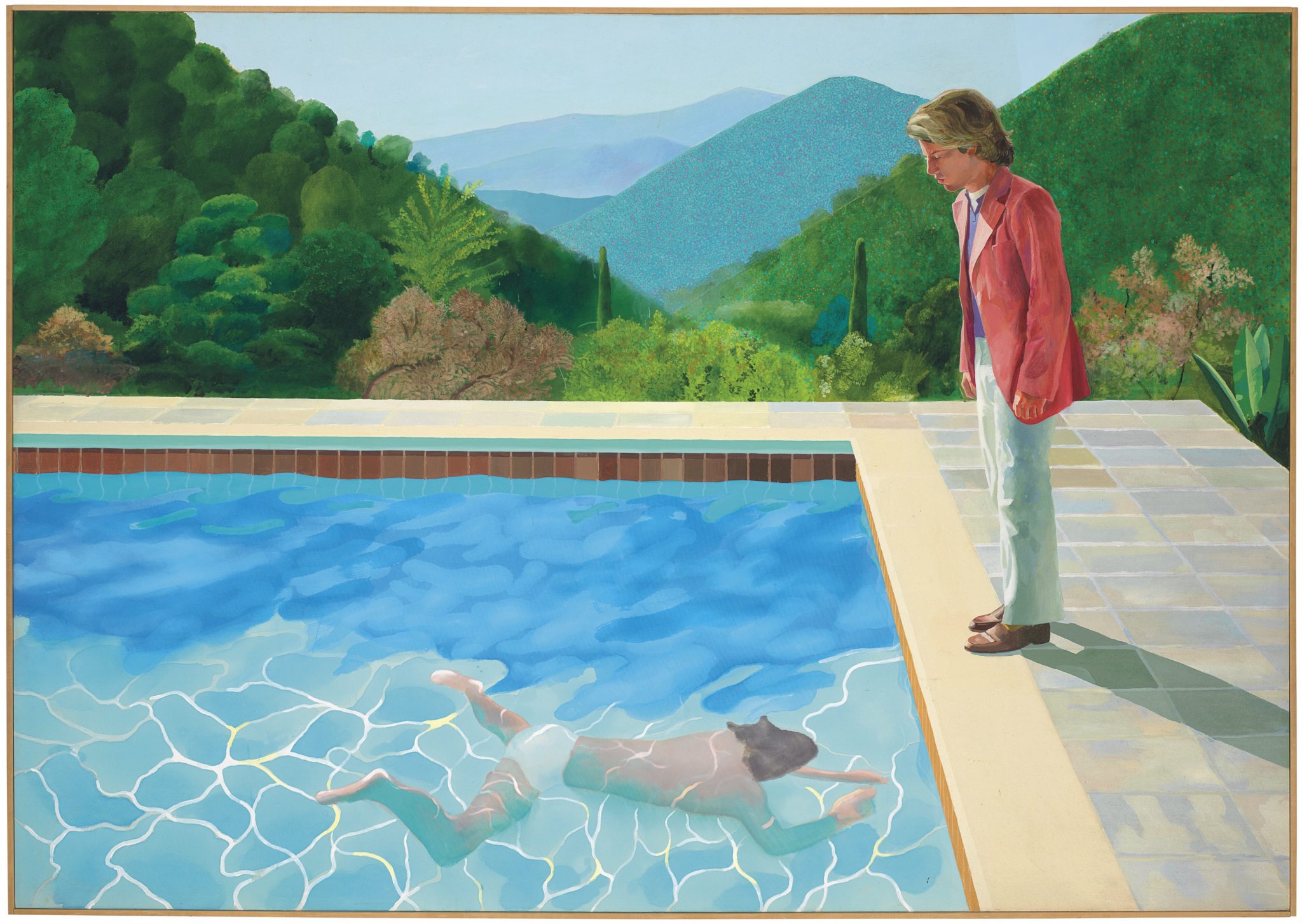 DAVID HOCKNEY (B. 1937), Portrait of an Artist (Pool with Two Figures), acrylic on canvas, 84 x 119 3/4 in., Painted in 1972
Christie's to offer one of the most quintessential canvases of the 20th Century, David Hockney's Portrait of an Artist (Pool with Two Figures), 1972 (estimate in the region of $80 million).
Representing a culminating apex of the artist's two most celebrated motifs— the glistening water of a swimming pool and a double portrait – Portrait of an Artist is an immediately recognizable and iconic image in Hockney's diverse oeuvre. Having graced the covers of numerous artist monographs, starred in various exhibitions – including his traveling retrospective organized by the Tate Britain, the Centre Pompidou, and The Metropolitan Museum of Art in 2017-2018 – as well as the 1974 cult Hockney film, A Bigger Splash, the present canvas firmly stands its ground among Hockney's most celebrated works.
Alex Rotter, Co-Chairman Post-War and Contemporary Art, Christie's, remarked:
"Christie's is honoured to offer Portrait of an Artist (Pool with Two Figures), which stands as one of the great masterpieces of the modern era. David Hockney's brilliance as an artist is on full display with this monumental canvas, which encapsulates the essence of the idealized poolside landscape, and the tremendous complexity that exists within human relationships. With this painting, Hockney cemented his placement within the realm of history's most venerated artists, and come November, it is poised to become the most valuable work of art by a living artist ever sold at auction."
An often-told story of two compositions—the first destroyed over months of working and reworking, Hockney originally conceived the composition for Portrait of an Artist (Pool with Two Figures) from the accidental, almost surreal juxtaposition of two photographs on his studio floor—one of a swimmer underwater, taken in Hollywood in 1966, and the other of a boy staring at something on the ground. Intrigued by how together, the disparate clipped images made it appear as if the boy was staring at the swimmer, this double-portrait arranged by chance impelled for Hockney a substantial dramatic charge.
Tour Dates Hong Kong: 28-29 September London: 3-5 October Los Angeles: 23-27 October
Categories
Tags