To mark its 30th edition, The Other Art Fair, the leading artist-led fair, is launching a second site wholly dedicated to showcasing women artists.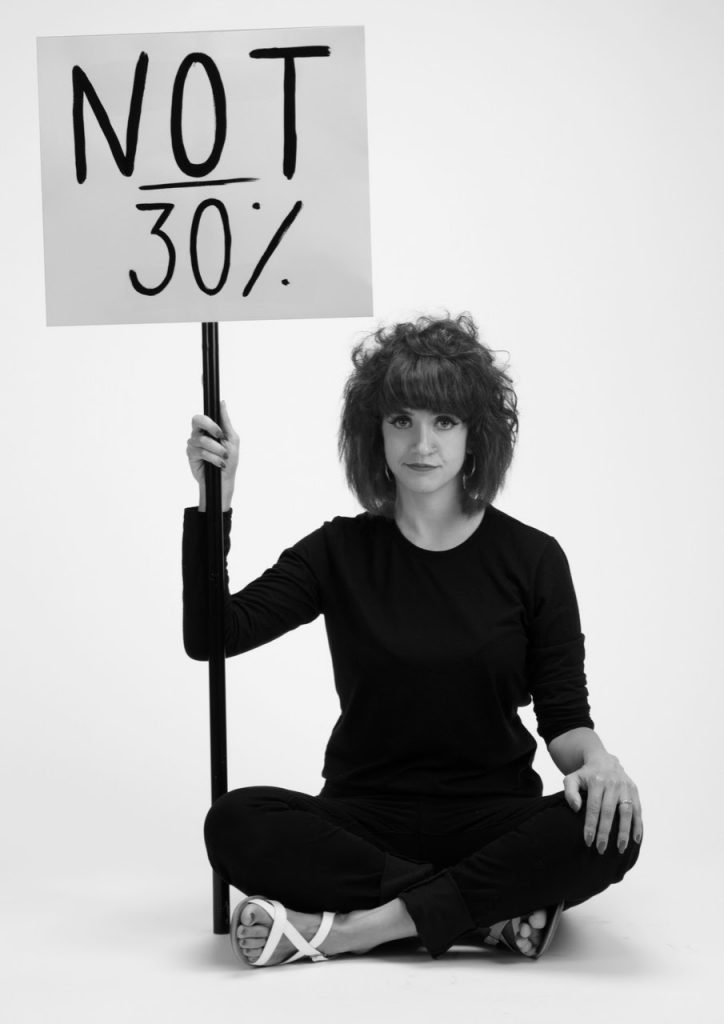 Curated by arts broadcaster and curator, Kate Bryan, Not 30% is part exhibition and part protest against the male-dominated art world. A recent report showed women are at best represented 30% of the time in the art world.
60% of art graduates are women, yet in gallery representation, museum collections and exhibitions, the presence of women artists amounts to a maximum of 30%, often far less. At a time when more and more people are keen to support and collect women artists, Kate Bryan has handpicked a thrilling selection, delivered in one carefully curated place.
"I am a huge fan of The Other Art Fair,"
comments Kate Bryan.
"I love its democratic ethos and the way it truly supports and gives a vital, fresh platform for artists. When I was asked to curate a special section at The College I knew we had a safe space for a noisy moment about women artists. Not 30% draws attention to the stark gender bias of the art world and actively positions these artists as a creative force not to be ignored. There are many changes underway in the art world to address gender imbalance and Not 30% is happily part of a larger and urgent dialogue."
Artists include Hattie Stewart, renowned for her tongue-in-cheek and vibrant doodlebombing style, Samira Addo, winner of the Sky Arts Portrait Artist of the Year 2018, Sarah Maple, award-winning artist known for her bold, brave, mischievous and often controversial artworks which challenge notions of identity, religion and the status quo, amongst many others.
Femme Fatale Tattoo Studio will also create a pop-up hand poke tattoo studio onsite. Created one year ago by Grace Neutral with the vision of creating a safe place for all to get tattooed in, the collective has since grown to be trailblazers in a particularly male-dominated industry.
The Other Art Fair has always had a high number of participating female artists with over 50% of female artists taking part in most editions.
The Other Art Fair founder Ryan Stanier says:
"Kate's selection represents the finest, freshest female talent in the art world, deserving of as much exposure and support as fairs like ours can give. If 60% of art school graduates are women and 30% are selling, then progress is urgently needed at an institutional level. Women must be able to seize the same opportunities as their male contemporaries."
Not 30% takes place from 4 – 7 October 2018 at The Old College, Old Central St Martins.
View the artists here saatchiart.com/30
About Kate Bryan
Kate Bryan is Global Head of Collections for Soho House and Co. She is the custodian of their permanent art collection, numbering over 4000 artworks across seven countries and acquires and curates the contemporary art for all new sites. Kate is also a respected arts broadcaster, making arts television for Sky Arts, BBC and Sky Arte Italia, and is a judge on the hit shows Sky Arts Landscape Artist of the Year and Portrait Artist of the Year. She is the author of the forthcoming book Crazy in Love which profiles 35 artist couples throughout history, often revising the contribution of women artists long overshadowed by their male partners. Kate acts as a mentor for young women in arts and an advocate for women artists and is also the curator behind The Vault 100, a permanent collection at The Ned London. Using the language of the FTSE CEO gender ratio, she acquired the work of 93 women artists and seven men, reversing the gender bias of the financial world and highlighting the best women artists working in London today.
Categories
Tags