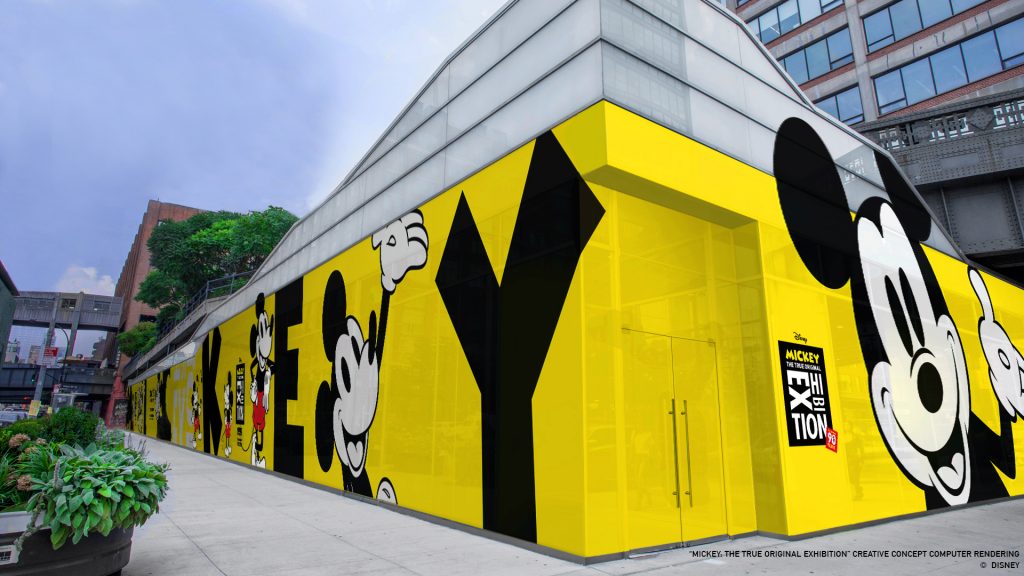 'Mickey: The True Original Exhibition,' an interactive art exhibit to open in New York in honour of the 90th anniversary of Mickey Mouse. To begin the 90-day countdown, new brand and product collaborations spanning fashion, food, consumer electronics, toys, accessories and more are now available worldwide.
'Mickey: The True Original Exhibition' is an immersive, pop-up art exhibition inspired by Mickey's status as a 'true original' and his global impact on popular culture and art. From his beginning in black and white in Steamboat Willie to the technicolour world of more than 100 cartoon shorts, exhibition guests will step into an unforgettable journey of Mickey moments reimagined.
Curated by designer Darren Romanelli, the exhibit will feature exclusive original artwork from contemporary artists including Kenny Scharf, Amanda Ross-Ho and Shinique Smith, with more artists to be announced in the coming weeks. British talent featured in 'Mickey: The True Original Exhibition' includes Michael Bosanko, famed for his vibrant light art, and world-famous celebrity photographer Rankin.
The experience will captivate the senses to surprise and delight guests, evoking the inspiration, creativity, and true original spirit of Mickey Mouse.
Romanelli is an LA-based based designer and creative director known for creating series of customized, limited-edition clothing, furniture, and collectables under the DRx moniker.
"To me, Mickey is reminiscent of everything good from my childhood,"
said Romanelli,
"As I've come into my own as a designer, I feel a true sense of passion for this project. Every inch of the experience – from the artists participating to the different mediums featured to the building layout, was thought through with a level of detail and creativity we could only achieve with Mickey Mouse as our muse." "Mickey Mouse is such a global icon of not just my generation, but many before me," said British artist Michael Bosanko of his involvement in the exhibition. "To be asked to contribute my artistic interpretation to this project is not only exciting but also humbling. It is such an honour to be a part of this amazing experience."
Running from November 8, 2018 – February 10, 2019, 'Mickey: The True Original Exhibition' will be open Tuesday-Sunday from 10 a.m. to 8 p.m. at 60 10th Avenue, New York. Tickets are available for $38 per person at Disney.com/MickeyTrueOriginal.
About the Artists
Kenny Scharf – Scharf rose to prominence in the early 1980s as a New York street artist and muralist. His interdisciplinary practice consisted of design, sculpture, installations, performance and video as well as painting. From now until September 1, Kenny's installation will be on display at the Minnesota Street Project, located at 1275 Minnesota St in San Francisco. Inspired by one of Disney's first licensed products, the Mickey Mouse watch, this Cosmic Cavern is an immersive, day-glo, fluorescent black light world. Kenny Scharf's work is a surreal journey into his personal connection with the character and the timelessness of both Scharf and Mickey's contributions to visual culture.
You can experience a 360° tour of the installation below
Amanda Ross-Ho – Ross-Ho is a Los Angeles-based artist who has exhibited widely, both nationally and internationally including solo exhibitions at Cherry and Martin and The Museum of Contemporary Art Los Angeles. She has presented large-scale commissioned public work at The Museum of Contemporary Art in Chicago, City Hall Park New York City, and the Parcours Sector of Art Basel Switzerland. She will create a large-than-life classic Mickey tee to be on display during Art Expo in Chicago in September.
Shinique Smith – Known for her monumental sculptural works of bundled fabric and clothing, and her exuberant calligraphic collaged paintings, Smith has been featured in exhibitions and collections of prestigious venues such as Brooklyn Museum, Denver Art Museum, LACMA, MFA Boston, The Frist Center, Kemper Museum and The Whitney Museum among others. Shinique's installation will honor the impact of the Mickey Mouse plush and will be on display in Los Angeles in October.
Categories
Tags