Acute Art have just announced that Daniel Birnbaum will be joining its growing team as Director. Birnbaum, who currently holds the position of Director at Moderna Museet in Stockholm, will move to London where the company is based, and take up his position next year.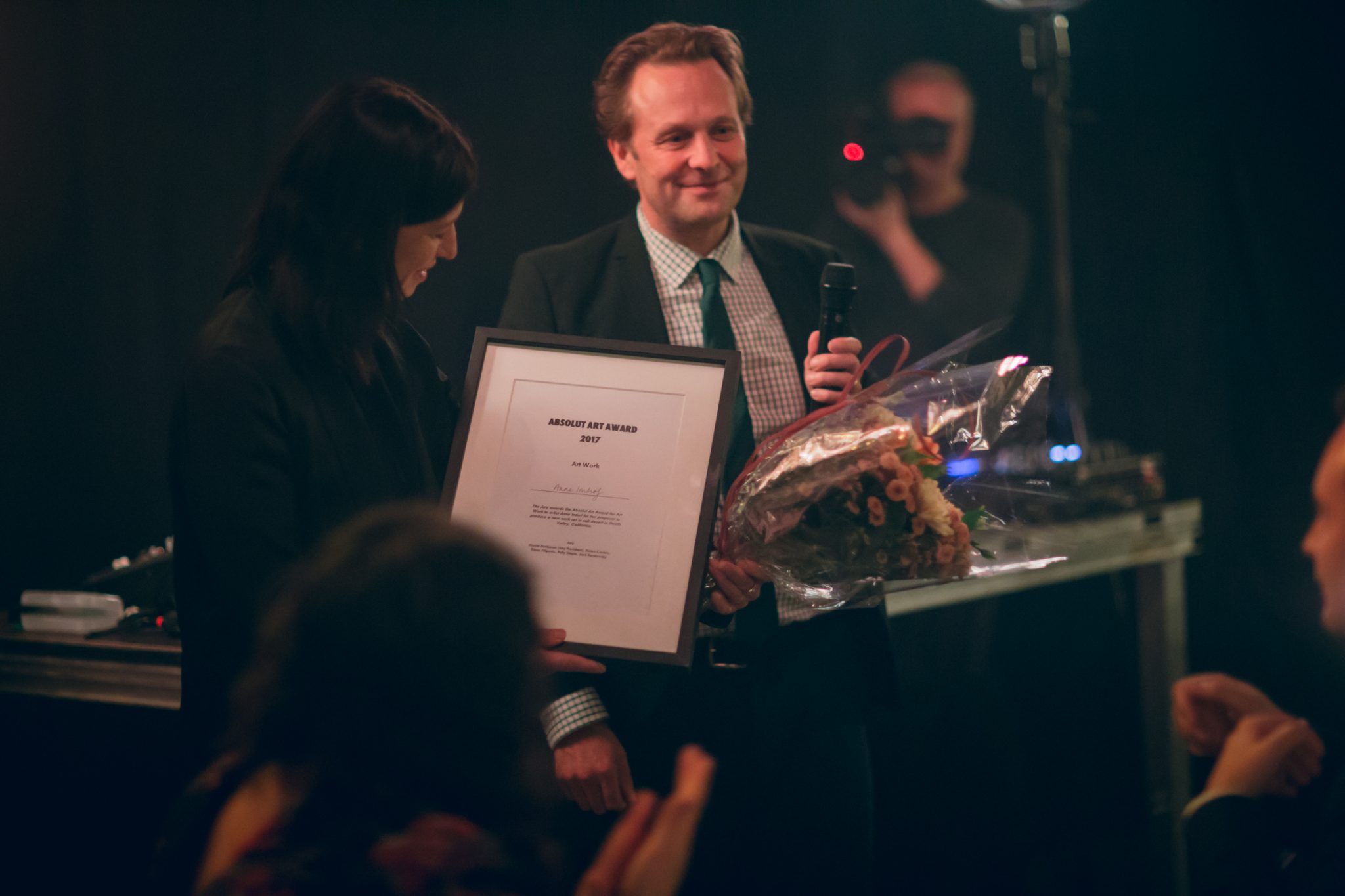 Absolut Art Award Jury President, Daniel Birnbaum with Art Work winner Anne Imhof
Jacob De Geer, CEO, Acute Art, said:
'We are proud to welcome Daniel Birnbaum to Acute Art, and look forward to this exciting next phase for the company. Daniel's experience and creative vision is second to none, at once lucid, experimental and brave. His appointment to this newly created role will guide our work, as we focus on developing our curated offer of the best digital art. Under Daniel's leadership we will also continue to research and collaborate closely with artists, helping to expand the creative possibilities for technology in artistic practice.'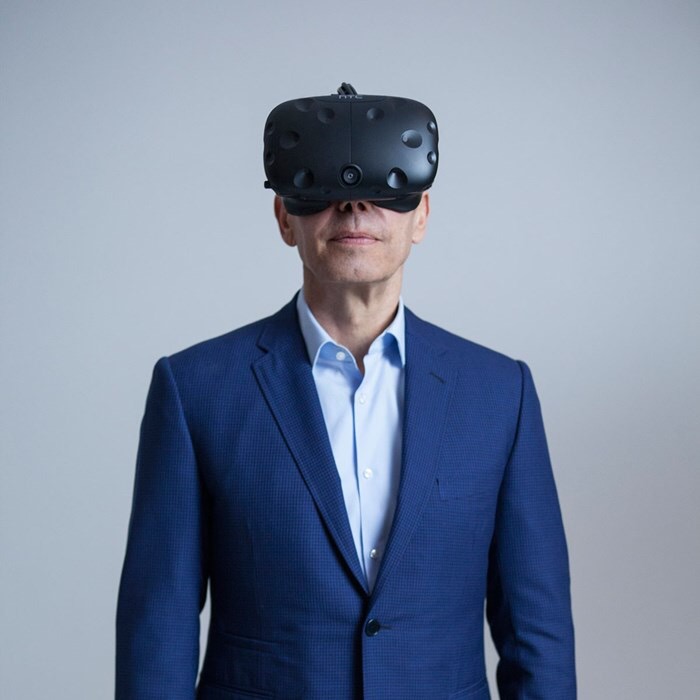 Jeff Koons on Acute VR art Platform
Having launched in 2017, Acute Art has built its reputation on producing virtual reality artworks for artists including Marina Abramovic, Anish Kapoor, Olafur Eliasson, Jeff Koons and most recently Christo. Alongside its role as a producer of digital artworks, Acute Art is also a research hub and curatorial laboratory, committed to giving artists access to the most cutting-edge technologies, and exploring new ways to reach audiences with digital art.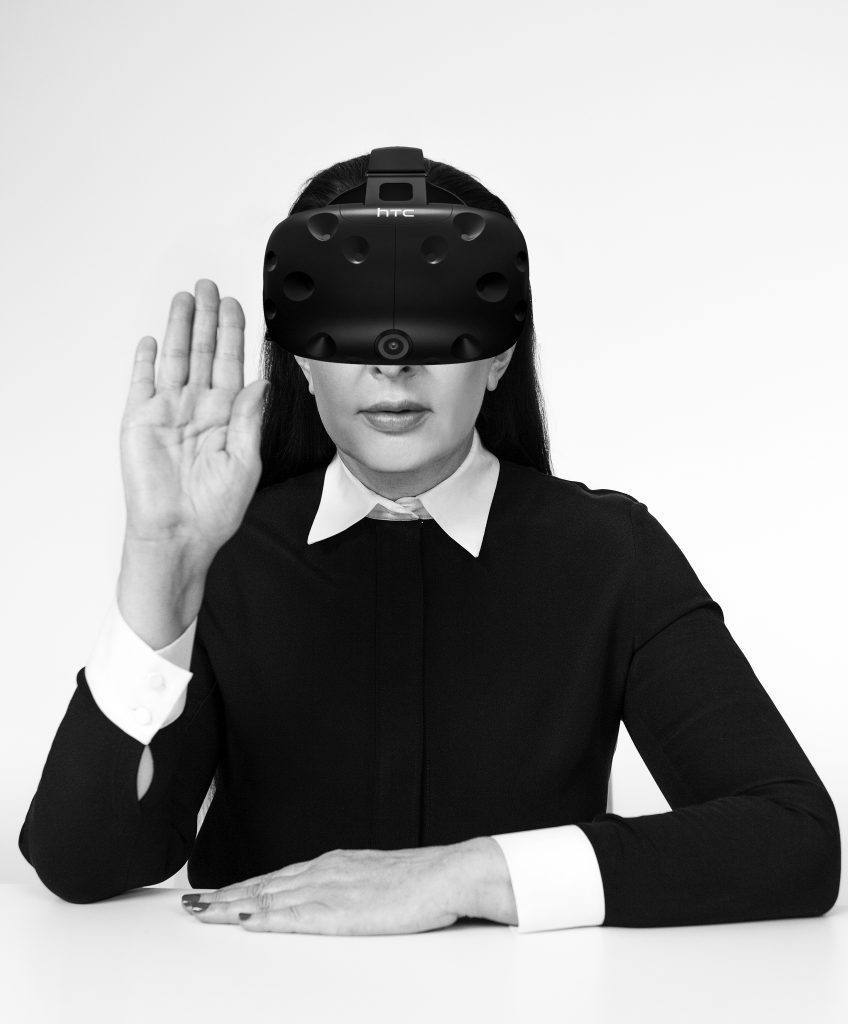 Marina Abramovic, courtesy of Acute Art
In this newly created role, Birnbaum will focus on identifying opportunities to continue bringing digital artwork to the public, both within an institutional framework and online through a curated offer on Acute Art's website and app. He will deepen the company's ongoing commitment to realising artistic vision in digital mediums, by collaborating with and commissioning artists, directing the company's exhibiting programme and establishing and leading the expert research hub, focussed on the use of future technologies in artistic practice. Daniel Birnbaum is a philosopher, critic, and curator known for his playful and experimental curation, stretching the boundaries of what a museum does and putting artists and their ideas first. Birnbaum has been the Director of Moderna Museet, Stockholm, since 2010. He was previously the Director of the St delschule, Frankfurt, Europe's most experimental art academy whose recent graduates have included Toma?s Saraceno, Danh Vo and Anne Imhof. He was Artistic Director of the 53rd Venice Biennale in 2009 for which he received significant acclaim for introducing new artists and revisiting previously overlooked artists, such as Lygia Pape and the Gutai Group. He curated the first and second Moscow Biennial in 2005 and 2007, the Yokohama Triennial in 2008, judged the Turner Prize in 2008 and has been a contributing Editor of Artforum since 1998.
Recently, Daniel co-edited More than Real, Art in the Digital Age as a companion to the Verbier Art Summit, featuring contributors including artists Ed Atkins, Douglas Coupland and Olafur Eliasson on the intersection of art and technology. Birnbaum is also collaborating with the online journal e-flux Architecture for 'Are Friends Electric?', considering the possibilities of VR, AR and other technologies in the arts.
Daniel Birnbaum, in-coming Director, Acute Art, said:
'I have had the great privilege to lead one of the best art schools, an exemplary museum of modern art and the most legendary of biennials. It is therefore a good moment to leave the old institutional world and move into an unknown territory. Acute Art is a new kind of institution and is fast- becoming a leader in the field of art and technology. This move marks an adventure, a journey in to the future. There is a voracious appetite for technology in the arts and I am curious to see what artists will do with these visual technologies. I am also excited by the opportunity for creative exchange with those that I have worked with in more traditional settings. In some ways, this move brings me back to what I find most exciting- closely collaborating with artists.'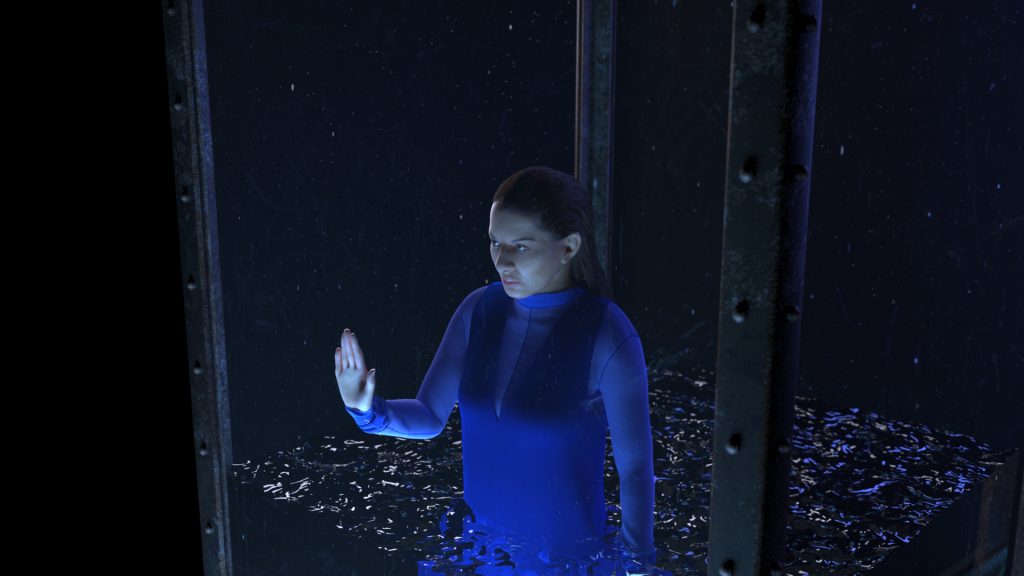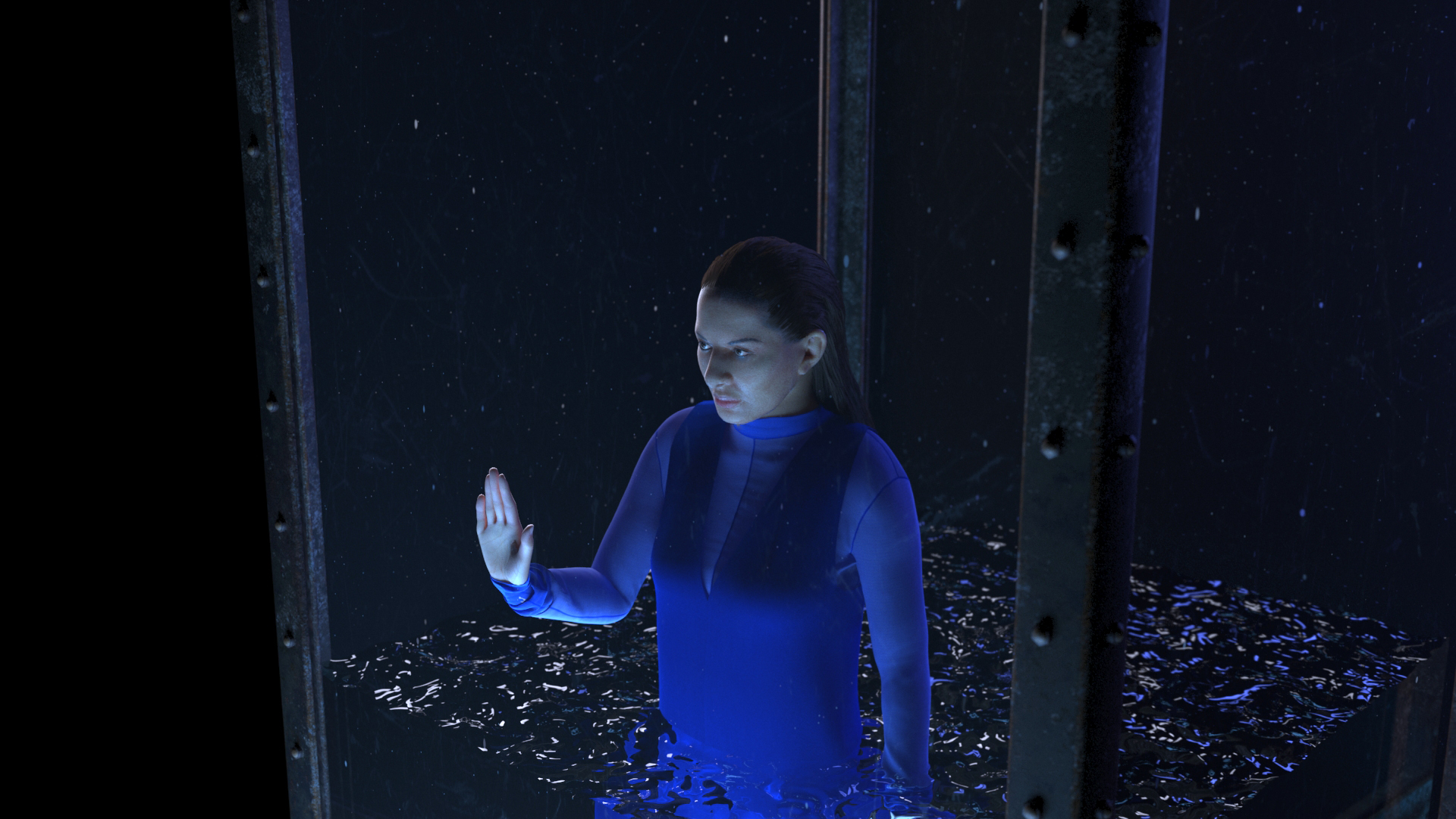 Marina Abramovic, still from Rising, 2017, courtesy of Acute Art 
About Daniel Birnbaum
Daniel Birnbaum (b. 1963) is a Swedish art critic, theoretician, curator, and the current Director of the Museum of Modern Art (Moderna Museet) in Stockholm. From 1989 until 1997, Birnbaum worked as an art critic at the leading Swedish newspaper Dagens Nyheter and also as an independent curator.
In 1998, he obtained his doctoral degree from Stockholm University with a thesis on Edmund Husserl. Birnbaum is a contributing editor of the international art magaine Artforum, and has written extensively on art and philosophy for magazines include Parkett and Frieze. Birnbaum has also worked as a director of IASPIS (The Swedish Arts Grants Committee's International Programme for Visual Artists). In 2000, Birnbaum became Director at Sta?delschule, in Frankfurt am Main, one of Europe's most experimental art academies. During his time at this fine arts academy, he also presided over Portikus, St delschule's exhibition site which is also recognised as one of the leading places for contemporary art in Germany.
While he taught in Frankfurt am Main, Birnbaum continued his curatorial work. He was a co-curator of the international section at the Venice Biennale (2003) and the artistic director of the 53rd Venice Biennale (2009). Birnbaum also worked as co-curator of the first and second Moscow Biennales of Contemporary Art (2005 and 2007) and was a member of the jury for the Turner Prize (2008). He also co-founded the Zero Foundation in Du?sseldorf in 2008. In 2010, Daniel Birnbaum became the Director of the Moderna Museet in Stockholm, revitalising the experimental legacy of the museum. Daniel has established a reputation for showing key artists very early in their careers including internationally recognised artists such as Olafur Eliasson.
Since 2003 Birnbaum has been the Editor, alongside Isabelle Graw, of the Institut fu?r Kunstkritik series published by Sternberg Press. Birnbaum also recently joined the Hilma af Klint Foundation as an adjunct member of the board and special advisor for international programs. He co-curated 'Hilma af Klint: Painting the Unseen' at the Serpentine Galleries in 2016 and the current exhibition 'Hilma af Klint: Possible Worlds' at Sao Paolo's Pinacoteca.
About Acute Art Acute Art works with today's most compelling artists, bringing together technology and artistic vision. Currently working across virtual and augmented realities, it produces original digital artworks and makes these accessible to everyone through its website, free app and creative collaborations. The company also works as a digital art laboratory, exploring new mediums for experimental art-making and identifying creative ways for it to be experienced and displayed.
Acute Art has produced artworks for leading contemporary artists including Olafur Eliasson and Jeff Koons. As part of Nobel Dialogue Week in 2017 it launched Anish Kapoor's first work in virtual reality, and in March 2018 presented VR artworks by Kapoor and Marina Abramovic? at Art Basel Hong Kong with HTC. In July, it produced a VR version of Christo's 'The Mastaba' in London's Hyde Park, in conjunction with the Serpentine Galleries. Further projects are in the pipe-line and will be announced later in the year.
www.acuteart.com
Hans-Ulrich Obrist, Artistic Director, Serpentine Galleries, said:
"The appointment of Daniel Birnbaum at Acute is very exciting news! Daniel has been a philosopher in exile ever since I got to know him in 1993. Philosophy needs other discursive fields to develop its concepts and to make them productive. With his immense wealth of knowledge and passionate drive Daniel has pushed the boundaries of the traditional art institutions and is now moving into new experiments with Art and Technology. I can't wait to continue our many collaborations in these new spheres. It has only just begun…"
Categories
Tags